On Air Now: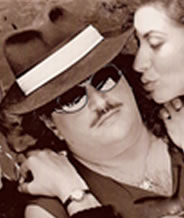 Albie Dee
Simon's lover reaches divorce settlement? Lady Gaga doesn't care about her weight?
Posted by Albie Dee on 8/16/2013 11:28:00 AM.
Simon Cowell's lover, Lauren Silverman, has reached a
divorce settlement. TMZ claims she and Andrew Silverman will share joint
custody of their child. Lauren will also receive $2 million.
Closer magazine claims Kim Kardashian likes living at home
with her mother. A source tells the mag, "Kanye's been pushing for
them to move into her townhouse or to rent until their home is completed in
about six months, but Kim's resisting - she's scared. Kanye's not around much
and when he is, he's moody. She prefers being surrounded by family and doesn't
seem to want it to be just them and North."
The Rock is downing 7 meals a day and 5,000 calories for his
role as Hercules. Throughout the day he eats steak, four eggs, oatmeal, a
protein supplement, 10 egg whites scrambled with onions, peppers and mushrooms,
two whole chickens, halibut and rice.
Lady Gaga doesn't care about her weight. "Well you
know, I had to get back in shape, but to be fair I have never cared about my
weight ... it's other people that care. I do fear at times that if I'm not in
shape, people will talk about that and not my music. I love eating pasta and
I'm a New York Italian girl. That's why I have been staying out of New
York. My father opened a restaurant. It's so amazing
... it's so freaking delicious, but I'm telling you I gain five pounds every
time I go there. So my dad wants me to eat at the restaurant, and I'm like,
'I've got to go where I can drink green juice.'"
Selena Gomez is nervous about touring. She tells MTV,
''I definitely have anxiety. I'm very nervous, but in the best possible way. I
love being nervous. The adrenaline takes over and it just makes me want to give
my all, so I'm really nervous. This is a lot for me. I've got a lot to prove.
I've got a lot to live up to, so I'm just going to try to focus on making it
the best it can be. I'll just wish for the best from that point on. Hopefully,
people will enjoy it.''
Hollyscoop claims Katy Perry and John Mayer's duet may lead
them to marriage. A source tells the site, ''The song is just the first of
many that they plan to do together. This is the real deal for Katy. She says he
is the one. I am sure that within the next year they will be engaged, as it is
what they both want. As far as marriage, they would never have a big elaborate Hollywood
wedding. It will be the type of thing that you don't hear about it at all until
after the fact.''
The Sun claims Taylor Swift is ready to reconcile with Harry
Styles. A source tells the tabloid, ''Harry was ready to move on months ago and
try to remain friends, but Taylor
hadn't let go of what happened. She made it clear that she didn't want
frostiness between her and Harry any more. She feels she has moved on to a
better place -- and Harry should know that. The next step will be Harry and
Taylor meeting at an awards ceremony.''
Taylor Swift, Harry Styles, Katy Perry, John Mayer, Selena Gomez, The Rock, Kim Kardashian, Simon Cowell
---
Carmen Electra dumped Simon after catching him cheat?!?
Posted by Albie Dee on 8/15/2013 11:24:00 AM.
E! claims Carmen Electra dumped Simon Cowell after catching
him with Lauren Silverman. A source tells the network, "Carmen was at
Simon's house in L.A. when she
literally busted him with Lauren. Simon called her a friend, but there was
nothing platonic about what was going on, if you know what I mean. There was no
way she was going to stick around and be a third wheel.
The Daily Mail claims Brad and Angelina gifted their son
Maddox with a $4,500 Fender Stratocaster for his 12th birthday. A source
tells the paper, "Maddox wants to be a guitarist and has got all the poses.
He's been having guitar lessons for a few months and has a real passion for it.
Maddox wants to be a guitarist and has got all the poses. So Brad and Ang
figured a new guitar would be the perfect gift. Brad's very proud. He always
wanted to be a rock star and now he's getting a chance to live out his dreams
through Maddox.
The National Enquirer claims Hugh Jackman has been offered
$100 million to star in four more Wolverine films. A source tells the
tabloid, ''Hugh has a very big decision to make. It's not every day an actor
gets offered this kind of pay check, but Hugh vowed never to lock himself into
any multi-picture deals after 'X-Men'. He hasn't given any kind of answer yet,
so at least he's considering it.''
Boston.com
claims Justin Timberlake has been leaving his Air Jordans in each city he
performs in. After performing, he hides the shoes and then leaves clues on
Instagram about where they are. Fans have been finding the shoes.
US Weekly claims Rihanna recently had dinner in New
York with John Mayer and Katy Perry. A source
tells the mag, ''She joined the party of 15 upstairs but sat next to John and
Katy to catch up. She and John were adorable as Katy introduced him to people
as her boyfriend and John affectionately held her close with his arm around
her.''
Katy Perry is planning to auction off some of her stage
costumes. She tells the Business Standard, "I have a warehouse here
in LA and I'll probably do an Elton John-type auction. But I am still going to
be bringing the bling. You'll see a bit more of a grown-up version of me, which
does not equal boring.''
Lady Gaga wears Michael Jackson's clothes. She tells
Ryan Seacrest, "I recently bought a bunch of Michael Jackson's clothes - his
actual clothes from his tours. The idea was to keep them for him and I actually
don't really want to wear them. They're Michael's clothes. There's a couple of
pieces I have to the side and I have his sweaters that I put on - I wear that
when we're mixing and finish up a record. I feel something from the clothing
and I gave one of the sweaters to his godson and he really loved that. I just
feel like through clothes you can feel things."
Showbiz Spy claims Robin Thicke and Paula Patton hid their
relationship in high school. A source tells the site, "The funny thing is,
in high school she didn't take me to prom, her prom, because she didn't want
everyone to know she was with a white guy because she was president of the
Black Student Union. I was a secret. She didn't want to show up with a white
guy. Funny right?"
Robin Thicke, Lady Gaga, Michael Jackson, Katy Perry, Rihanna, John Mayer, Hugh Jackman, Brad Pitt, Angelina Jolie, Simon Cowell, Carmen Electra
---
Amanda Bynes showing signs of schizophrenia? Kanye controls Kim?
Posted by Albie Dee on 8/12/2013 11:27:00 AM.
The New York Daily News claims Amanda Bynes is showing signs
of schizophrenia. A source tells the paper, "She's not improving yet. She's
still delusional. These meds take longer than a week to work, and she's only
been given them for about a week. She's not physically combative, but the
doctors weren't forcing her to take her meds in the beginning. Then the doctors
said she had to take them or they would force her, so she started.
The NY Daily News claims Lauren Silverman's estranged
husband, Andrew, is upset he can no longer hang with Simon Cowell. A
source tells the paper, "They met Simon on vacation and yes, he's an impressive
man. They were both taken by him. Andrew didn't give a s— they were having an
affair as long as he could hang out with Simon and play on his yacht. But now
that it came out like this, it's different. ... It is no secret that she
disdained Andrew."
InTouch Weekly and Showbiz Spy claim Kanye West controls Kim
Kardashian. A source tells the sites, "She has to do what he says — or
else. She knows the littlest thing can set him off. She knows not to push Kanye
too far … she's doing her best to keep him happy."
E! claims Sly Stallone ripped Bruce Willis on Twitter
earlier this week for demanding $4 million for four days of work on Expendables
3. A source tells the network and the Hollywood Reporter, ''He said he'd
drop out unless he got $4 million. A million dollars a day. Stallone and
everybody else involved said no. I think [Willis] was pretty surprised he was
replaced in 72 hours by Harrison Ford—a better actor, a much nicer person and a
more interesting direction for the film.''
RADAR Online claims Lindsay Lohan had a rehab romance. A
source tells the site, ''Prior to Lindsay's arrival I was roommates with the
guy who ended up dating her. When she came, the first or second day they ended
up kissing and it was on from there. Everybody in rehab knew they were dating.
It was pretty obvious. But the guy eventually got kicked out because of
Lindsay. The guy who owns Cliffside slacked on the rules for Lindsay, but they
got cocky with their relationship and people got uncomfortable with the
situation, saying they couldn't do that stuff when people are trying to get well.
They're still together now. They go to meetings outside and she meets him
there. She still talks to him every day.''
Contact Music claims Lady Gaga's stylist Nicola Formichetti
has quit. Women's Wear Daily quotes him as saying, ''She changes 12 times
a day; it's insane. She's going to be my BFF forever, but my ex-assistant
Brandon [Maxwell] is heading that project. I'm too busy. I've done two albums
with her, it's been five years ... I'm always going to be involved somehow, but
I cannot do it every day.''
Pink recently had an amazing concert moment in Australia. She
says, ''The coolest thing happened the other night: I go back into the bathroom
to do my vocal warm ups and I go on Twitter to get excited. It's our 85th show,
but everybody else's first time seeing it and it gets me motivated and ready.
Then I read about this kid, Calvin, who had just beaten cancer, had Down
syndrome, who was there; my album had got him through his treatment. And his
mom wrote this letter to me and I read it, so at the beginning of So What I
know that I'm going straight out to the back. I flew out [on a trapeze] and
said, 'I'm coming for you Calvin!' And I just happened to stop right over the
wheelchair section and the mom just started sobbing. I started crying, he was excited;
it will go down in history as one of the most amazing moments in my life.''
Robin Thicke is planning to make more CDs. He tells the
Associated Press, "I did want to push the boundaries and work with some
hitmakers (on the new album) to see if they could help me (score a big hit) and
luckily it all worked out. I want to get right in the studio. I want to make a
country album, a Christmas album, a gospel album. I'm like, 'Finally!' I'm
ready to make four albums right now."
Robin Thicke, Pink, Lady Gaga, Lindsay Lohan, Stallone, Bruce Willis, Kanye West, Kim Kardashian, Simon Cowell, Amanda Bynes
---
Matt Damon worked hard? Usher's son recovering from accident?!
Posted by Albie Dee on 8/9/2013 11:25:00 AM.
Matt Damon worked hard to get in shape for Elysium. He
tells People he exercised for four hours a day and that his wife likes his
body. "It was really hard because I love to eat and drink! It's very hard
to motivate me to get in shape. When I did The Informant, I put on 40 lbs. and
I was like, 'You kind of like this guy too?' I'm trying to talk her into
[liking] that guy because that's the guy I'm most comfortable being. I'm at the
point in my life where somebody was silly enough to marry me," Damon says,
"and won't leave me if I put on a few pounds!"

Usher's 5-year-old son, Usher Raymond V, is recovering from
a pool accident. A source tells E!, "My sources have confirmed that Lil
Cinco [nickname for Usher Raymond V] is doing fine. He's currently in stable
condition at Children's Healthcare of Atlanta Scottish Rite and is being held
for observation."
Tameka Tweeted: ''Cabin fever.. But I'm so happy to say that
my son is doing much better. Talking & asking for food. Thank you for ur
well wishes & prayers.''
She wants custody of the kids.
Usher said: "I would like to thank my Aunt Rena as well as
the doctors and nurses who are working with us around the clock. I would
especially like to thank the two men who saved my son's life, Eugene Stachurski
and Ben Crews. They are true heroes and I am deeply grateful to them." "I am
blessed and fortunate to say that my son Usher V is doing well and is
recovering. I am overwhelmed by the outpouring of prayers, love and support for
my family's well-being,"

Kanye West may do a clothing line with Kylie Jenner. She
tells OK! magazine, "I was in the kitchen and so was he and I was just talking
about my clothing line and how excited I was and he was like, 'Your clothing
line–I can help you and design. We can do this!'"
Robin Thicke has fought hard to be accepted. He tells
The Times magazine, 'I seemed like an anomaly. It makes people go, "That
guy can't be for real." Black women got it because they could feel it was
authentic. But white people? They'd go, "Nah, nah, nah, that's a white guy
trying to be black. Trying to make soul music."'
Drake doesn't know why Amanda Bynes Tweeted him. He
tells XXL magazine, "I don't even know who that is doing that or what that's about.
If that is her, I guess it's a little weird and disturbing. It's obviously a
behavioral pattern that is way bigger than me. Whoever is behind it, whether
it's her or somebody else, they know people are paying attention so they keep
it going.''

InTouch Weekly claims Taylor Swift is messaging Criminal
Minds star Matthew Gray Gubler. A source tells the magazine, "She messaged
him out of the blue in June to tell him she thinks he's cute. At first, Matthew
didn't believe it was her. Then Taylor
invited him to her house in LA for dinner, and he realized it actually was her!"
Jon Bon Jovi says his long shows are beginning to take a
toll. ''It's pretty taxing physically, so I have to work really hard to
keep Humpty-Dumpty's pieces together. But that's just my physical being. I was
talking to a friend of mine and he said, "Why are you doing three-hour shows?"
And I said, "I couldn't imagine doing a 75-minute or a 90-minute show. I
wouldn't know how to do that. Unfortunately, we grew up in the shadow of Southside
[Johnny] and Bruce [Springsteen], and those guys that did these marathons. So I
learned to want to do that. And now, that's what my audience is accustomed to,
that's what I like to do and I have a catalogue that can hold up to that. So
you have to push yourself every night and be the athlete who's ready for that."
Jon Bon Jovi, Taylor Swift, Drake, Amanda Bynes, Robin Thicke, Kanye West, Usher, Matt Damon
---
Chris Brown to quit music? Usher's son in accident?
Posted by Albie Dee on 8/8/2013 11:29:00 AM.
Chris Brown took to Twitter on Tuesday to tell the world
that he plans to quit music after the release of "X," his upcoming
LP.The R&B singer said he's "tired of being famous for a mistake"
he made when he was 18, referencing when he assaulted Rihanna.Both Brown, who
has had a string of other post-assault altercations and incidents on his rap
sheet, and the music industry, which has promoted and booked Brown since
shortly after the assault, have faced near constant criticism since the
horrific event that took place before the 2009 Grammys.
http://www.huffingtonpost.com/2013/08/06/chris-brown-quit-music-x-mistake_n_3713262.html?utm_hp_ref=mostpopular
Usher's 5-year-old son, Usher Raymond V, is recovering from
a pool accident. On Monday, he tried to retrieve a toy from a pool drain
when his arm got stuck. Two of Usher's employees freed his son and performed
CPR. Usher is at his son's hospital bedside.TMZ claims Usher's ex, Tameka, is
seeking custody of their kids because he's creating a dangerous environment
Harrison Ford has joined the cast of Expendables 3. He will
work solo.Sly Stallone Tweeted: "WILLIS OUT… HARRISON
FORD IN !!!! GREAT NEWS !!!!! Been waiting
years for this!!!! GREEDY AND LAZY …… A SURE
FORMULA FOR CAREER FAILURE"
Perez Hilton claims Simon Cowell's ex-fiance, Mezhgan
Hussainy, is angry with him. A source tells the site, "She's furious,
humiliated and angry, but she can't do anything because she put her career on
back burner and he supports her financially and emotionally. She can't talk
about her true feelings in public because she doesn't want to betray him just
because he betrayed her. She feels betrayed that he didn't have the sense to
use protection with a woman their circle of friends thought was a gold-digger."
Mark Wahlberg tells The Sun that Justin Bieber needs to
clean up his act. "Justin, are you listening? Don't be so naughty ...
Be a nice boy, pull your trousers up, make your mom proud and stop smoking weed
you little b**tard. He's a teenager living in a different day and age. I was in
prison before I got a record out and I don't think he's been to prison. He's a
nice enough kid and you're going to be a teenager. But if you're being a teen
in the spotlight you're going to be criticized for it. This career can be
short-lived - you might as well be the best you can while you're doing it."
Jon Bon Jovi's son, Jesse, has earned a roster spot on the
Notre Dame football team. Coach Brian Kelly tells USA Today, "Jesse has
earned his spot on the 105, He's a tough kid. The kids really like him. They
respect him. They don't look at him as a rockstar's son. They look at him as a
kid that loves Notre Dame and wants to play football and help this team. He's
had a good summer. I'm a huge fan of Bon Jovi. Didn't have to have his son to
make that apparent. He had a reputation here. I think Charlie Weis, being from New
Jersey, brought him into the Notre Dame family long
before I came. He's a great guy. He's a grounded guy."
Jon Bon Jovi, Notre Dame, Mark Wahlberg, Justin Bieber, Simon Cowell, Harrison Ford, Bruce Willis, Usher, Chris Brown
---
Simon Cowell's friends concerned? Seacrest to NBC?
Posted by Albie Dee on 8/7/2013 11:24:00 AM.
The Daily Mirror claims Simon Cowell's friends are concerned
about him because of his pregnancy scandal. A source tells the paper,
"Simon just wants this whole sorry mess to be sorted out and gone away. If he
could turn back time he would. Those around him are getting increasingly
worried about him. They've seen the signs before when he locks himself away and
they are fearful he may enter in to one of his dark moods again. They are
trying to keep his spirits up and avoid him cutting himself off from others and
spiraling into depression. Work-wise, Simon knows middle America
doesn't take kindly to scandal and is ­terrified he'll start losing deals. He
looks like he has the weight of the world on his shoulders."
RADAR Online claims Simon Cowell was warned about Lauren
Silverman. A source tells RADAR Online, "Simon was warned — on multiple
occasions — that he needed to be careful. Everyone was aware that they were
hooking up and that Lauren was married. Naturally, Simon's friends were very
concerned about the situation and made that known to him."
A source tells the NY Post, ''She and Simon were not using
protection because doctors said she couldn't get pregnant.''
Ryan Seacrest is hosting a new NBC game show called
"The Million Second Quiz." Contestants will answer trivia questions
for 1 million seconds, or 11 days, 13 hours, 46 minutes and 40 seconds. The
leading contestant earns $10 per second for sitting in the "money chair.''
Ashton Kutcher went on Steve Jobs' fruitarian diet while
preparing to play him and was hospitalized. He tells ABC, "The book, Mucusless
Diet Healing System," talked about the value of grape sugar and that was
probably the only pure sugar you could have in your body. I think the guy who wrote
that book was pretty misinformed. My insulin levels got pretty messed up and my
pancreas kind of went into some crazy, the levels were really off and it was
painful. I didn't know what was wrong."
Showbiz Spy claims Robin Thicke smokes weed. They quote
him as saying, "I do smoke; I do everything I'm not supposed to do. Weed is my
crutch, my muse, the lesser of all evil. I've spent a good $600,000 on pot. My
buddy runs a store. I can get medical marijuana when I'm at home. It's a
nonstop chimney. I've tried to quit smoking. I've quit everything once."
The Southhampton, NY police are investigating a club brawl
that took place between a man and Justin Bieber's posse after the man's friend
asked Biebs for an autograph. A source tells the NY Daily News, ''Justin
ripped his shirt off and went nuts… [and] was screaming."
Justin Tweeted: "The most recent rumors might be the
funniest of all. Where do u get this stuff??? #focusedonreality"
Kanye West will perform at the MTV VMA's
Contact Music claims Steven Tyler was recently sightseeing
in Italy when
he came upon a street musician. He borrowed his guitar and sang a few
Aerosmith classics.
Simon Cowell, Ryan Seacrest, NBC, Ashton Kutcher, Robin Thicke, Kanye West, Steven Tyler
---
Simon Cowell makes ex furious? Will he be a good day?
Posted by Albie Dee on 8/6/2013 11:28:00 AM.
US Weekly claims Simon Cowell has promised to take care of
Lauren Silverman. A source tells the magazine, ''Simon told Lauren not to
worry and he will take care of everything. He always takes care of his women.
He gave [former fiancee] Mezghan Hussainy a salary and bought her a house. He
bought [ex-girlfriend] Terri Seymour tons of fancy clothes and cars. He's very
generous to his ladies. He told her whatever Andrew throws at her or says about
her he will take care of her so not to worry and not to let it bother her.''
A source tells the Daily Mirror, "The situation is absolute
chaos. Mezhgan is furious with him and has been calling him to ask him
questions but he wouldn't answer his phone so she drove to his house. On top of
that Simon has been dragged into the middle of Lauren's divorce with Andrew
Silverman. Andrew knows exactly what goes on when Simon holidays on his boat
with a harem of women and the prospect of his private affairs coming out in
court will terrify Simon."
The NY Post claims Andrew and Lauren Silverman spent the
weekend at their Hamptons home with
their child. A source tells the paper, "Andrew stayed at the house to
create some normalcy for their son. There was no talk about the divorce
settlement. That is being handled by the lawyers. There was minimal
conversation between them. It was done purely for their child."
Kelly Rowland thinks Simon Cowell will be a great dad. She
says, "I think that Simon has always been a very classy guy, he's always
been a very respected guy, and he's going to be a great father." Demi
Lovato tells E!, ''I don't have any advice to give to someone who has lived
like a hundred more years than I have. I mean, I might be off by a few, so
maybe 110. But I have a lot of fun with him and he's a great guy. He'll be
good.''
RADAR Online claims Charlie Sheen is living with porn star
Capri Anderson. She filed a complaint against him after he trashed a New
York hotel room in 2010 and allegedly threw a lamp at
her. A source tells RADAR Online, ''Charlie doesn't really hold grudges and
lives in the moment, which explains why he's moved Capri
in with him. She moved in about three weeks ago. Charlie's been partying almost
harder than ever. It's one of the only things him and Capri
have in common! Charlie and Capri pretty much just act
like none of that craziness from the past ever happened. It's the weirdest
thing.''
Showbiz Spy claims Jay Z recently gifted his employees with
a bonus. A source tells the site, "Earlier this year he handed out $50,000
bonuses to everyone in his company, which includes assistants and very
low-level people. He even promised another bonus for Christmas. He's extremely
generous — most celebrities are supercheap when it comes to running their
businesses. He knows if his employees are happy, it will benefit him in the
long run. His only demand was for everyone to have fun with the money."
The Daily Star claims Rihanna is spending lots of money. A
source tells the paper, "Rihanna makes decisions based on how she's feeling at
the moment. "She'll spend six-figure sums on yachts, private jets, trips
worldwide and then decide not to go. She's forever changing her mind at the
last moment, even if she's already paid for it. She'll spend six-figure sums on
yachts, private jets, trips worldwide and then decide not to go. It all depends
on how she feels when she wakes up. Rihanna recently organized a villa in St
Tropez for a weekend, all paid for with six staff and flights booked for her
security, but didn't go in the end. She also hired a yacht for a two-day break
on the Med, which was $120,000 a day, and she never made it on board."
Rihanna, Jay Z, Charlie Sheen, Demi Lovato, Kelly Rowland, Simon Cowell, Andrew Silverman
---
Previous Entry
Next Entry