On Air Now: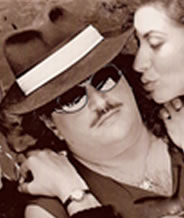 Albie Dee
JT says N'Sync better than One Direction? JLo making over $15 million for AI?
Posted by Albie Dee on 9/4/2013 11:09:00 AM.
The Mail Online claims JLo is getting $17.5 million to judge Idol. A source tells the paper, ''There was a lot of back and forth negotiating on her salary, but now it's finally been settled that Jennifer will earn $17.5m to go back to Idol next season. It''s a major coup for her to land a huge payday like that and I believe she is thrilled with that number. It''s a lot more than the $15m Britney Spears was paid to do The X Factor.''


Justin Timberlake says N'Sync is better than One Direction. He tells Perez Hilton, "I have not seen them on stage, but I'd be willing to say that we're better than them. I don't feel like I'm laying down any kind of gauntlet. I've seen them a couple times and I like those guys. It's interesting to see this whole wave of that come back around."


Lana Scolaro is speaking out after a picture of her and Robin Thicke became a hot topic because his hand was on her butt. She tells Celebuzz the shot was snapped at the VMA's. "I knew his hand was on my butt. I posted it on Instagram and didn't notice the reflection. But someone noticed it and commented. I didn't think it would cause this much drama. I didn't know it would be all over everything like this. We have mutual friends in common. I actually met him a week before the after party. I was actually going over to the DJ booth and he followed me. His security guard took the photo and said, 'you guys make a cute couple'."
A source tells Hollywoodlife.com, "They both knew that the mirror was there after taking another picture and he did it as a joke. It was his version of bunny ears — it just looks worse than it really is. But there is no trouble with him and his wife and he isn't cheating."


Digital Spy claims Britney Spears is working with a vocal coach. A source tells the site, "Britney has been using a vocal coach and going to regular sessions and has also been working hard with her choreographer in preparation for what's coming up! With album eight on its way and a rumored Las Vegas residency in the pipeline, eagle-eyed fans have spotted that all of Britney's social networks have adopted a blacked-out theme... the mystery continues!"


Grazia magazine and NOW magazine claim Katy Perry rejected John Mayer's marriage proposal. A source tells the magazines, ''John's proposal really unnerved Katy. Even though they have discussed it, she thought it was too soon. John was gutted. Katy loves John, but doesn't feel she has had enough healing time since her divorce. She told him she just needed a bit more time to feel whole in herself again. John won't run from Katy again. He knows his bad boy reputation and what happened with Russell hurt Katy, and he'll do whatever it takes to show he's the one she should marry.''
Katy Perry, John Mayer, Britney Spears, Robin Thicke, Justin Timberlake, N'Sync, One Direction, Jennifer Lopez, American Idol
---
Paris Hilton not an airhead? Selena Gomez gets an intervention?
Posted by Albie Dee on 8/19/2013 11:26:00 AM.
Contact Music claims Glee creator Ryan Murphy received death
threats after ending Santana's relationship with Brittany. Naya
Rivera, who plays Santana, tells Complex magazine, "Having gay characters
makes a difference, especially when you are a teenager and you need people to
look up to. Your world feels so small. The tiniest thing can make you think,
'I'm gonna die!' I'm glad Glee is around for people dealing with something that
big in such a small world. It's important."
Paris Hilton insists she is not an airhead. She tells
Metro she acted like one for The Simple Life. ''When we did that, it was the
first reality show. I'd never been on camera in my life. I didn't really know
what to do. The producers told Nicole to be the troublemaker and me to be the
ditzy blonde rich girl. I tried to play a character ... I didn't realize I
would end up doing that character for five years. There are a lot of
misconceptions about me because people know me from 'The Simple Life'. They
didn't understand that I was acting and I was being a character so they assume
I'm a complete airhead.''
Former American Idol star Justin Guarini is struggling. He
blogged: "There was a time when I couldn't walk the street w/o being stopped a
hundred times for a photo or a press of flesh. Now one in a thousand might stop
me, or notice. For the rest I might (might) trigger some dim memory, stuffed at
the back of long unfired synaptic pathways overgrown with the clutter of social
media."
I have spent days skipping meals in order to make sure I
have enough. To make sure my children, and my wife have enough. Now, I'm
unafraid to say that I am terrified. I am struggling to make each day meet the
next without breaking down and curling up. Sometimes I envy people who sit at a
desk all day (at least you know where your next meal is coming from). I'll
smile, and laugh, and joke, and entertain … because sometimes it's the only way
to keep the ghosts of regret and loss at bay."
Life & Style Weekly claims Selena Gomez's family
recently staged an intervention to prevent her from dating Justin Bieber again. A
source tells the mag, "They told her Justin was a really bad person. They
said she has to get rid of him from her life, otherwise they can't be a part of
her life — her new baby sister included. There were tears from everyone and
Selena was devastated. She promised her family she wouldn't see [Justin] again.
It's going to be tough for her, but she wants to break free this time."
Showbiz 411 claims Robin Thicke and Pharrell Williams
are suing Marvin Gaye's family because they have asked to be compensated
because they claim "Blurred Lines" sounds like Gaye's 1981 hit, "Got to Give it
Up."
Ryan Murphy, Glee, Paris Hilton, American Idol, Selena Gomez, Justin Bieber, Robin Thicke, Pharrell
---
Simon Cowell happy with new lady? Any Idol plans?
Posted by Albie Dee on 8/5/2013 11:25:00 AM.
The Mail Online claims Simon Cowell is happy with Lauren
Silverman. A source tells the paper, "Simon has given all his exes
houses - so of course he's going to be generous to his own child. He has not
even considered not looking after this baby. Anyone who knows him knows that
he's generous to a fault. Lauren keeps saying that she just wants to be with
him, she's so in love with him, they're very good together. She makes him relax
and have fun. She's fun loving, she loves a party and a giggle. Simon's himself
around her, she's been good for him. He's so happy."
Simon Cowell has no plans to do Idol again. He tells
E!, "I can't imagine either scenario! I can't. I just can't do that. No.
Somebody well-known once said to me, 'Know when to leave the fair.' And this [X
Factor] is a new generation type of show. It's got to build. And most
importantly, if you make great TV shows, people will watch them. I feel really
comfortable with the girls and I think this is going to be the best show."
Prince William has been singing Coldplay songs to quiet his
newborn son. A source tells WENN, ''He's using a bizarre tactic of belting
out Coldplay anthems at all hours of the night even though he can barely hold a
note. It's even keeping Kate's parents awake. His favorite song is 'Paradise'
and he also loves doing 'Yellow'. Coldplay aren't even his favorite band, but
George responds to their songs the most and settles back down.''
Entertainmentwise claims Rihanna didn't appreciate Katy
Perry telling Elle, "There's a lot of dark in this business. I know a lot of
people out there with the most detrimental entourages — they are the root of
their demise. It's really unfortunate but you can't save these people. My days
of celebrity saving are over." A source tells Entertainmenwise, "Rihanna doesn't
need to be saved by anyone. The man upstairs is to whom she owes everything.
That's who brought her here and that's who she's leaving with! Everybody has an
opinion about something. Ri's grown and will walk through fire by herself if it
means it will make her stronger. Rihanna knows how to cut ties and cut them so
sharp that your teeth bleed! She knows how to get rid of toxic people in her
life. She's not a baby and has everything she could ever want or need in life.
She's happy and thankful."
MediaTakeOut.com
claims Lil Wayne and Drake recently brawled at a Miami
hotel. A source tells the site, "Lil Wayne *cked up Drake. It wasn't
a real fight, more like headlocks and wrestling. But Lil Wayne slammed Drake
and he won.''
The Star claims Robin Thicke and Katie Holmes are recording
together. A source tells the tabloid, "Now that she has a new life away
from Tom Cruise, she wants to try new things. Katie and Robin have already been
in the studio together — he thinks she's got serious talent."
Taylor Swift recently chipped a tooth. She blogged:
"Tonight I was particularly hung up on not chipping another tooth like
last show in Pittsburgh, definitely.
It had a tip on [the tooth] and it doesn't anymore. I try to be really quick
with the microphone, so I'm not standing there just waiting to sing with my mic
right next to my face, so I really quickly pulled my mic up to sing and
basically uppercut punched myself in the tooth. And then part of it fell onto
the stage and I was like, "Oh, I wonder how bad that was. I wonder which
tooth that is and I wonder how bad that is. I'm not doing anything about it.
It's just gonna be a little bit jagged, I guess."
Keith Urban is returning to judge American Idol-
rumored to be coming to A.I-Will I Am-Jennifer Hudson-J Lo returning…

Simon Cowell, American Idol, Prince William, Rihanna, Katy Perry, Lil Waye, Drake, Robin Thicke, Katie Holms, Taylor Swift
---
Arnold back as Conan The Barbarian? Sharon Osbourne rips Kanye?
Posted by Albie Dee on 7/31/2013 11:24:00 AM.
Arnold Schwarzenegger may reprise his role as Conan The
Barbarian. Fredrik Malmberg, of Paradox Entertainment, tells TheArnoldFans.com, ''The
idea is that this takes place after Conan has been king. But this is the legend
of Conan where he has been gone and people say, 'Do you remember the good ol'
days when Conan was around?' And now it's time for him to come back. In the
stories and you can also see it when he's sitting on the thrown and the
narration on that last scene of the movie...'with a troubled brow' ...you can
tell he's not really happy being king. So, it's time for him to go out and do
battle.''
Sharon Osbourne allegedly ripped Kanye West. The Mail
Online quotes her as saying: "He bores me. He's an average- looking man
with an average talent, but he's a great salesman. He should sell cars because
they would fly out the door. He's his No. 1 fan."
Angelina Jolie tops Forbes' list of the highest-paid
actresses. She earned $33 million in the last year. Jennifer Lawrence
finished second ($26 million) followed by Kristen Stewart ($22 million),
Jennifer Aniston ($20 million) and Emma Stone ($16 million).
Katy Perry voiced Smurfette for Smurfs 2 in her pajamas. She
tells the Daily Express, ''I showed up in my pajamas. The red carpet is when
I'm in peacock mode. Once you're in the business you realize there's no point
in primping most days. That energy goes into my work.' Katy Perry cried after
meeting Britney Spears at the Smurfs 2 premiere. She sung backup on the
film's theme song, "Ooh La La!" Katy Perry's new CD may be called Prism.
The disc is out October 22nd.
Hollywoodlife.com
claims Selena Gomez cried when Justin Bieber arrived at her birthday party with
a rose. A source tells the site, "Selena started to cry. Justin and Selena
went into the house to talk and were inside for a long time before sneaking out
together."
The Hollywood Reporter claims the new American Idol judges may be Keith
Urban, JLo, Jennifer Hudson and will.I.am.
American Idol, Keith Urban, Jennifer Lopez, Jennifer Hudson, will.i.am, Katy Perry, Forbes, Angelina Jolie, Sharon Osbourne, Kanye West, Arnold Schwarzenegger
---