On Air Now: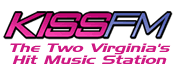 Kiss FM
Clooney on Affleck as Batman? Rihanna stops partying?
Posted by Albie Dee on 9/30/2013 11:31:00 AM.
George Clooney was recently asked about Ben Affleck playing Batman.
He told Empire magazine and Unleash The Fanboy, ďI am the least qualified person to comment on anyone playing the role of Batman since I so terribly destroyed the part. I tend to look at it like this Ė letís just see what the movie is before everyone starts beating him up. He is a smart man, he knows what he is doing.Ē


William Shatner is open to playing Alfred
. He tells Fox, "No, I heard somebody said I wanted to play Alfred. Well, why not?"
The Sun claims MC Hammer is judging a new British talent show.
A source tells the paper, "Yes, it's Hammertime all over again... This show is right up his street. It has been filmed in L.A. but he is featuring contributions from people all over the world. He'll be looking at bad acting, tone-deaf singers and people who really should steer clear of the dance floor."
Rihanna has quit partying.
She tells the Mirror, ďRecently Iíve become a square. I hate partying. I donít know if itís my heels Ė I donít like standing up in my heels for hours. I donít know if itís that, but Iíve been so bored of it. I donít know if itís because itís the same music every night Ė maybe we need some more DJs.''
Rihanna, MC Hammer, William Shatner, George Clooney, Ben Affleck
---
Kanye to tour with family? Simon and his lady to talk with Oprah?
Posted by Albie Dee on 9/10/2013 11:29:00 AM.
Showbiz Spy claims Kanye West plans to tour with his family. A source tells the site, ďHe wants nothing more than to have his family with him. Kanye will be in his element, sending huge crowds into pandemonium, and the source says that he wants his two favorite girls to be witnesses to that. Seeing him on stage performing and being great, he wants that a lot. Heís a new dad and he straight up hates leaving his daughter even if itís for a few hours. All this work ó traveling back and forth ó is for her and Kim. Kimís down. Theyíre working on all that now and chances are Kim and the baby are going. Kim wants to anyways and whatever she wants, she gets.Ē


Josh Brolin tells the Huff Post he was up for Batman before Ben Affleck landed the role. "I didn't have conversations about it, but Zack (director), that was part of his idea. It just didn't turn out," he said. "It's OK. It is OK. You know, another scenario might have worked better, but I'm happy for Ben. I've never seen such a global reaction in my life. I would not want to be him right now. The reaction becomes so personal. It's like, 'I wish he was dead.' And you're like, 'What? Dude, seriously? This guy is just working like you are. He's trying to make the best choices he can.' I want [Affleck] to kick ass and I want everyone to love it and eat their words."


The Daily Express claims Simon Cowell and Lauren Silverman may receive $2 million to do an interview with Oprah. A source tells the paper, ďSimon wants Lauren to keep every penny they make from any interviews. Itís his pretty neat way of making sure she gets the cash she felt she was entitled to from her marriage. He thinks itís all become extremely silly. Some of the stories about them have been farcical and he has become annoyed about the distraction.Ē


Women's Health recently asked Pink what her greatest fear is. She said, "I'm afraid of the world running out of cheesecake, especially Cheesecake Factory. And then I would also have to be afraid of the world running out of key limes because key lime cheesecake is the best kind of cheesecake there is. I'd love to be 10 pounds thinner, but it's not in the cards for me. And I'm totally OK with that."


Paula Patton tells Access Hollywood she and Robin Thicke are allowed to cheat while working. "It's fun, I call it legal cheating. We're kind to each other. I don't come to the set when you're making out with naked ladies, you don't come to the set when I'm making out. It's good for both of us."
Robin Thicke, Pink, Simon Cowell, Oprah, Josh Brolin, Ben Affleck, Kanye West
---