On Air Now: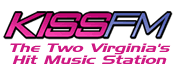 Kiss FM
Kelly Clarkson is pregnant! Lorde suffer from stage fright?
Posted by Albie Dee on 11/21/2013 11:11:00 AM.
Dwyane Wade has sold a half-hour comedy to Fox. "Three the Hard Way" follows an NBA star as he and his entourage co-parent his sons.

Kelly Clarkson is pregnant. She Tweeted: I'm pregnant!!! Brandon and I are so excited! Best early Christmas present ever :)


Lindsey Vonn crashed yesterday while skiing down Copper Mountain, Colorado. She was taken to a hospital where her surgically repaired knee was evaluated. Vonn tore her ACL and MCL last February.

Pink Tweet of the Day: ''I've just been informed by my two year old that she would like a small building, a lake, a hill and a car for Xmas. Oh, and turkey bacon. (sic)'' and ''I've waited my whole life to see Pearl Jam. But when your 2 yr old starts crying at dinner, nose running...' Please don't leave me mama'... 2 yr old wins. Hands down. Every time.

Eminem tells the BBC that music saved his life. "I certainly could have taken another path. I know that there are so many addicts in this world and people who have problems like that that don't make it. I think that one thing that keeps me pushing forward is the music, and the passion, so I am thankful for that. I think back then it was so big in my head. Let me take this and this, drink this and this and get through it, as opposed to see the people, connect with the crowd and have fun with it."

Lorde tells Spotify she suffers from stage fright."Before I go onstage I lock into this period of the most crippling fear. It's something I wouldn't wish on someone that I hated ... It's the worst half-hour of my life, every night! But then, y'know, it gets replaced by something magic."

Lady Gaga tells E! she loves Chicago pizza. "I love ordering Chicago pizza. My boyfriend caught me once eating it in the bathroom in the middle of the night. I woke up in the middle of the night, and I walked it into the bathroom and I was eating it. And I heard the door opening. I had the pizza in my mouth and he just shook his head at me and he was like, 'That is just shameful.'"

Top 10 Highest-Paid Singers according to Forbes

Madonna - $125 million
Lady Gaga - $80 million
Bon Jovi - $79 million
Toby Keith - $65 million
Coldplay - $64 million
Justin Bieber - $58 million
Taylor Swift - $55 million
Elton John - $54 million
(tie) Beyoncé, Kenny Chesney - $53 million
Dwayne Wade, Kelly Clarskon, Lindsey Vonn, Pink, Eminem, Lorde, Lady Gaga, Madonna, Bon Jovi, Justin Bieber, Taylor Swift, Beyonce, Forbes
---
Miley a great rep for women? Bieber clueless?
Posted by Albie Dee on 11/18/2013 10:43:00 AM.
Miley Cyrus tells Capital FM she is a great representative of women. "I just think for me, it's kind of been …really since the VMAs was the time that I really got to break out and do really what I wanted to do. I think I'm representing women in a cool way, because people aren't used to girls that are just like, 'I genuinely don't care what people think.' And that's what guys have always gotten to be, and especially in like a rock industry or whatever.''

Sinead O'Connor tells Perez Hilton that Justin Bieber is clueless about the music industry. "The sounds of the records and the videos and how artists look has all been taken over by the industry. In a way, music's all been silenced. That's why I feel strongly about the oversexualizing of young women. As long as you're visually distracted, you're not really listening. Male artists too. Justin Bieber, he's being sold on his sexuality, but he's too young to even understand what's going on."


Lady Gaga recently hung out with Richie Sambora. She Tweeted: "@TheRealSambora im still recovering from hanging out with you backstage. LEGEND I can die a happy deranged dreadlocked grandma!"

Solange Knowles tells WQHT that Beyonce once confronted a bully of hers. ''When I was in seventh or eighth grade I used the [fame] card. Because there was this one kid who was so obnoxious, he was constantly kinda bullying. I wrote petitions to get this kid out of school. I really couldn't stand this kid. His name was Brandon, I remember that. One day, and 'No, No, No' had just come out the remix with Wyclef, and I did say, 'My sister's gonna come here and you're gonna be really surprised who she is.' Because I'd been telling my sister and Kelly [Rowland], 'Y'all gotta come check this kid.' They pulled up and I will never forget the face that Brandon made. It wasn't just because they were coming to beat him up, it was Destiny's Child coming to beat him up! I loved it.''

Chris Brown has left rehab. His lawyer says, "Chris is continuing his rehab program as an outpatient and is also completing his community service in the Los Angeles area. He appreciates all of your encouragement and support.

Some Argentines are upset with Justin Bieber for the way he treated the national flag during a concert in Buenos Aires. Instead of holding up two flags that had been thrown on stage, he used his feet and a mic stand to sweep them aside. Justin Tweeted:

"Heard about what is going on with me down in Argentina and im shocked. I love Argentina and have had some of the best shows of my tour there.
"People throw stuff on my stage all show and i get it to the stage hands to get off so no one got hurt. that video i saw a bra and thought...
"It was a shirt. Im being told by my team it was a shirt but even if it was a flag I would never do anything to disrespect Argentina or the people of Argentina or the fans.
"Im so sorry for anyone who took my actions the wrong way and I hope you can forgive this mistake. So once again to the people of Argentina.
"Im sorry if that was taken the wrong way and im sorry for my mistake. I hope you can accept this.. and I loved my time there performing for you and look forward to coming back. I gave my all and I know the fans did there too. te amo.
"I would never do anything to disrespect my fans. I dont like having to defend myself but this time it was needed as I mean no disrespect so it is all love all around the world. thanks."
Justin Bieber, Chris Brown, Beyonce, Lady Gaga, Sinead O'Connor, Miley Cyrus
---
Kris and Bruce Jenner splitting? Miley and Robin performing together again?
Posted by Albie Dee on 10/18/2013 11:17:00 AM.
Snooki tells E! she wants her son to have a playdate with North West. "I would love to do a playdate. I wouldn't mind that. I think [North West] is beautiful. She has Kim's eyes. Kim has pretty eyes. Kim and Kanye probably have high standards, though. They probably want her to date a prince or something. Lorenzo is a prince - of New Jersey."

Perez Hilton claims Kris and Bruce Jenner are planning to divorce. A source tells the site, "Bruce and Kris will file for divorce but not until the current contract for the shows comes to an end. No one would watch if there wasn't drama, separation leaves it up in the air and will make viewers want to tune in. But once it's over, it will be over for the marriage too — once and for all."


The Daily Star claims Miley Cyrus and Robin Thicke are planning to work together again. A source tells the paper, ''Miley and Robin are planning two more duets this year. They just know everyone will be on the edge of their seat waiting to see what they do next.''

TMZ claims Timbaland and Monique Mosley are splitting after being together for 10 years. He is worth $80 million

InTouch Weekly claims they know what Beyonce likes in her dressing room. A source tells the mag, "Beyoncé asked that her dressing room not only be completely baby-proofed [for daughter Blue Ivy, 21 months] but that it be furnished in all white. The temperature had to remain at 72 degrees. She requested a large second room with a massive vanity and stage lighting so that her hair and makeup team could make her look her best. Bey even asks that all of her food be served on a crisp white tablecloth. She has a no-camera policy. No one on set was allowed to take any pictures."

Taylor Swift's childhood home in Berks County, Pennsylvania has been sold for $770,000. Realtor Lisa Tiger tells RumorFix: "The family were thrilled to secure the home as both they and their daughters are fans of Taylor. It is a beautiful home and garnered a lot of interest because of the Taylor Swift connection – the study is where she wrote some songs while she also played with her brother in the playroom. The new owners have bought a piece of history and it is great that they are locals and fans of Taylor too."
Taylor Swift, Beyonce, Timbaland, Miley Cyrus, Robin Thicke, Kris Jenner, Bruce Jenner, Snooki
---
Sandra Bullock quitting Hollywood? Britney getting Vegas help?
Posted by Albie Dee on 10/3/2013 11:32:00 AM.
Sandra Bullock tells Vogue she would quit Hollywood for her son. "I think this business can take the child out of kids so quickly. I don't want him to have pressures brought on by what I do. I will quit. I will leave. If I see whatever I'm doing affecting him negatively, I will pack up and move to Alaska."


Beyonce tells the Daily Express she misses junk food when touring. "I want to have some ice cream or Krispy Kreme doughnuts! There's too much good food out there. After the tour, I feel like I've earned the right to eat what I want."



Jay Z tells Vanity Fair that his daughter likes his new CD. "She does like her mother's music -- she watches [Beyonce's concerts] on the computer every night. But my album came out and I don't know if Blue ever heard any of my music prior to this album -- she's only 18 months old and I don't play my music around the house. But this album was new, so we played it. And she loves all the songs. She plays a song and she goes, 'More, Daddy, more . . . Daddy song.' She's my biggest fan. If no one bought the Magna Carta [album], the fact that she loves it so much, it gives me the greatest joy. And that's not like a cliche. I'm really serious. Just to see her -- 'Daddy song, more, Daddy.' She's genuine, she's honest, because she doesn't know it makes me happy. She just wants to hear it."



Rihanna tells Glamour that Princess Di is her fashion inspiration. "You know who is the best ever who did it? Princess Diana. She was like, she killed it. Every look was right. She was gangsta (sic) with her clothes. She had these crazy oversized jackets. I loved everything she wore."



Miley Cyrus almost went to college. She tells Rolling Stone, "Once I ended ['Hannah Montana'], I thought I might go to NYU or something and study photography. Or to Savannah—they've got a really good school in Savannah. I'm never going to be able to go to school and have the normal life. I kind of like the way Mary-Kate and Ashley did it. They were bajillionaires from being these kid stars, and they decided that that wasn't the future that they wanted. So they did fashion, and they kind of blended in at NYU. I don't think people bug them. I think in New York, it's cool to not care."



Billy Ray Cyrus tells Queen Latifah that Miley is smart. "Miley's a really smart young lady. She's a very creative artist. That intangible of reinvention. That's the thing (Miley's godmother) Dolly (Parton) is so good at. You make your music and you do your art, and there's a time you have to figure it out yourself. You can't really count on somebody else to give you that lesson."



Could Britney Spears have found a glitzy, Canadian fairy god mother to help her through a Vegas residency?! SURVEY SAYS: Celine Dion!
Britney Spears, Miley Cyrus, Rihanna, Beyonce, Jay Z, Sandra Bullock
---
GaGa in a dangerous place? The Walking Dead getting a spinoff?
Posted by Albie Dee on 9/18/2013 11:24:00 AM.
Elton John tells The Australian Lady GaGa is in a dangerous place.

"I'd like to be able to talk to her right now, but I can't get through to her. And there are times when you have to listen. When your persona begins to take over your music and becomes more important, you enter a dangerous place. Once you have people around you who don't question you, you're in a dangerous place. Look at Lindsay Lohan. There was someone with a successful career and her parents completely f***ed her up. The dad was in jail and the mum was doing coke with her. Great!"


AMC is planning to produce a companion series to The Walking Dead. Producer Robert Kirkman tells The Hollywood Reporter, "After 10 years of writing the comic book series and being so close to the debut of our fourth, and in my opinion, best season of the TV series, I couldn't be more thrilled about getting the chance to create a new corner of The Walking Dead universe. The opportunity to make a show that isn't tethered by the events of the comic book, and is truly a blank page, has set my creativity racing."The series will debut in 2015.




RADAR Online claims Miley Cyrus and Liam Hemsworth are taking a break. A source tells the site, ''They've split for now. Miley and Liam have a very tumultuous relationship and both are exhausted. It's a complicated relationship. The wedding is on hold, for now. It's not canceled but it doesn't look promising.''Another source tells RADAR, ''Liam really does care about Miley, but her racy new look and sort of ghetto attitude isn't exactly what he signed up for. Her VMAs performance absolutely mortified him and he couldn't be more embarrassed. He doesn't really see anything sexy about what she did on stage.''



Mark Wahlberg recently went back to school and got his high school diploma. He tells People, "I didn't want the kids saying, 'You didn't do it, so why do I need it?' They are all wanting to do things in their future that require an education. It's also a huge sense of relief. I wondered, 'Why didn't I do it when I was there?' It's so much harder at 41 going back and trying to do all these difficult tasks. I would love to go to USC (University of Southern California) and study film. I don't want to become a veterinarian or anything, (I want to study) things that further my career and broaden my horizon."



Katy Perry admires Rihanna. She tells Elle, "I think that Rihanna always looks so fresh and I'm like, 'How do you do that? We all know how much pot you smoke! And you don't sleep because you're on Instagram at four o'clock in the morning!'"


Lady GaGa is going to star in the new movie The Secret Service. A source tells the Sun, "Gaga only had to commit one day to film her scenes early next year... She didn't take much persuading."



TMZ claims Britney Spears is getting $29 million to perform 48 shows over two years at Planet Hollywood Las Vegas.


Kelly Clarkson tells ABC she plans to elope and that her wedding song will be Eva Cassidy's cover of Fleetwood Mac's "Songbird".


Snoop Dogg won a pound of weed from the Mayweather - Canelo fight. He Tweeted: "Thanks to the champ money may for winning me a pound from my mexican buddy Lui !! U r the pound for pound best! N I'm gonna smoke 2 dat !!! Hahahahahahahah."



The Sun claims Jay-Z and Beyonce are hiring a nanny. A source tells the paper, ''Beyoncé and Jay have started advertising for a nanny who is happy to travel the world with them. The other main stipulation is that she is bilingual. They want a French speaker for a number of reasons. The family have a real connection with France and Beyoncé's nephew Julez is a French speaker, because his dad is French. They've already started seeing candidates and have been getting advice from friends including Gwyneth Paltrow.''
Jay Z, Beyonce, Snoop Dogg, Kelly Clarkson, Britney Spears, Lady GaGa, Katy PErry, Rihanna, Mark Wahlberg, Britney Spears, Liam Hemsworth, The Walking Dead, Elton John
---
Next Entry