On Air Now: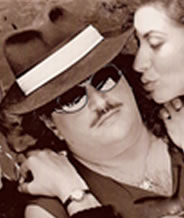 Albie Dee
Amanda Bynes showing signs of schizophrenia? Kanye controls Kim?
Posted by Albie Dee on 8/12/2013 11:27:00 AM.
The New York Daily News claims Amanda Bynes is showing signs
of schizophrenia. A source tells the paper, "She's not improving yet. She's
still delusional. These meds take longer than a week to work, and she's only
been given them for about a week. She's not physically combative, but the
doctors weren't forcing her to take her meds in the beginning. Then the doctors
said she had to take them or they would force her, so she started.
The NY Daily News claims Lauren Silverman's estranged
husband, Andrew, is upset he can no longer hang with Simon Cowell. A
source tells the paper, "They met Simon on vacation and yes, he's an impressive
man. They were both taken by him. Andrew didn't give a s— they were having an
affair as long as he could hang out with Simon and play on his yacht. But now
that it came out like this, it's different. ... It is no secret that she
disdained Andrew."
InTouch Weekly and Showbiz Spy claim Kanye West controls Kim
Kardashian. A source tells the sites, "She has to do what he says — or
else. She knows the littlest thing can set him off. She knows not to push Kanye
too far … she's doing her best to keep him happy."
E! claims Sly Stallone ripped Bruce Willis on Twitter
earlier this week for demanding $4 million for four days of work on Expendables
3. A source tells the network and the Hollywood Reporter, ''He said he'd
drop out unless he got $4 million. A million dollars a day. Stallone and
everybody else involved said no. I think [Willis] was pretty surprised he was
replaced in 72 hours by Harrison Ford—a better actor, a much nicer person and a
more interesting direction for the film.''
RADAR Online claims Lindsay Lohan had a rehab romance. A
source tells the site, ''Prior to Lindsay's arrival I was roommates with the
guy who ended up dating her. When she came, the first or second day they ended
up kissing and it was on from there. Everybody in rehab knew they were dating.
It was pretty obvious. But the guy eventually got kicked out because of
Lindsay. The guy who owns Cliffside slacked on the rules for Lindsay, but they
got cocky with their relationship and people got uncomfortable with the
situation, saying they couldn't do that stuff when people are trying to get well.
They're still together now. They go to meetings outside and she meets him
there. She still talks to him every day.''
Contact Music claims Lady Gaga's stylist Nicola Formichetti
has quit. Women's Wear Daily quotes him as saying, ''She changes 12 times
a day; it's insane. She's going to be my BFF forever, but my ex-assistant
Brandon [Maxwell] is heading that project. I'm too busy. I've done two albums
with her, it's been five years ... I'm always going to be involved somehow, but
I cannot do it every day.''
Pink recently had an amazing concert moment in Australia. She
says, ''The coolest thing happened the other night: I go back into the bathroom
to do my vocal warm ups and I go on Twitter to get excited. It's our 85th show,
but everybody else's first time seeing it and it gets me motivated and ready.
Then I read about this kid, Calvin, who had just beaten cancer, had Down
syndrome, who was there; my album had got him through his treatment. And his
mom wrote this letter to me and I read it, so at the beginning of So What I
know that I'm going straight out to the back. I flew out [on a trapeze] and
said, 'I'm coming for you Calvin!' And I just happened to stop right over the
wheelchair section and the mom just started sobbing. I started crying, he was excited;
it will go down in history as one of the most amazing moments in my life.''
Robin Thicke is planning to make more CDs. He tells the
Associated Press, "I did want to push the boundaries and work with some
hitmakers (on the new album) to see if they could help me (score a big hit) and
luckily it all worked out. I want to get right in the studio. I want to make a
country album, a Christmas album, a gospel album. I'm like, 'Finally!' I'm
ready to make four albums right now."
Robin Thicke, Pink, Lady Gaga, Lindsay Lohan, Stallone, Bruce Willis, Kanye West, Kim Kardashian, Simon Cowell, Amanda Bynes
---
Chris Brown to quit music? Usher's son in accident?
Posted by Albie Dee on 8/8/2013 11:29:00 AM.
Chris Brown took to Twitter on Tuesday to tell the world
that he plans to quit music after the release of "X," his upcoming
LP.The R&B singer said he's "tired of being famous for a mistake"
he made when he was 18, referencing when he assaulted Rihanna.Both Brown, who
has had a string of other post-assault altercations and incidents on his rap
sheet, and the music industry, which has promoted and booked Brown since
shortly after the assault, have faced near constant criticism since the
horrific event that took place before the 2009 Grammys.
http://www.huffingtonpost.com/2013/08/06/chris-brown-quit-music-x-mistake_n_3713262.html?utm_hp_ref=mostpopular
Usher's 5-year-old son, Usher Raymond V, is recovering from
a pool accident. On Monday, he tried to retrieve a toy from a pool drain
when his arm got stuck. Two of Usher's employees freed his son and performed
CPR. Usher is at his son's hospital bedside.TMZ claims Usher's ex, Tameka, is
seeking custody of their kids because he's creating a dangerous environment
Harrison Ford has joined the cast of Expendables 3. He will
work solo.Sly Stallone Tweeted: "WILLIS OUT… HARRISON
FORD IN !!!! GREAT NEWS !!!!! Been waiting
years for this!!!! GREEDY AND LAZY …… A SURE
FORMULA FOR CAREER FAILURE"
Perez Hilton claims Simon Cowell's ex-fiance, Mezhgan
Hussainy, is angry with him. A source tells the site, "She's furious,
humiliated and angry, but she can't do anything because she put her career on
back burner and he supports her financially and emotionally. She can't talk
about her true feelings in public because she doesn't want to betray him just
because he betrayed her. She feels betrayed that he didn't have the sense to
use protection with a woman their circle of friends thought was a gold-digger."
Mark Wahlberg tells The Sun that Justin Bieber needs to
clean up his act. "Justin, are you listening? Don't be so naughty ...
Be a nice boy, pull your trousers up, make your mom proud and stop smoking weed
you little b**tard. He's a teenager living in a different day and age. I was in
prison before I got a record out and I don't think he's been to prison. He's a
nice enough kid and you're going to be a teenager. But if you're being a teen
in the spotlight you're going to be criticized for it. This career can be
short-lived - you might as well be the best you can while you're doing it."
Jon Bon Jovi's son, Jesse, has earned a roster spot on the
Notre Dame football team. Coach Brian Kelly tells USA Today, "Jesse has
earned his spot on the 105, He's a tough kid. The kids really like him. They
respect him. They don't look at him as a rockstar's son. They look at him as a
kid that loves Notre Dame and wants to play football and help this team. He's
had a good summer. I'm a huge fan of Bon Jovi. Didn't have to have his son to
make that apparent. He had a reputation here. I think Charlie Weis, being from New
Jersey, brought him into the Notre Dame family long
before I came. He's a great guy. He's a grounded guy."
Jon Bon Jovi, Notre Dame, Mark Wahlberg, Justin Bieber, Simon Cowell, Harrison Ford, Bruce Willis, Usher, Chris Brown
---
Taylor Swift wears read lipstick for a reason!
Posted by Albie Dee on 7/22/2013 11:22:00 AM.
Contact Music claims Londoners threw chips at Rihanna after
she arrived late for a show. The site quotes her as saying, ''This is next
level, there is a good crazy and there is a bad crazy, but when you throw s**t
up here, that's an epic fail. I swear to God, cut that s**t out. Really? Chips?
Chips, though - it's that important?''
Britain's Star magazine claims Kanye West wants more kids
with Kim Kardashian. A source tells the magazine, "At first, Kim thought Kanye
was joking, as she's been through such a stressful time in the past few months
and she's only just started to feel herself again. As soon as she realized he
was serious, it sparked a spat. She wants time to get to grips with motherhood
– she's still struggling to breastfeed – and to enjoy her first precious months
as a mom before she even starts thinking about more children.''
Taylor Swift wears red lipstick for a reason. She tells
Top of the Pops magazine, ''I like red lipstick because wearing it gives me
this feeling of fancy things, elegant ladies and women throughout history who
I've looked up to. My grandmother was absolutely beautiful, even in her old
age. She always wore red lipstick. Maybe that's what I like about it. One of
the best tips is they [make-up artists] have is put on the red lipstick, blot
it with a tissue, then they put powder over the tissue and sort of press it
onto your lips, then reapply the lipstick. It turns into a stain that lasts
much longer.''
US Weekly claims George Clooney pursued Eva Longoria while
he was with Stacy Keibler. A source tells the magazine, ''George began
pursuing Eva,. He told her that he was still with Stacy, but had plans to break
up with her and was interested in being with Eva. When Eva resisted he
continued to pursue her with texts and calls. Eva make it clear to him that she
would not date or be with him until he was completely single. George and Eva
never hooked up.''
The Sun Times claims the producers of Glee have yet to
decide how they are going to handle Cory Monteith's death on the show. A
source tells the paper, "People are still walking around like zombies — in
total shock. They have not even begun to have that conversation. Not yet."A
source tells Hollywoodlife.com,
"Lea is not leaving Glee. Everyone is going to take things lightly as the first
few days back on set are going to be an emotional roller coaster."
Bruce Willis enjoys pottery. He tells the Daily
Express, "I have a pottery collection - Marblehead
pottery. The pottery is from the craftsman era. They used to make it at Marblehead,
Massachusetts, at a sanitarium as a way to
keep the patients occupied. Then the pottery turned out to be so good that they
took it away from the patients and started selling it."
Rihanna, Kanye West, Kim Kardashian, Taylor Swift, George Clooney, Eva Longoria, STacy Keibler, Glee, Cory Monteith, Bruce Willis
---