On Air Now: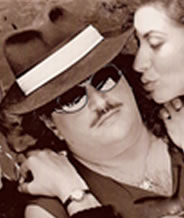 Albie Dee
Paul Walker's daughter did not see accident? Miley's credit card declined?
Posted by Albie Dee on 12/5/2013 10:21:00 AM.
Showbiz Spy claims Paul Walker's daughter did not witness his death. His family released a statement that read: "It is unfortunate that claims are being made to the media that Paul's daughter Meadow was at the event on Saturday when the accident occurred. We want to clarify that Paul went to the event alone. Meadow was not at the charity event on Saturday and thankfully, did not witness the accident. Any claims stating otherwise are inaccurate. Sadly, there's also numerous people creating fake social media profiles claiming to be Meadow. We would like everyone to know that Meadow does not currently have any public profiles and is not currently active on social media. We ask that her privacy be respected at this time."
More
Bon Jovi, Wiz Khalifa, Kanye West, Rihanna, Miley Cyrus, Brad Pitt, Paul Walker, Charlie Sheen
---
Anchorman & Robin Thicke duet? Drake & Khloe getting close?
Posted by Albie Dee on 11/28/2013 10:02:00 AM.
The NY Post claims Ron Burgundy and Robin Thicke have recorded a cover of Christopher Cross' 1980 hit 'Ride Like The Wind' for the 'Anchorman 2' soundtrack. A source tells the paper, ''Everyone's on board for a proper music video, but Will's concerned about his schedule.''

The LAPD recently arrested Darwin Vela and Kelly McLaren for trying to extort Charlie Sheen. A source tells RADAR Online, ''Just a few weeks ago, Vela and McLaren approached Charlie Sheen's reps, and said they were in possession of a sex tape in which the actor was featured. They also claimed to have other incriminating information against Charlie, and wanted money. Charlie's camp immediately went to the cops. There is absolutely no sex tape involving Charlie that they are in possession of. It was a shakedown and a really bad one at that. Charlie is fully cooperating with the ongoing investigation. It was over six figures that they wanted from Charlie. They were focused on the money, and that is it."


Former "Malcolm in the Middle" star Frankie Muniz has suffered another mini stroke. He Tweeted: "Almost a year to the day, I experienced another mini stroke. Hopefully that will be the last. Miserable."

Kanye West has signed a deal to endorse Adidas. ''I took the adidas deal because I have royalties and I have to provide for my family. Whatever is official, non-official, official-what y'all gonna see is I'm gonna be the Tupac of product. I'm gonna be the first hip-hop designer and because of that I'm gonna be bigger than Wal-Mart. Nike told me, 'We can't give you royalties because you're not a professional athlete.' I told them, 'I'll go to the Garden and play one-on-no one.' I'm a performance athlete.''

Hollywoodlife.com claims Rihanna doesn't care that Drake and Khloe Kardashian are getting close. A source tells the site, "Drake's not her man. If they were together than that would be a different story. She's not intimidated by her or any other woman for that matter. Rihanna's not the jealous type anyway but there's nothing to even worry about because she and Drake haven't had that conversation yet. She's not really ready to jump into another relationship. After she's been burned and hurt, she will need some time, lots of time, before she's ready to go back in with her heart open to trust a guy."

Kelly Clarkson tells NBC she tried to keep her pregnancy a secret. "We were trying to wait until the end of my first trimester because you're supposed to, I guess, because you're less likely to have a miscarriage. But everybody kept talking about it and I had to cancel something because I've been so ill. I didn't want people to think I was canceling because I'm lazy or something, so we just told people."

Jon Bon Jovi tells NBC he cried the first time he saw his son, Jesse, run out on the field as a walk-on cornerback for the Notre Dame football team. "You cry like a baby, every mom or dad that put their kid in a helmet and a pair of pads dreams of the day that they are going to run of the tunnel at place like Notre Dame. Notre Dame is a really hollowed and sacred ground, to be a part of this culture is fantastic for everyone involved."
Bon Jovi, Kelly Clarkson, Rihanna, Drake, Kanye West, Fankie Muniz, Charlie Sheen, Ron Burgundy, Will Ferrell, Robin Thicke
---
Simon Cowell makes ex furious? Will he be a good day?
Posted by Albie Dee on 8/6/2013 11:28:00 AM.
US Weekly claims Simon Cowell has promised to take care of
Lauren Silverman. A source tells the magazine, ''Simon told Lauren not to
worry and he will take care of everything. He always takes care of his women.
He gave [former fiancee] Mezghan Hussainy a salary and bought her a house. He
bought [ex-girlfriend] Terri Seymour tons of fancy clothes and cars. He's very
generous to his ladies. He told her whatever Andrew throws at her or says about
her he will take care of her so not to worry and not to let it bother her.''
A source tells the Daily Mirror, "The situation is absolute
chaos. Mezhgan is furious with him and has been calling him to ask him
questions but he wouldn't answer his phone so she drove to his house. On top of
that Simon has been dragged into the middle of Lauren's divorce with Andrew
Silverman. Andrew knows exactly what goes on when Simon holidays on his boat
with a harem of women and the prospect of his private affairs coming out in
court will terrify Simon."
The NY Post claims Andrew and Lauren Silverman spent the
weekend at their Hamptons home with
their child. A source tells the paper, "Andrew stayed at the house to
create some normalcy for their son. There was no talk about the divorce
settlement. That is being handled by the lawyers. There was minimal
conversation between them. It was done purely for their child."
Kelly Rowland thinks Simon Cowell will be a great dad. She
says, "I think that Simon has always been a very classy guy, he's always
been a very respected guy, and he's going to be a great father." Demi
Lovato tells E!, ''I don't have any advice to give to someone who has lived
like a hundred more years than I have. I mean, I might be off by a few, so
maybe 110. But I have a lot of fun with him and he's a great guy. He'll be
good.''
RADAR Online claims Charlie Sheen is living with porn star
Capri Anderson. She filed a complaint against him after he trashed a New
York hotel room in 2010 and allegedly threw a lamp at
her. A source tells RADAR Online, ''Charlie doesn't really hold grudges and
lives in the moment, which explains why he's moved Capri
in with him. She moved in about three weeks ago. Charlie's been partying almost
harder than ever. It's one of the only things him and Capri
have in common! Charlie and Capri pretty much just act
like none of that craziness from the past ever happened. It's the weirdest
thing.''
Showbiz Spy claims Jay Z recently gifted his employees with
a bonus. A source tells the site, "Earlier this year he handed out $50,000
bonuses to everyone in his company, which includes assistants and very
low-level people. He even promised another bonus for Christmas. He's extremely
generous — most celebrities are supercheap when it comes to running their
businesses. He knows if his employees are happy, it will benefit him in the
long run. His only demand was for everyone to have fun with the money."
The Daily Star claims Rihanna is spending lots of money. A
source tells the paper, "Rihanna makes decisions based on how she's feeling at
the moment. "She'll spend six-figure sums on yachts, private jets, trips
worldwide and then decide not to go. She's forever changing her mind at the
last moment, even if she's already paid for it. She'll spend six-figure sums on
yachts, private jets, trips worldwide and then decide not to go. It all depends
on how she feels when she wakes up. Rihanna recently organized a villa in St
Tropez for a weekend, all paid for with six staff and flights booked for her
security, but didn't go in the end. She also hired a yacht for a two-day break
on the Med, which was $120,000 a day, and she never made it on board."
Rihanna, Jay Z, Charlie Sheen, Demi Lovato, Kelly Rowland, Simon Cowell, Andrew Silverman
---
Bieber stressed out Selena? Hootie and the Blowfish reunion?
Posted by Albie Dee on 7/23/2013 11:25:00 PM.
Selena Gomez tells Perez Hilton her breakup with Justin
Bieber stressed her out."I'm sure you could actually see those pictures of
me being, like, way stressed out about it. And it's hard, because what do you
do? Do you just wanna sit in your house and hide and not go anywhere?"
Look magazine claims Jay Z is concerned about Rihanna
because of her partying. A source tells the magazine, "Jay-Z is at
the end of his tether. Despite numerous interventions with Rihanna and intense
heart-to-heart meetings, Jay-Z despairs that she isn't taking his advice
seriously. But there are only so many times you can tell someone something, and
they ignore you, before you stop. It's hard for him as he loves Ri dearly and
wants to help her, but she won't listen right now. He was trying to coordinate
so they could chat. He wants her to enjoy herself but he worries about her.''
Chris Brown is single again. He tells HollywoodLife.com: ''Fans
have seen me on and off again with different girls, you know who they are, but
right now, as a 24-year-old man, I just choose to be single! I'm still good
friends with them. [Now] it's just me being focused with my music and doing
this stuff. Right now, I'm in my prime.''
Darius Rucker plans to reunite Hootie and The Blowfish. He
tells Rolling Stone, "We're gonna do another record. And go on another big
tour. I don't know when, though probably no time soon. We were on the road and
decided, 'Hey man, we've been doing this forever. I don't know if I want to do
it every summer.' So we just kinda ended it. I didn't think that was cool. The
whole time I was saying that we should make some sort of announcement that we
weren't going to play for a while, but we never did. For the people who plan
their summers around when we're playing, they need one more record and another
big tour."
OJ Simpson wants to star on Anger Management with Charlie
Sheen if he gets released from jail. His promoter, Norman Pardo, tells the
NY Post he has spoken with a producer. "He said, 'Anger Management' with O.J.
Simpson? That would be a perfect fit!' O.J. would play a thinly veiled version
of himself — a famous con who's pissed off about being unjustly incarcerated. I
could see OJ pulling in record numbers for the show, especially if there are
parallels to his sentence for armed robbery and kidnapping in the Vegas case. A
lot people feel that was way too harsh.''
TMZ claims Amanda Bynes made a worker from the
Ritz Carlton Central Park cry after she told her she was too ugly to check her
in. Bynes allegedly angered the staff by smoking weed in the hotel. The Ritz
booted her although Bynes claims she left on her own.
TMZ also claims Amanda made 40+ room service orders totaling
over $2,000.
Selena Gomez, Justin Bieber, Jay Z, Rihanna, Chris Brown, Darius Rucker, OJ Simpson, Charlie Sheen, Amanda Bynes, TMZ
---
Lindsay Lohan to stay in rehab?
Posted by Albie Dee on 7/12/2013 11:04:00 AM.
RADAR Online claims Lindsay Lohan has been advised to extend
her rehab stay. A source tells the site, "Lindsay has been doing so well
at Cliffside. She is responding very, very well to treatment. The treatment
team wants Lindsay to stay for at least another 30 days, because she didn't do
her entire 90 days at Cliffside. Someone with her addition and psychiatric
issues needs extensive treatment and 90 days just isn't enough. She is in a
really good place right now, but her doctors want that to continue. Lindsay
says she is required to be in Venice, Italy,
at the beginning of August to attend the premiere of The Canyons. She has
assured the doctors that she will continue to go to AA/NA meetings and work the
12 steps.'
Whitney Houston's daughter, Bobbi Kristina, is engaged to
Nick Gordon again. She blogged: "YES, we me nick are engaged. I'm
tired of hearing people say 'eww your engaged to your brother or if Whitney was
still alive would we be together or would she approve of this/ Let me clear up
something, we aren't even real brother and sister nor is he my adoptive
brother. My mom never adopted him. In fact, mommy was the one who even said
that she knew that we were going to start dating. My mom knows me better than
any of you.
A lot of yall are saying that yall are only saying this all
out of love. Which is bull because if that was so, all you would want is for me
to be happy. People need to seriously stop judging my relationship. Pretty sure
it's my own decision who I want to be with. Yes, my relationship may not be
perfect. We will have rough patches, just like every other relationship. And we
have had our rough patches."
Durex is releasing a line of Daft Punk condoms that
feature the 'Get Lucky' logo on their packages

Look magazine claims Rihanna and Drake may start dating
again. A source tells the mag, "When she was dating Chris, he banned
her from talking to Drake. She really missed him in that time - yes, they went
out years before but he was also a good friend to her - so calling him was one
of the first things she did when she realized she was over Chris. Drake's been
waiting patiently on the sidelines. Just over a month ago, Drake gave Rihanna
an ultimatum. He told her he needed to move on if she wasn't going to commit.
His love life was paused when Chris and Rihanna reunited, and Drake claims it
caused him stress headaches, writer's block and anxiety. He was obviously sick
of it, but Rihanna wasn't ready for him. Now Chris and Rihanna are done for
good, Drake might finally get his chance."
Rihanna is donating $5,000 to Chicago's
Barrington High School
because she was late for a performance there in March. The money will go
towards security costs. Billboard claims Rihanna was four hours late. Students
got free tickets, CDs and autographed merchandise.
The Star claims LeAnn Rimes is pregnant. A source tells
the tabloid, "LeAnn is over the moon right now. She has wanted this baby
for over a year." Rimes Tweeted: "LMAO (laughing my a** off) Star
Magazine! I don't know if you dr (doctor) the pics or pic (sic) the worst one
you can find, but I'm far from pregnant & just dropped a jean size".

Steven Tyler recently crashed a wedding in New York. The
groom tells the NY Post, ''He could not have been more gracious and accommodating.
We were convinced that were it not for his ornery bodyguard, we could have had
Steven Tyler party with us all night.''
RADAR Online claims Charlie Sheen is upset that Brooke
Mueller has left her rehab center. A source tells the site, ''After
Charlie found out that Brooke bailed on the sober living facility is when he
asked his attorney to draw up the papers to reduce the child support. He didn't
want to do this, but Charlie didn't want to be contributing to her drug habit
because the child support is Brooke's only source of income.''
Lindsay Lohan, Whitney Houston, Daft Punk, Rihanna, Drake, LeAnn Rimes, Steven Tyler, Charlie Sheen, Brooke Mueller
---