On Air Now: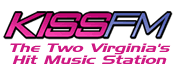 Maximum Music
Ashton highest paid TV actor? GaGa filming holiday special?
Posted by Albie Dee on 10/17/2013 11:22:00 AM.
Forbes' List of Highest-Earning TV Actors
1. Ashton Kutcher ... $24 million
2. Jon Cryer ... $21 million
3. Ray Romano ... $16 million
4. Neil Patrick Harris and Mark Harmon .. $15 million each
5. Patrick Dempsey ... $13 million



Christina Aguilera doesn't date celebs. She tells Queen Latifah, "I love genuine guys - that's why I pretty much stay away from celebs. For me in particular, there are some amazing men out there that are celebrities, but I've always been the girl to look at the guy behind the camera rather than the actor in front of it. I don't like boastful guys who wanna brag about money or status... When I go home and I check out from work, I don't wanna go talk about more work on camera with my partner. I wanna get real and talk about his life."

RADAR Online claims Kim and Kanye are launching a kids clothing line. A source tells the site, "Shortly after Kim gave birth to Nori in June, Kanye encouraged her to pursue her own baby clothes line. He thought it was a great way for her to be taken a little more seriously and cut the cord with her family. He wants her to establish a new career away from reality TV and this is how they think she can do it. Kim really threw herself into it because she loves fashion and also because it makes Kanye happy. She seems desperate for him to respect her and approve of her. He opened doors for her where they were once shut, which is great, but now he's giving her his two cents on everything and it's driving Kim crazy. The truth of the matter is that he doesn't think Kim has good style and he knows whatever she produces will be a direct reflection on him. He doesn't trust her to do her own thing."


Lady GaGa and The Muppets are filming a holiday TV special that will air in December on ABC.

The National Enquirer claims a giant spider recently attacked Taylor Swift before a concert. A source tells the tabloid it was crawling on her boots. "Taylor instantly shrieked, 'NO… DON'T KILL IT! YOU CAN'T KILL IT!' She told the confused guy she only wanted it removed from her dressing room, ordering him to catch it in a plastic cup and take it outside!"

Nickelback is releasing 'The Best of Nickelback Volume 1'.

Track Listing
"Photograph"
"How You Remind Me"
"Burn It to the Ground"
"Rockstar"
"Savin' Me"


"Figured You Out"

"Too Bad"

"If Today Was Your Last Day"

"Far Away"

"Feelin' Way Too Damn Good"

"Someday"

"Never Again"

"Lullaby"

"If Everyone Cared"

"Gotta Be Somebody"

"When We Stand Together"

"Animals"

"This Afternoon"

"Something in Your Mouth"
Nickelback, Taylor Swift, Lady GaGa, The Muppets, Kanye West, Kim Kardashian, Christina Aguilera, Ashton Kutcher, Jon Cryer, Ray Romano, Neil Patrick Harris, Mark Harmon, Patrick Dempsey
---
Simon ruining music? Madonna attacked in NYC?
Posted by Albie Dee on 10/8/2013 11:31:00 AM.
Sinead O'Connor is blaming Simon Cowell for ruining the music industry. She told the Late Late Show in Ireland, "I think the important thing to say is there's a certain alarm that needs to get rung and I know there are a lot of musicians around the country and around the world that will agree, music is being murdered, rock and roll is being murdered. The power of rock and roll to change things, to move people, is being murdered by all of this worship of fame, Pop Idol, X Factor, all this stuff. People like Simon Cowell, who doesn't even know how to burn a CD as of the last time I saw him — deciding what records should sound like, and deciding who gets to be famous and who doesn't."


Life & Style Weekly claims Christina Aguilera has lost 49 pounds. A source tells the mag, ''Once she became serious about losing the weight, she stopped eating out. They've barely gone out at all in the past three months.''



Lorde is the youngest artist in 26 years to top the Billboard charts. She Tweeted: ''wo #1 on US itunes. even if it lasts an hour i feel HAPPY. downside is all these miley fans telling me they're gonna stab my rotting corpse''



Madonna tells Harper's Bazaar she was attacked when she moved to New York in 1977. "New York wasn't everything I thought it would be. It did not welcome me with open arms. The first year, I was held up at gunpoint. Raped on the roof of a building I was dragged up to with a knife in my back, and had my apartment broken into three times. I don't know why; I had nothing of value after they took my radio the first time. I was poised for survival. I felt alive. But I was also scared s— … I was defiant. Hell-bent on surviving. On making it. But it was hard and it was lonely, and I had to dare myself every day to keep going.



Chris Brown tells The Guardian he doesn't like doing community service. ''For me, I think it's more of a power trip for the DA. I can speak freely now, because I don't really care what they say about it, but as far as, like, the 1,000 extra hours they gave me, that's totally fricking bananas. They want me to be the example. Young black kids don't have the fairer chances. You can see Lindsay Lohan in and out of court every day, you see Charlie Sheen, whoever else, do what they want to do. There hasn't been any incident that I started since I got on probation, even with the Frank Ocean fight, the Drake situation, all those were defense modes. People think I just walk around as the aggressor, this mad black guy, this angry, young, troubled kid, but I'm not. I'm more and more laid-back. It's just that people know if they push a button, it'll make more news than their music. Attaching themselves to me, good or bad, will benefit them."
Chris Brown, Madonna, Lorde, Christina Aguilera, Simon Cowell, Sinead O'Connor
---
Harry Potter has a crush on Katy Perry? GaGa a tortured soul?
Posted by Albie Dee on 9/16/2013 11:23:00 AM.
The Daily Star claims Simon Cowell plans to tag his baby as soon as it is born.
The tags will be attached to its ankles and will sync with a tag worn by Lauren Silverman. The GPS tags will ensure there is no possible way of the baby being switched at birth.
Harry Potter star Daniel Radcliffe has a crush on Katy Perry
. He tells Female First, "Mentally I am very close to Katy Perry, a lot. I've been in a room with her since and I couldn't say [anything]. I was across a room from her and I was like 'I can't even say anything, you have probably seen an interview with me [and] you know these thoughts are in my head. I can't even look at you.'"

Lady GaGa tells People she is a tortured soul. "I am – Stefani is – a perpetually tortured artist. That's why I changed my name. I can't be her in public. She would be a mess! Everyone is so cynical – that I can't purely love my fans, or share an honest story about my past, without someone asking me if I really, truly struggled. Do you know how much dirt I ate? Do you know the men I had to crawl through, the people that disrespected my body, my mind, my heart? I'm great under pressure," she says. "I'm a warrior. I'm Rocky, round 12."


Lady GaGa is a Christina Aguilera fan.
She tells Bravo, "I'm a very big fan of Christina Aguilera... From the very beginning of when my career started there was all this controversy about the two of us, and I always felt that it was very unfair to her... I just think it's very unfair of anyone to pit another woman against another woman especially in the space of music when we are all just trying to be taken seriously... as females because we're not taken seriously as real musicians... Christina is an incredible vocalist and an incredible artist. From me to her, I'm so sorry for anything that anyone ever said to her because of my existence. I hope that she never felt (bad) about it because when I was 15, I was singing (Aguilera's song) I Turn to You at the top of my lungs trying to hit all her notes. So she was an inspiration to me to have a wider vocal range, and I just think it's all total nonsense the way that they do that."
Simon Cowell, Harry Potter, Daniel Radcliffe, Katy Perry, Lady GaGa, Christina Aguilera
---