On Air Now: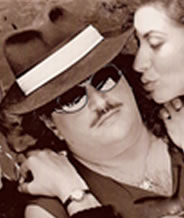 Albie Dee
Jim Ross retires from WWE? Duck Dynasty praying for Miley?
Posted by Albie Dee on 9/13/2013 11:33:00 AM.
Jim Ross Retires From The WWE
... WWE announcer Jim Ross is retiring to spend more time on personal projects.
The cast of Duck Dynasty has been praying for Miley Cyrus.
Sadie Robertson tells FOX 411, "My family has been praying for [Miley Cyrus'] family. We feel very bad for her because we know how entertainment can get wrapped up in your head."
Mark Wahlberg's kids make a cameo in the next Transformers film.
He tells MTV, "My kids just did a cameo as just scared people in the street looking up, but they did a great job. I was so nervous because Michael doesn't have time for bad performances. You have to understand; you're shooting a $300 million movie. You've got a lot going on. He's got five, six takes. If you ain't got it, you're done. I didn't want to see my kids get clipped. They were excited about, but they started to get mad at me because I'm trying to over-direct them. It went great."
Contact Music claims Courtney Love was recently performing in New York when she slammed Katy Perry and Miley Cyrus.
The site quotes her as saying: ''I liked Miley, frankly. I'm gonna be honest, Katy Perry bores the s**t out of me. She's a nice girl, she just really bores me. You know, that hillbilly Miley Cyrus is sort of punk in a weird sex way. I would love to do a duet with Jay Z. Wouldn't that be great? Gwyneth (Paltrow) asked him if he heard my version of 99 Problems and he said it was brilliant, so..."'
RADAR Online claims Justin Bieber's manager Scooter Braun is booting Justin's friends from his home
. A source tells the site, ''Lil Twist and Lil Za have basically been ordered by Scooter to vacate Justin's house. He wants them out by the end of the month and they've even already been set up with their own apartments.There's a growing disenchantment with them. But there's no specific ultimatum date. Scooter's cleaning house, and it starts with Lil Twist and Lil Za.''
Miley Cyrus tells Perez Hilton her video for Wrecking Ball is more than just her being naked.
"I think the video is much more. If people get past the point I make, and you actually look at me, you can tell I look more broken than even the song sounds. The song is a pop ballad that everyone can relate too; everyone has felt that feeling at some point. If people can take their minds off the obvious and go into their imagination and see what the video really means it is so vulnerable. Actually, if you look at my eyes I look more sad than actually my voice sounds on the record. It was a lot harder to do the video than it was to record the song. It was much more of an emotional experience."Billy Ray Cyrus tells ET, ''I'm a song man. A musician singer songwriter who loves all styles of music. But again...I come from the old school where it starts with an artist and a song ...colliding if you will ... in a moment where the song, the singer, the producer, the band and the listener become one. It wouldn't have mattered if Miley would have worn jeans and a flannel shirt ...a Tux ...or a nun's habit. The song's a smash ...and her performance vocally on the tune reflects her roots and sheer God given talent.''
Miley Cyrus, Perez Hilton, Justin Bieber, Scooter Braun, Courtney Love, Katy Perry, Mark Wahlberg, Transformers, Duck Dynasty, Jim Ross, WWE
---
6/26/13 Jay-Z & Nirvana on a song?
Posted by Albie Dee on 6/26/2013 1:31:00 PM.
Courtney Love claims Jay-Z's new CD contains Nirvana lyrics. She
tells the Huff. Post, "I'm letting Jay-Z use lyrics-- [daughter] Frances
would freak [if she knew this]. Jay-Z's huge and we're friends. I mean we're
not besties or anything.... They [used the lyrics] without asking, which is
kind of nervy but the business side has been taken care of so it's fine."
Bon Jovi was recently performing in Poland
when Jon spotted a fan sign that read: "I have the ring in my pocket, I
brought our families, if you play Never Say Goodbye then I'll ask her to marry
me." He invited the couple on stage. The man dropped to one knee and
proposed. His girl accepted.
Diddy almost did Dancing With the Stars. He says,
"For music, you just had to go into the abyss or the stratosphere with no
plan, no destination. I was trying to get myself booked on Dancing with the
Stars because there was no place for me to go to tell my story."
Chris Brown is allegedly leaving his duet with Rihanna off
his new CD. A source tells Hollywoodlife.com, "Just saw the working track list for 'X'
yesterday — Rihanna is not on there. Record execs wanted that song on there,
but Chris said he would rather not and wouldn't allow the record to be released
unless they took it off. They're still hoping to convince Chris or pay him more
to change his mind because it would be a hit. The record hasn't been pressed
yet, so things can change, but at this point he's been bullheaded and won't
change his mind."
Courtney Love, Jay-Z, Diddy, Dancing with the Stars, Bon Jovi, Chris Brown, Rihanna
---