On Air Now: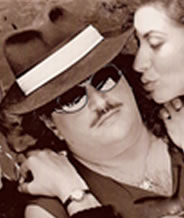 Albie Dee
Judge orders more therapy for Lindsay Lohan!
Posted by Albie Dee on 8/2/2013 11:22:00 AM.
Judge Orders More Therapy For Lindsay Lohan ... Lindsay
Lohan left rehab and is now staying with a sober coach in L.A. Yesterday, Judge
James Dabney ruled: ''Ms. Lohan has successfully completed residential
treatment, and it's being recommended that she continue with her psychological
counseling consisting of three 50 minute psychological counseling sessions per
week. This can be done in person when she is in Los
Angeles, or via Skype when she isn't."
Nick Cannon has written an open letter to Amanda Bynes. It
reads: "Lately I have been hit with an onslaught of questions about someone I
consider family, someone I watched grow up, and someone I genuinely feel is one
of the most pleasant human beings I have had the pleasure of meeting, Amanda
Bynes," Cannon wrote. "The questions have ranged from, 'Have you spoken to
Amanda' to 'Are you working on her rap album.' Sometimes I would answer in a
playful humorous manner and sometimes I would brush it off as another pop
culture topic that a reporter was trying to retrieve a sound bite for. But
after recent events of Amanda being admitted under psychiatric care and
reported as 5150, I see this as no laughing matter.
So I say to my sister Amanda Bynes you're not alone. I'm
here for you. I understand. I care and I appreciate you, because that's what
family does and that's what family is for."
Simon Cowell's former flame, Carmen Electra, thinks he will
be a good father. She tells Hollywoodlife.com, "The impact that he has with The X
Factor, it really shows who Simon is and it shows that he really cares about
the kids on the show — he takes care of them. So I obviously think that his
child will be very well taken care of and very, very loved. I have to call him
after this when I get in the car. I want to know if it is a boy or girl! It's
so awesome — I am happy for him," she added. "He is lovely!"
Kelly Clarkson wishes she was already married. She
tells Country Vibe, "Picking the date for this wedding was ridiculous. We
wanted to actually get married in June. I should be married right now but we
could not fit it in. I'm making a Christmas record and I'm doing country stuff
and I'm still doing pop stuff, and I'm doing the wedding. And I've got a new
life, I've got two kids now and we live together in a new house and there's
construction everywhere. I mean everything you could actually put on a list
we've actually put on our list."
Taylor Swift's opening act, Ed Sheeran, tells MTV they never
made a pact to get married to each other if they were still single at 30. "That
story isn't true. I do have one of those pacts with a friend actually - my next
door neighbor ' but it's for when we're 40. We got the pact from Friends. We
watched Friends and we were like 'oh that sounds like a good idea' but I don't
really want to reproduce with you right now'.'
Lindsay Lohan, Nick Cannon, Amanda Bynes, Simon Cowell, Carmen Electra, Kelly Clarkson, Taylor Swift, Ed Sheeran
---
Jennifer Aniston to marry?? Beiber talks to Clinton?
Posted by Albie Dee on 7/15/2013 11:33:00 AM.



The paparazzi swarmed Suri Cruise and Katie Holmes as they
left their Manhattan home yesterday. Suri screamed at the paps to move
before one said, "Bye Suri, you little brat. I don't care man. I don't care
bro… She's a b**ch, dog. A little brat kid. A little brat




Jennifer Aniston and Justin Theroux are planning to marry in
December according to the Daily Express. A source tells the site,
"Jen and Justin have gone back and forth on where to marry and whether to
have a destination wedding so many times. Jen has always made it clear LA was
her first choice and Justin has compromised and agreed to marry in California.
Justin's reservations with LA are well known and he wanted to marry on the East
Coast where his friends and much of his family is based, where he proposed to
Jen and where he feels most comfortable."




TMZ claims Justin Bieber was booted earlier this week from
Chicago's Bodi nightclub for underage drinking. A rep for the Chicago
Department of Business Affairs and Consumer Protection tells TMZ, "The
ticket was issued by the police to Bodi Nightclub for admitting and knowingly
having underage persons in the establishment. Typically the fine for a ticket
like this would be $1,000.00, but the fine is not determined until the case is
heard by a hearing officer and if the establishment is found liable for the
violation."




Justin Bieber reached out to Bill Clinton after TMZ posted a
video of him urinating in a bucket at a restaurant and then yelling, "F***
Bill Clinton!" He Tweeted: @billclinton thanks for taking the time to talk
Mr. President. Your words meant alot. #greatguy





Justin later Tweeted: "In life u (you) will make
mistakes and people will try and tear u down... but u gotta stay positive. Stay
strong.. and learn to be better.. and.. always live to serve others and The
Lord. Growing every day."




Celeb Dirty Laundry claims the bucket is being auctioned off
with a starting bid of $10,000




Blake Shelton thinks Adam Levine should drink more. He
tells Mens Journal, ''I get frustrated with Adam because, to me, rock stars are
supposed to be drunk all the time. But he's very healthy. He takes care of
himself. And it drives me crazy, because I want him to be more like me. Drunk
all the time.''




Usher thinks Blake Shelton does a great job coaching on The
Voice. He tells NBC, "That lucky devil. He's kind of living on a high
cloud right now. Somebody's got to tear him down. If not Adam, Shakira. He's a
great coach, and he's really taught me a lot. I knew nothing about the show in
detail. Of course, I'd seen it as a viewer, but the time and investment in
building these artists and helping them interpret themselves, and also kind of
giving lessons to America about what it takes to be an artist is why I really
wanted to do it."


The Star claims Taylor Swift and Ed Sheeran have made a pact. A source
tells the tabloid, ''Ed and Taylor are very close and that's why they've
jokingly discussed the possibility of getting together if they're both on the
market in seven years' time. Neither of them wants to settle down at the
moment- or jeopardize their friendship with a potentially damaging fling. They
make for a great couple, but right now it's a case of right partner, wrong
time."


Will.i.am
wants to record with Taylor Swift. He tells E!, "Taylor Swift is
dope. I'd like to work with Taylor Swift. I like the girl. We could do
something really fantasy-like. That would be cool."



Suri Cruise, Katie Holmes, Jennifer Aniston, Justin Bieber, Blake Shelton, Adam Levine, The Voice, Usher, Taylor Swift, Ed Sheeran, Will.i.am
---
6/26/13 Bieber to rehab? Could it happen...
Posted by Albie Dee on 6/25/2013 11:41:00 AM.
RADAR Online claims Justin Bieber's manager Scooter Braun
wants him to go to rehab. A source says, "Justin is hanging out with the
wrong people. It's been one incident after another with him and Braun has
always been very supportive and still is. But now Scooter wants him to go to
rehab to get his act together.Justin needs to get away from the bad influences
in his life. Justin needs to go to rehab for ALL
of his behavior," the source said. "He needs to get control of his life again,
quit smoking pot and partying." Scooter Tweeted: 'Rumors are just that... Rumors. See
everyone at the @justinbieber show tomorrow in San Diego.
#BelieveTour,' he wrote online. 'Moving on with my day. Keeping it positive.'


Kid Rock feels sorry for Justin Bieber. He says,
"Tell me if this is wrong. Justin Bieber... is 100 percent like watching
Vanilla Ice all over again. It's exactly the same. Well, as soon as Bieber has
a hit, he'll be like Vanilla Ice. The kid's young. He's got some money. He's
got the world in his hands. It's just kind of sad to see him go down this
trajectory. It's gonna be a very long ride down. We all know the story. I kind
of feel for the kid, to be honest with you."





Taylor Swift allegedly wants Selena Gomez to date Ed
Sheeran. A source tells Entertainmentwise, "Taylor Swift is really pushing
to be matchmaker for them. And they are not against something happening, but
nothing has happened physically between the two yet. But there is certainly a
good chance if either one wants to pursue things further.''





OK! magazine claims Katy Perry and John Mayer are hooking
up. A source says, "John is a physical guy, and the relationship with
Katy is mainly physical. The reason she is back with him is that she says it's the
best sex of her life." A friend of Katy's says, "My vote is for Rob.
John is a bad boy and sadly Katy prefers that. She always falls for guys with
an edge. With that edge comes drama and John is the king of drama.''





Justin Bieber, rehab, RADAR, Kid Rock, Taylor Swift, Selena Gomez, Ed Sheeran, Katy Perry, John Mayer
---