On Air Now: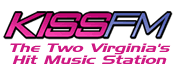 Maximum Music
New title for Batman vs. Superman? Kanye open to starring in movie with Kim?
Posted by Albie Dee on 11/25/2013 11:10:00 AM.
Ace Showbiz claims Warner Brothers has registered the following domain names for the Batman - Superman movie. They include "Man of Steel Battle the Knight", "Man of Steel Beyond Darkness", "Man of Steel Black of Knight", "Man of Steel Darkness Falls", "Man of Steel Knight Falls", "Man of Steel Shadow of the Night", "Man of Steel The Blackest Hour", and "Man of Steel The Darkness Within".

Kanye West is open to starring in a movie with Kim Kardashian. A source tells Hollywoodlife.com, "Kanye wants to work with his wife and incorporate her into his work. He likes how Kris Jenner gets to work with her family every day and gets paid for it. He sees that love, happiness and business mindset she has and thinks it's brilliant. If he's approached to do a movie or something, best believe Kim's going to be in it too. He controls his videos, so that's a no-brainer. He will have Kim in future ones that he does. Believe that."




Hugh Jackman was recently treated for skin cancer. He Tweeted: "Deb said to get the mark on my nose checked. Boy, was she right! I had a basil cell carcinoma. Please don't be foolish like me. Get yourself checked. And USE sunscreen!!!"


Steven Yeun, who plays Glenn on The Walking Dead, tells CBS he has been banned from growing a mustache. "I tried to grow a mustache on our show, and Denise Huth — our producer — will not let me do it because she says it's disgusting."




TMZ claims Aaron Carter has filed for bankruptcy. He has $8,232.16 in assets and owes $1.4 million to the IRS. Aaron's monthly income is $1,998.75 while his monthly expenses are $2,005. He owes American Express $31,166.


Jay Z's new clothing line at Barney's department store features a $58,000 crocodile-skin jacket, a $33,900 watch, a $2,500 pair of leather boxing shorts and a $875 baseball cap.

RADAR Online claims Chris Brown prefers to smoke medical marijuana rather than take antidepressant drugs. A source tells the site, "They make Chris feel very numb and he felt that everything around him was fuzzy. He felt dull and thirsty all the time. He had been taking medical marijuana for the last several years, until the judge said Chris couldn't take it beginning last summer. It was just another instance in which Chris felt he was being treated differently because of his celebrity status. Add that on top of the fact the judge ruled that he had to do all of his community service all over again because of questions regarding the work he had done in Virginia and Chris feels like he just can't catch a break."
Chris Brown, Jay Z, Aaron Carter, The Walking Dead, Hugh Jackman, Kanye West, Kim Kardashian, Batman, Superman, Batman vs. Superman
---
Carmen Electra dumped Simon after catching him cheat?!?
Posted by Albie Dee on 8/15/2013 11:24:00 AM.
E! claims Carmen Electra dumped Simon Cowell after catching
him with Lauren Silverman. A source tells the network, "Carmen was at
Simon's house in L.A. when she
literally busted him with Lauren. Simon called her a friend, but there was
nothing platonic about what was going on, if you know what I mean. There was no
way she was going to stick around and be a third wheel.
The Daily Mail claims Brad and Angelina gifted their son
Maddox with a $4,500 Fender Stratocaster for his 12th birthday. A source
tells the paper, "Maddox wants to be a guitarist and has got all the poses.
He's been having guitar lessons for a few months and has a real passion for it.
Maddox wants to be a guitarist and has got all the poses. So Brad and Ang
figured a new guitar would be the perfect gift. Brad's very proud. He always
wanted to be a rock star and now he's getting a chance to live out his dreams
through Maddox.
The National Enquirer claims Hugh Jackman has been offered
$100 million to star in four more Wolverine films. A source tells the
tabloid, ''Hugh has a very big decision to make. It's not every day an actor
gets offered this kind of pay check, but Hugh vowed never to lock himself into
any multi-picture deals after 'X-Men'. He hasn't given any kind of answer yet,
so at least he's considering it.''
Boston.com
claims Justin Timberlake has been leaving his Air Jordans in each city he
performs in. After performing, he hides the shoes and then leaves clues on
Instagram about where they are. Fans have been finding the shoes.
US Weekly claims Rihanna recently had dinner in New
York with John Mayer and Katy Perry. A source
tells the mag, ''She joined the party of 15 upstairs but sat next to John and
Katy to catch up. She and John were adorable as Katy introduced him to people
as her boyfriend and John affectionately held her close with his arm around
her.''
Katy Perry is planning to auction off some of her stage
costumes. She tells the Business Standard, "I have a warehouse here
in LA and I'll probably do an Elton John-type auction. But I am still going to
be bringing the bling. You'll see a bit more of a grown-up version of me, which
does not equal boring.''
Lady Gaga wears Michael Jackson's clothes. She tells
Ryan Seacrest, "I recently bought a bunch of Michael Jackson's clothes - his
actual clothes from his tours. The idea was to keep them for him and I actually
don't really want to wear them. They're Michael's clothes. There's a couple of
pieces I have to the side and I have his sweaters that I put on - I wear that
when we're mixing and finish up a record. I feel something from the clothing
and I gave one of the sweaters to his godson and he really loved that. I just
feel like through clothes you can feel things."
Showbiz Spy claims Robin Thicke and Paula Patton hid their
relationship in high school. A source tells the site, "The funny thing is,
in high school she didn't take me to prom, her prom, because she didn't want
everyone to know she was with a white guy because she was president of the
Black Student Union. I was a secret. She didn't want to show up with a white
guy. Funny right?"
Robin Thicke, Lady Gaga, Michael Jackson, Katy Perry, Rihanna, John Mayer, Hugh Jackman, Brad Pitt, Angelina Jolie, Simon Cowell, Carmen Electra
---
Bieber's grandma feels sorry for him! Kim & Jessica friends?
Posted by Albie Dee on 7/29/2013 11:31:00 PM.
Showbiz Spy claims Kim Kardashian and Jessica Simpson have
been bonding over their babies. A source tells the site, "Kim reached out
to Jessica toward the end of her first trimester, just as her weight was
exploding. Kim sympathized with Jess over all the nasty comments about how huge
she got when she was pregnant with Maxie, and Kim thought Jess could help her
avoid the same pitfalls. Before long, they were talking on the phone several
times a day, sharing their tales of woe about their bodily aches and pains,
hormonal surges and about how their men were adapting. Jessica knows what it's
like to get slammed over weight gains. She's been counseling Kim to ignore the
negativity and just focus on her precious baby."
Kris and Bruce Jenner recently joined the Mile High Club. Kris
says, ''We decided intentionally to join the Mile High Club. We thought we were
so sneaky ... so we come back to our seats and we were like two Cheshire Cats -
we thought we got away with something. The guy picks up the PA and says, 'Thank
you for flying with American, ladies and gentleman, and we would just like to
give a big congratulations to Kris and Bruce Jenner ... for joining the Mile
High Club!''
Hugh Jackman ate tons of chicken to get in shape for The
Wolverine. He says, "I used to love chicken but not so much any more. I
ate so much chicken for this movie. At one point I was eating like 4,000
calories a day. It might sound like fun but I can assure you it isn't!. At one
point I was eating like 4,000 calories a day We're not talking fun calories
here. It's loads of chicken, fish, some steak, steamed vegetables and protein
shakes. So I'm off chicken for a while."
Lady Gaga will perform at the MTV Video Music Awards in
August.
Acne sent Adam Levine into a depression. He tells
Access Hollywood, ''When I was in high school and I had acne, I spent a lot of
time sulking in my room. I was depressed. I was not happy. High school is hard
enough, but having this problem and knowing that everyone is looking at you in
the hallways ... and I went to a small school and clearly nobody has acne like
I did.''
Justin Bieber's grandmother feels sorry for him. She
tells CTV: ''It's totally crazy. I feel
sorry for Justin all the time, because paparazzi pick on him all the time.
Anybody else's kids have done the same thing but nobody says anything. He's a
19-year-old boy. And before you criticize him, say, 'What is my 19-year-old boy
doing?'
Rihanna just learned a hard lesson ... acting like an
irresponsible Lindsay Lohan can cost you a LOT of money -- in this
case $47,050.TMZ broke the story ... Rihanna's ex-accountants have been trying
to get the singer to sit for a deposition in a lawsuit she filed against them.
Rihanna claims they mismanaged her money and owed her millions, but the
accountants claim Rihanna's the one who's at fault. According to the
accountants -- Berdon LLP -- Rihanna's been blowing off deposition after
deposition (Lindsay-style) costing them boatloads in attorneys' fees,
so Berdon asked the judge to punish the singer. And this month, the judge
agreed, fining Rihanna $47,050 for Berdon's legal bills. On top of the fine,
the judge also ordered Rihanna to sit for a deposition once and for all on
August 28 ... and if she doesn't show up, he might dismiss her case entirely.
Kim Kardashian, Jessica Simpson, Kris Jenner, Bruce Jenner, Hugh Jackman, Lady Gaga, Adam Levine, Justin Bieber, Rihanna
---