On Air Now: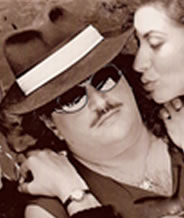 Albie Dee
JLo on health kick? Miley afraid of being alone?
Posted by Albie Dee on 12/18/2013 10:04:00 AM.
The National Enquirer claims JLo is on a health kick. A source tells the tabloid, "She hired a health coach and they worked on using foods and fresh vegetable juices to cleanse her organs. She has green juice with kale, parsley and wheat grass three times a day. She's been eating quinoa and has cut out wheat and all things processed. She only eats meat that is organic, free range and grass fed and for the first month she cut out all animal products. It wasn't easy, but she says it's the best thing she's done for her body."

Imagine Dragons star Dan Reynolds tells the Las Vegas Review Journal the band has not had time to process their success. "I can't even believe it. A year and a half ago, it was a very, very different scenario. I think we all just feel overwhelmed" by how much Imagine Dragons is being embraced by people. We haven't had a moment for anything to sink in. Once we get home and have the holidays with family, we'll be able to have a little bit more perspective. We've just been in the eye of the hurricane, so our perspective is really skewed. Everything sounds like false numbers and facts — in other words, too good to be true.''

Miley Cyrus recently told ABC why her engagement failed. "I was so scared of ever being alone, and I think, conquering that fear, this year, was actually bigger than any other transition that I had, this entire year. I don't ever want to have to need someone again, where you feel like, without them, you can't be yourself. I don't ever want to have to need someone again, where you feel like, without them, you can't be yourself. I don't think I realized what 19 truly is, and I got engaged at 19, and I definitely wouldn't change being engaged. It was so fun wearing a fat rock for a few years. But now…I wait for those moments of silence, when I'm just at my house, by myself.''

Katy Perry tells music-news.com she is open to marriage again. "When I was married I kept taking breaks in between touring so I could dedicate time to my marriage. It was extremely draining, but my marriage was worth it to me. I'm definitely open to love, including getting married a second time. I'll take everything life offers me. That's the only way I'll learn. And experiences are the best inspiration for my music."

Pitbull is launching a men's and women's cologne in 2014. The women's scent has hints of juicy raspberries, red apples, nectarine blossom, and creamy woods. The men's scent smells like bergamot, mandarin, woods, rich tonka bean and amber.

Closer magazine claims Taylor Swift may perform at Kate Middelton's birthday party. A source tells the mag, "William's been trying to get Kate's surprise sorted for Jan. 9 when she turns 32, When he met Taylor Swift recently he asked her if there's any likelihood she's in the U.K. for the New Year, or just after, because he knows Kate's a fan and she's love to meet the singer."

Florida Georgia Line's Brian Kelley married 23-year-old University of Georgia psychology student Brittney Cole yesterday. He tells People, "The whole process has been nontraditional. There was no official proposal or exchanging of rings. We had just fallen in love, and I knew I couldn't live without her. It sounds like a terrible cheesy movie, but when you know, you know! Brittney's the most beautiful woman I've ever seen. I always knew in my heart that if I were single, then I wanted a chance with her. She was my dream girl."

Top Tours of 2013 from Billboard
1. Bon Jovi - $205,158,370
2. Michael Jackson The Immortal Tour (Cirque show)- $157.2 million
3. P!nk - $147.9 million
4. Bruce Springsteen & The E Street Band - $147 million
5. Rihanna - $223.4 million
6. The Rolling Stones - $126,182,391
7. Taylor Swift - $115.3 million
8. Beyoncé - $104.3 million
9. Depeche Mode - $99.9 million
10. Kenny Chesney - $90.9 million

Jennifer Lopez, Imagine Dragons, Miley Cyrus, Katy Perry, Pitbull, Taylor Swift, Florida Georgia Line, Bon Jovi, Michael Jackson, Pink, Rihanna, Beyonce, Kenny Chesney
---
'Professional Microwaver' melts PS4? Oprah refused to get naked?
Posted by Albie Dee on 11/19/2013 11:09:00 AM.
Man Microwaves PS4 ... 'Professional Microwaver' Kenny Irwin purchased the PS4 this past weekend before microwaving it. It took one minute and 44 seconds before the game console caught on fire. Kenny is selling the melted PS4 on ebay. Bidding reached $11,151.30

Oprah tells The Daily Mail she refused to get naked in The Butler. ''You know, he [director Lee Daniels] would have had me buck naked on that sofa if I had let him. He did more screaming than I did - I'm not a screamer.'


Lorde recently returned to her old high school to judge a talent contest.

The NY Daily News claims Rihanna and Drake recently dropped $17,000 at a Houston strip club.

Lady GaGa says she won't join the '27 Club' like Kurt Cobain, Jimi Hendrix, Brian Jones, Janis Joplin and Jim Morrison. "I do put that pressure on myself; I have to be high to be creative. I need that. That's an error in my life that happened for over 10 years," Gaga admitted. "Can I be brilliant without it? I know that I can be and I have to be because I want to live, and I want my fans to want to live. I don't want them to torture themselves in the way I have. I want to show people that I will last past 27 and I will last longer, and so will you."

Argentina impounded Justin Bieber's concert equipment because of a legal dispute. A paparazzo claims his guards destroyed his camera outside a club. A source tells AFP, "Customs impounded for 30 days all Bieber's goods at the Ezeiza International Airport: audio equipment, sound, lights and the clothes he used in his show. It is the first time Argentine customs has impounded belongings of a foreign artist.''

Imagine Dragons hopes to release a new CD next year. Lead singer Dan Reynolds tells MTV, "We're always writing on the road, [so] that second album will come, unless we die at the age of 27 next year. Hopefully we don't die and there will be a second album. I don't know when it will be, but it may come."
PS4, Oprah, Lorde, Rihanna, Drake, Lady Gaga, Justin Bieber, Imagine Dragons
---
Imagine Dragons star breaks hand! Pink scared to be a mom?
Posted by Albie Dee on 7/17/2013 11:20:00 AM.
Imagine Dragons star Dan Reynolds recently broke his hand by
punching a drum kit. He tells the BBC,
"Eight weeks ago... it was this moment of, 'Ah, I'm going to punch a
drum', and I punched it and it broke my hand - I broke two metacarpals in my
hand. I just got the cast off recently. It's a big concert drum - you would
think that when the adrenaline's pumping you can just be like, 'Wham!' and it
be fine but I punched it and my hand was like a gummy worm afterwards. It was the
last song so I tried to wave good-bye and my hand was a little limp."
Pink was terrified of becoming a mother. She tells GQ
magazine, ''I didn't want kids. I was terrified. The relationship I had with my
mother was really rocky at times. But he always wanted kids and then we did it,
and now it's like, 'F**k, this is so rad!' It's more important than anything
we've done. Now I have someone to sing goofy-ass songs to all day and she likes
it. She's not judging me. She's probably the only person who doesn't judge me.''
Katy Perry's new perfume is named after the 1974 Queen song
Killer Queen. She tells WWD, "Freddie Mercury painted the lyrics of this
woman who I wanted to be. She seemed very powerful, and she captivated a room
when she walked in… I feel like I'm falling, finally, into that woman Freddie
painted. I wanted some floral [notes], like jasmine, but I also wanted red
velvet flower, which is incredible — it gives it the edge that makes it Killer
Queen."
Imagine Dragons, Pink, Katy Perry
---