On Air Now: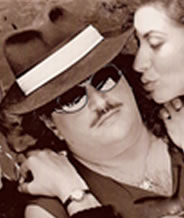 Albie Dee
Paul Walker bought ring for couple? Gaga concerned ARTPOP not doing well on charts?
Posted by Albie Dee on 12/6/2013 10:51:00 PM.

Paul Walker Buys Engagement Ring For Couple ... Irene King was working at a Santa Barbara jewelry store in 2004 when Walker and a US soldier bonded. The soldier was on leave from Iraq and couldn't afford a $10,000 ring. Walker called the manager and discreetly paid for the ring. The story is coming out now because of Walker's tragic death

Rumors circulated that Kanye West postponed a lot of his Yeezus tour (and ultimately ended up cancelling a handful of dates) due to lack of ticket sales, and not the reported damage in equipment. A new report now only speaks to that, showing that Yeezy only filled 4,500 of the over 19,000 seats in the Kansas City Sprint Center earlier this week. Yikes!"Tuesday's poor attendance indicates how his scandalous love life, frequent impolite pronouncements and his gradual shift away from conventional hip-hop have alienated many of his fans," the Kansas City Star reported. Do you agree with them?
During an interview with Hot 97, Kanye made it very clear that adidas was providing something Nike was not: royalties. The deal is reported to be worth on the ups of $10 million, and there is no word on if Yeezy will be designing for adidas or their higher end brand Y-3.
The NY Post claims Lindsay Lohan is dating Liam Neeson's 18 year-old son, Michael. A source tells the paper they partied at a club. "Lindsay seems to have this thing for younger men at the moment. They were together at a house party of one of Lindsay's stylist friends before Thanksgiving, and were together at Finale on Friday. Lindsay was seen leading him into the women's bathroom, hand-in-hand. The odd thing was that Dean was with them all night, even though Lindsay had been seeing him, too."
The Sunday World and Daily Star claim Justin Bieber has instructed his guards to watch him while he sleeps. A source tells the sites, "Justin can't be alone at night right now. He is paranoid about fans breaking into his room, and he hears noises all the time. It freaks him out. As well as the ever-present guard in his room and the one outside, he also has two on standby to take over when his men need breaks. All of the burly guys are around 6ft 5in tall and weigh around 250lb. He wants an army of giants protecting him. Justin is now used to having a guard watch him sleep and he wants the arrangement to continue after the tour finishes."
Jay-Z is going vegan for his 44th birthday. He blogged: "Psychologists have said it takes 21 days to make or break a habit. On the 22nd day, you've found the way. On December 3rd, one day before my 44th birthday I will embark on a 22 Days challenge to go completely vegan, or as I prefer to call it, plant-based!! This all began a few months back when a good friend and vegan challenged me to embrace a "plant-based breakfast" everyday. It was surprisingly easier on me than I thought…"
Showbiz Spy claims Lady Gaga is concerned her CD ARTPOP is not doing better on the charts. A source tells the site, "She is upset that it isn't doing well and even though she has a huge ego as an artist she is scared that there isn't a way to make it a hit. The pre-promotion for the record was massive, and she worked so hard on it while she was sick with her hip injury. She thought all that energy was going to make a hit. It was a rude awakening."

Lady Gaga, Jay Z, Justin Bieber, Lindsay Lohan, Kanye West, Paul Walker
---
New title for Batman vs. Superman? Kanye open to starring in movie with Kim?
Posted by Albie Dee on 11/25/2013 11:10:00 AM.
Ace Showbiz claims Warner Brothers has registered the following domain names for the Batman - Superman movie. They include "Man of Steel Battle the Knight", "Man of Steel Beyond Darkness", "Man of Steel Black of Knight", "Man of Steel Darkness Falls", "Man of Steel Knight Falls", "Man of Steel Shadow of the Night", "Man of Steel The Blackest Hour", and "Man of Steel The Darkness Within".

Kanye West is open to starring in a movie with Kim Kardashian. A source tells Hollywoodlife.com, "Kanye wants to work with his wife and incorporate her into his work. He likes how Kris Jenner gets to work with her family every day and gets paid for it. He sees that love, happiness and business mindset she has and thinks it's brilliant. If he's approached to do a movie or something, best believe Kim's going to be in it too. He controls his videos, so that's a no-brainer. He will have Kim in future ones that he does. Believe that."




Hugh Jackman was recently treated for skin cancer. He Tweeted: "Deb said to get the mark on my nose checked. Boy, was she right! I had a basil cell carcinoma. Please don't be foolish like me. Get yourself checked. And USE sunscreen!!!"


Steven Yeun, who plays Glenn on The Walking Dead, tells CBS he has been banned from growing a mustache. "I tried to grow a mustache on our show, and Denise Huth — our producer — will not let me do it because she says it's disgusting."




TMZ claims Aaron Carter has filed for bankruptcy. He has $8,232.16 in assets and owes $1.4 million to the IRS. Aaron's monthly income is $1,998.75 while his monthly expenses are $2,005. He owes American Express $31,166.


Jay Z's new clothing line at Barney's department store features a $58,000 crocodile-skin jacket, a $33,900 watch, a $2,500 pair of leather boxing shorts and a $875 baseball cap.

RADAR Online claims Chris Brown prefers to smoke medical marijuana rather than take antidepressant drugs. A source tells the site, "They make Chris feel very numb and he felt that everything around him was fuzzy. He felt dull and thirsty all the time. He had been taking medical marijuana for the last several years, until the judge said Chris couldn't take it beginning last summer. It was just another instance in which Chris felt he was being treated differently because of his celebrity status. Add that on top of the fact the judge ruled that he had to do all of his community service all over again because of questions regarding the work he had done in Virginia and Chris feels like he just can't catch a break."
Chris Brown, Jay Z, Aaron Carter, The Walking Dead, Hugh Jackman, Kanye West, Kim Kardashian, Batman, Superman, Batman vs. Superman
---
Bieber at a brother? Miley's pets have a stylist?
Posted by Albie Dee on 11/5/2013 11:15:00 AM.
The Huffington Post is reporting Justin Bieber was allegedly spotted at a brothel in Brazil on Friday (Nov. 1), according to the New York Post's Page Six. The 19-year-old and a friend reportedly spent three hours in the popular brothel Centauros in Rio de Janeiro before he was spotted sneaking out, covered in a bed sheet. Sources tell Page Six he left with two women.
According to photos obtained by Page Six, Bieber was escorted out of Centauros by his bodyguards, who allegedly sprayed the paparazzi with water. He was put in the back seat of his car while the two women were taken to his hotel in another vehicle.
Heat magazine claims Miley Cyrus has hired pet stylist Jorge Bendersky to work with her dogs. A source tells the magazine, "Miley wants each dog's new wardrobe to 'reflect their personality' and give them more confidence. Jorge will give each pup their own look with various clothes and accessories, including his custom-made designs.'' Jorge costs $15,000.I guess she can afford it because Miley Cyrus will earn $500,000 a night on tour.


E! claims Miley Cyrus and Benji Madden shared a steamy kiss at a Hollywood club on Halloween. A source tells the network, "They were dancing and just really getting into the spirit of things.''


The National Enquirer claims allegations that Cee Lo Green slipped ecstacy into a woman's drink have turned off the other judges on The Voice. A source tells the tabloid, "Christina's very upset about the situation. Producers have told her to ignore the accusations and get along with CeeLo for the sake of the show, but she finds the whole thing creepy and hates all the negative publicity it's caused. She can't look at him the same way she did before this whole thing came to light. It's so sleazy and makes her shudder to think that he could be accused of something so vile. She's telling friends she's freaked out and having a hard time spending so much time with him. Nobody really wants him around because his connection to a nasty drug and sex scandal is not what they want to portray to viewers and fans. Producers have told her the show must go on. So Christina's being a pro about it. She'll go along no matter how uncomfortable it makes her."


Jay Z is launching a new cologne called Gold Jay Z. Small bottles will sell for $39.

Kings of Leon star Jared Followill is selling his Nashville bachelor pad for $3.5 million. It has five bedrooms, seven bathrooms, a home gym and a theatre.

A new survey by Ebates reveals that 88% of teens want some sort of gadget for Christmas. Other findings:

- iPhones and iPads are the two most wanted gifts
- teen girls listed the iPhone as their top gift
- teen boys listed the PlayStation 4 as their top gift

Christmas gifts, Kings of Leon, Jay Z, Cee Lo Green, The Voice, Miley Cyrus, Justin Bieber
---
Pauly D a dad? No selfies for Lorde?
Posted by Albie Dee on 10/24/2013 11:21:00 AM.
Fox 411 claims Amanda Bynes is being allowed to leave rehab. A source tells the network, "Amanda is being given two passes a week to go the beach, or out to eat and do things like that, accompanied by a professional handler. She is making great progress."

US Weekly claims Pauly D recently fathered a child with a 26 year-old woman he hooked up with in Vegas. A source tells E!, "They didn't have a previous relationship. But the new dad is hoping to develop a relationship with her. [He] wasn't exactly planning for it to happen this way. But God works in mysterious ways."Snooki Tweeted: "YAY so happy for Pauly!! Now Lorenzo has a girlfriend! Pauly will be an amazing father." InTouch Weekly claims the baby is named Amabella


Lorde tells Billboard she doesn't do selfies. "I feel like mystery is more interesting. People respond to something that intrigues them instead of something that gives them all the information-particularly in pop, which is like the genre for knowing way too much about everyone and everything."

Jay-Z tells Vanity Fair he is working on a new fragrance, a new line of cigars and watches. "I'm not motivated by money. I'm motivated by things I'm interested in. I like watches, so at some point [I'm] going to try and make a better watch. I was in the clothing business—I tried to make better clothes. Whether I succeed or not, that's for people to judge. But I create things."

Hollywoodlife.com claims Kelly Clarkson's family did not attend her wedding. The site quotes her mother as saying, "Kelly was so afraid we might be upset. But we were fine with it. I had known that she was under a lot of stress. And we just wanted her to be happy and not stressed out. I think the biggest thing for us to do was to allow her to do what she wanted to do. She said they were just so overwhelmed with the tour and they just decided to elope. But she didn't want to hurt our feelings. She has had a lot on her plate and I've seen her schedule for the next month and Christmas.''
Amanda Bynes, Pauly D, Lorde, Jay Z, Kelly Clarkson
---
Sandra Bullock quitting Hollywood? Britney getting Vegas help?
Posted by Albie Dee on 10/3/2013 11:32:00 AM.
Sandra Bullock tells Vogue she would quit Hollywood for her son. "I think this business can take the child out of kids so quickly. I don't want him to have pressures brought on by what I do. I will quit. I will leave. If I see whatever I'm doing affecting him negatively, I will pack up and move to Alaska."


Beyonce tells the Daily Express she misses junk food when touring. "I want to have some ice cream or Krispy Kreme doughnuts! There's too much good food out there. After the tour, I feel like I've earned the right to eat what I want."



Jay Z tells Vanity Fair that his daughter likes his new CD. "She does like her mother's music -- she watches [Beyonce's concerts] on the computer every night. But my album came out and I don't know if Blue ever heard any of my music prior to this album -- she's only 18 months old and I don't play my music around the house. But this album was new, so we played it. And she loves all the songs. She plays a song and she goes, 'More, Daddy, more . . . Daddy song.' She's my biggest fan. If no one bought the Magna Carta [album], the fact that she loves it so much, it gives me the greatest joy. And that's not like a cliche. I'm really serious. Just to see her -- 'Daddy song, more, Daddy.' She's genuine, she's honest, because she doesn't know it makes me happy. She just wants to hear it."



Rihanna tells Glamour that Princess Di is her fashion inspiration. "You know who is the best ever who did it? Princess Diana. She was like, she killed it. Every look was right. She was gangsta (sic) with her clothes. She had these crazy oversized jackets. I loved everything she wore."



Miley Cyrus almost went to college. She tells Rolling Stone, "Once I ended ['Hannah Montana'], I thought I might go to NYU or something and study photography. Or to Savannah—they've got a really good school in Savannah. I'm never going to be able to go to school and have the normal life. I kind of like the way Mary-Kate and Ashley did it. They were bajillionaires from being these kid stars, and they decided that that wasn't the future that they wanted. So they did fashion, and they kind of blended in at NYU. I don't think people bug them. I think in New York, it's cool to not care."



Billy Ray Cyrus tells Queen Latifah that Miley is smart. "Miley's a really smart young lady. She's a very creative artist. That intangible of reinvention. That's the thing (Miley's godmother) Dolly (Parton) is so good at. You make your music and you do your art, and there's a time you have to figure it out yourself. You can't really count on somebody else to give you that lesson."



Could Britney Spears have found a glitzy, Canadian fairy god mother to help her through a Vegas residency?! SURVEY SAYS: Celine Dion!
Britney Spears, Miley Cyrus, Rihanna, Beyonce, Jay Z, Sandra Bullock
---
Next Entry