On Air Now: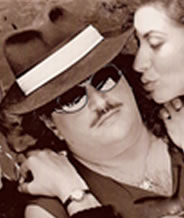 Albie Dee
Paul Walker bought ring for couple? Gaga concerned ARTPOP not doing well on charts?
Posted by Albie Dee on 12/6/2013 10:51:00 PM.
More
Lady Gaga, Jay Z, Justin Bieber, Lindsay Lohan, Kanye West, Paul Walker
---
Paul Walker's daughter did not see accident? Miley's credit card declined?
Posted by Albie Dee on 12/5/2013 10:21:00 AM.
Showbiz Spy claims Paul Walker's daughter did not witness his death. His family released a statement that read: "It is unfortunate that claims are being made to the media that Paul's daughter Meadow was at the event on Saturday when the accident occurred. We want to clarify that Paul went to the event alone. Meadow was not at the charity event on Saturday and thankfully, did not witness the accident. Any claims stating otherwise are inaccurate. Sadly, there's also numerous people creating fake social media profiles claiming to be Meadow. We would like everyone to know that Meadow does not currently have any public profiles and is not currently active on social media. We ask that her privacy be respected at this time."
More
Bon Jovi, Wiz Khalifa, Kanye West, Rihanna, Miley Cyrus, Brad Pitt, Paul Walker, Charlie Sheen
---
Kanye's daughter like royalty? Taylor trying to get back at Harry?
Posted by Albie Dee on 12/2/2013 11:09:00 AM.
Kanye West tells PopStopTV that Kim Kardashian is the next Marilyn Monroe. "I have a love hate relationship with the paparazzi but actually I love them because they empower us over ya know Vanity Fair and Graydon Carter that wanna say Kate Upton is Marilyn Monroe. Kate Upton ain't Marilyn Monroe. Kim is Marilyn Monroe, you know that. She was controversial. She is controversial."

Kanye West tells the Daily Mirror his daughter is like royalty. "My daughter is in a position of a level of royalty like the Prince and Princess in London.''


RADAR Online claims Michael Jackson's family sent Conrad Murray a cease-and-desist letter that read: ''Your recent comments to the media about Mr. Jackson's medical treatment and ultimate death shamefully violate the physician-patient privilege under California law. Your interviews about Mr. Jackson's personal life, health, and recent stories about the medical treatment you supposedly provided him as a 'friend,' disclose precisely the type of information that the physician-patient privilege is designed to protect.''

The National Enquirer claims Lamar Odom may discuss Khloe Kardashian's sex tape if he doesn't receive a $10 million divorce settlement and his $875,000 wedding ring back. A source tells the tabloid, ''Lamar is prepared to destroy Khloe's reputation by discussing their sex tape, and how she targeted him and tore his family apart. Kris is insisting on a confidentiality agreement to ensure Lamar can never discuss his life with the Kardashians either in print or verbally. He's not signing anything until they cough up the dough. Kris and Khloe are very worried about Lamar. He's a loose cannon, and he has a lot of dirt on the family and nothing to lose. He knows all about their extreme surgery procedures - when, how often and how much - and the pressure put on the younger girls to follow suit.''

TMZ claims Chris Brown's rehab staff is refusing to allow him to keep his weed. A source tells the site, '''The staff rejected his request. We're told Chris kicked up a stink, claiming pot makes him calm, but the staff was unbending.''

R Kelly tells The Sun he met his match when he collaborated with Lady Gaga. ''I met my match when I met Lady Gaga. There's no doubt about it. She's very talented, she has a vision, she has a gift to the world. Then she has balls and she's not afraid to express herself. I don't think she does things to be controversial, she's just being herself.''

Hollywoodlife.com claims Taylor Swift is dating British actor Douglas Booth to make Harry Styles jealous. A source tells the site, "Taylor's date with Douglas was all about making Harry jealous, and she made sure that everyone found out about her night out. Taylor usually tries to be really low-profile, but for her meeting with Douglas she purposely chose somewhere that she knew would get attention. She went to one of busiest pubs in London and sat in the public area. She wanted the news to get out about the date because she knows it will make Harry jealous. Plus she doesn't want Harry — or anyone else for that matter — to think she's sitting home waiting for him. And she isn't moping — she has lots of options, and Douglas is one of them. She's testing things out with Douglas, because he's gorgeous and a fun distraction."
Taylor Swift, R Kelly, Lady Gaga, Chris Brown, Lamar Odom, Khloe Kardashian, Michael Jackson, Kim Kardashian, Kanye West
---
Anchorman & Robin Thicke duet? Drake & Khloe getting close?
Posted by Albie Dee on 11/28/2013 10:02:00 AM.
The NY Post claims Ron Burgundy and Robin Thicke have recorded a cover of Christopher Cross' 1980 hit 'Ride Like The Wind' for the 'Anchorman 2' soundtrack. A source tells the paper, ''Everyone's on board for a proper music video, but Will's concerned about his schedule.''

The LAPD recently arrested Darwin Vela and Kelly McLaren for trying to extort Charlie Sheen. A source tells RADAR Online, ''Just a few weeks ago, Vela and McLaren approached Charlie Sheen's reps, and said they were in possession of a sex tape in which the actor was featured. They also claimed to have other incriminating information against Charlie, and wanted money. Charlie's camp immediately went to the cops. There is absolutely no sex tape involving Charlie that they are in possession of. It was a shakedown and a really bad one at that. Charlie is fully cooperating with the ongoing investigation. It was over six figures that they wanted from Charlie. They were focused on the money, and that is it."


Former "Malcolm in the Middle" star Frankie Muniz has suffered another mini stroke. He Tweeted: "Almost a year to the day, I experienced another mini stroke. Hopefully that will be the last. Miserable."

Kanye West has signed a deal to endorse Adidas. ''I took the adidas deal because I have royalties and I have to provide for my family. Whatever is official, non-official, official-what y'all gonna see is I'm gonna be the Tupac of product. I'm gonna be the first hip-hop designer and because of that I'm gonna be bigger than Wal-Mart. Nike told me, 'We can't give you royalties because you're not a professional athlete.' I told them, 'I'll go to the Garden and play one-on-no one.' I'm a performance athlete.''

Hollywoodlife.com claims Rihanna doesn't care that Drake and Khloe Kardashian are getting close. A source tells the site, "Drake's not her man. If they were together than that would be a different story. She's not intimidated by her or any other woman for that matter. Rihanna's not the jealous type anyway but there's nothing to even worry about because she and Drake haven't had that conversation yet. She's not really ready to jump into another relationship. After she's been burned and hurt, she will need some time, lots of time, before she's ready to go back in with her heart open to trust a guy."

Kelly Clarkson tells NBC she tried to keep her pregnancy a secret. "We were trying to wait until the end of my first trimester because you're supposed to, I guess, because you're less likely to have a miscarriage. But everybody kept talking about it and I had to cancel something because I've been so ill. I didn't want people to think I was canceling because I'm lazy or something, so we just told people."

Jon Bon Jovi tells NBC he cried the first time he saw his son, Jesse, run out on the field as a walk-on cornerback for the Notre Dame football team. "You cry like a baby, every mom or dad that put their kid in a helmet and a pair of pads dreams of the day that they are going to run of the tunnel at place like Notre Dame. Notre Dame is a really hollowed and sacred ground, to be a part of this culture is fantastic for everyone involved."
Bon Jovi, Kelly Clarkson, Rihanna, Drake, Kanye West, Fankie Muniz, Charlie Sheen, Ron Burgundy, Will Ferrell, Robin Thicke
---
New title for Batman vs. Superman? Kanye open to starring in movie with Kim?
Posted by Albie Dee on 11/25/2013 11:10:00 AM.
Ace Showbiz claims Warner Brothers has registered the following domain names for the Batman - Superman movie. They include "Man of Steel Battle the Knight", "Man of Steel Beyond Darkness", "Man of Steel Black of Knight", "Man of Steel Darkness Falls", "Man of Steel Knight Falls", "Man of Steel Shadow of the Night", "Man of Steel The Blackest Hour", and "Man of Steel The Darkness Within".

Kanye West is open to starring in a movie with Kim Kardashian. A source tells Hollywoodlife.com, "Kanye wants to work with his wife and incorporate her into his work. He likes how Kris Jenner gets to work with her family every day and gets paid for it. He sees that love, happiness and business mindset she has and thinks it's brilliant. If he's approached to do a movie or something, best believe Kim's going to be in it too. He controls his videos, so that's a no-brainer. He will have Kim in future ones that he does. Believe that."




Hugh Jackman was recently treated for skin cancer. He Tweeted: "Deb said to get the mark on my nose checked. Boy, was she right! I had a basil cell carcinoma. Please don't be foolish like me. Get yourself checked. And USE sunscreen!!!"


Steven Yeun, who plays Glenn on The Walking Dead, tells CBS he has been banned from growing a mustache. "I tried to grow a mustache on our show, and Denise Huth — our producer — will not let me do it because she says it's disgusting."




TMZ claims Aaron Carter has filed for bankruptcy. He has $8,232.16 in assets and owes $1.4 million to the IRS. Aaron's monthly income is $1,998.75 while his monthly expenses are $2,005. He owes American Express $31,166.


Jay Z's new clothing line at Barney's department store features a $58,000 crocodile-skin jacket, a $33,900 watch, a $2,500 pair of leather boxing shorts and a $875 baseball cap.

RADAR Online claims Chris Brown prefers to smoke medical marijuana rather than take antidepressant drugs. A source tells the site, "They make Chris feel very numb and he felt that everything around him was fuzzy. He felt dull and thirsty all the time. He had been taking medical marijuana for the last several years, until the judge said Chris couldn't take it beginning last summer. It was just another instance in which Chris felt he was being treated differently because of his celebrity status. Add that on top of the fact the judge ruled that he had to do all of his community service all over again because of questions regarding the work he had done in Virginia and Chris feels like he just can't catch a break."
Chris Brown, Jay Z, Aaron Carter, The Walking Dead, Hugh Jackman, Kanye West, Kim Kardashian, Batman, Superman, Batman vs. Superman
---
Next Entry