On Air Now: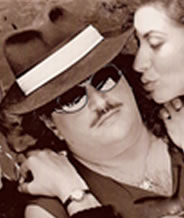 Albie Dee
Kim K gets face work? Tom Hanks want to be a villain?
Posted by Albie Dee on 10/22/2013 11:27:00 AM.
Contact Music claims Kim Kardashian gets her face vacuumed. A source tells the site, ''Kim has been getting her face vacuumed once a week. The treatment uses a supersonic suction device that draws out blackheads, dead cells and impurities and hydrates dry skin by improving the blood flow and the lymphatic system. She also loves Japanese mushroom facial peels using reishi mushrooms for making her skin more elastic.''

The National Enquirer claims Kelly Osbourne told Miley Cyrus her father Ozzy could be her sober coach. A source tells the tabloid, "Kelly went so far as to offer her dad's services to be Miley's sober coach, but Miley was so offended. She told Kelly that she isn't an addict and to mind her own business. Miley doesn't want to hear anything that goes against her image overhaul. It's like she is living in a bubble. Kelly takes her sobriety very seriously. Her dad and brother have also struggled with drugs and Kelly has seen too many good friends get sucked into that destructive culture. Kelly called Miley up and really lit into her and warned her that the bad-girl shtick was getting old real quick.''

Tom Hanks tells Showbiz 411 he wants to play a villain in a superhero movie. "They don't ask me, man. I keep trying. Come on, I can do it. I can do it. Even let me play a bad guy, let me play the bad guy against Batman. I'll do anything, call me. They've never asked! What do I gotta do? God, I want to throw a shield at somebody. I want that. And I don't want to play the guy in the suit who tells the superheroes what's going on. I don't want to be that guy."


The National Enquirer claims Justin Timberlake got hair plugs. A source tells the tabloid, ''He's been very self-conscious about his receding hairline – so a few months before he began shooting his new movie 'Runner Runner,' he underwent a series of hair plug transplants."

Kelly Clarkson and Brandon Blackstock got their marriage license on Friday.

Paul McCartney tells the BBC he can Twerk like Miley Cyrus. "I don't understand why everyone's saying, 'Ooh she shouldn't do that!' It is nothing we haven't seen before. I mean she's a young girl and these days in that kind of field that she's in there's a lot of noise. So you've got to do something to get above the chatter and that's what you'll see a lot of the guys, a lot of the girls, doing. I don't think it was bad at all. She looked good, I thought. I can twerk with the best of them!"

Steven Tyler is going to judge the 2013 Miss Universe contest in Moscow.
Kim Kardashian, Kelly Osbourne, Miley Cyrus, Ozzy, Tom Hanks, Justin TImberlake, Kelly Clarkson, Brandon Blackstock, Steven Tyler
---
Eddie Murphy back in the studio? Kristen Stewart & Zac Efron?
Posted by Albie Dee on 9/6/2013 11:33:00 AM.
Eddie Murphy Has Recorded A New Reggae Song Called Red Light ... Listen at: http://music-mix.ew.com/2013/09/04/eddie-murphy-reggae/


RADAR Online claims Jack Nicholson has retired from acting. A source tells the site, "Jack has — without fanfare — retired. There is a simple reason behind his decision — it's memory loss. Quite frankly, at 76, Jack has memory issues and can no longer remember the lines being asked of him. His memory isn't what it used to be. Jack has no intention of retiring from the limelight. He's not retiring from public life, at all. He just doesn't want a tribute. He's happy to tacitly join the retirees club like Sean Connery.



The Star claims Kristen Stewart wants to date Zac Efron. A source tells the tabloid, "Kristen's relationship with Rob was so tense. She's ready to have a good time, and ants to date a completely different type of guy. He's (Zac) a bit of a playboy. So he wants to keep his partying lifestyle intact. He's not looking for anything emotional, and Kristen doesn't want anything serious. This could work out great for both of them."



Kelly Osbourne is launching her own plus-size clothing line. Contact Music quotes her as saying, ''I had one of the most exciting meetings of my life this week - it pretty much green-lit my clothing. When I sat down in this meeting and they said, 'Yes, you have creative control and of course you can do plus size,' I was like, 'It's happening!'''



Lana Scolaro is speaking out after a picture of her and Robin Thicke became a hot topic because his hand was on her butt. Lana now tells the NY Post and Life & Style Weekly she and Robin went to a hotel room. "His hands were everywhere. He turned off the lights so no one could see us, and he started making out with me. He was grabbing me. He was like, 'I want to get you into bed!' "Paula Patton's rep says, ''Scolaro is just a girl looking for attention. Paula and Robin aren't concerned and are happily vacationing in Florida."



Lady GaGa believes people are out to get her

. She tells The Guardian, "I certainly feel that at this time it's almost as if people are surprised they haven't already destroyed me. It gives them a sense of pleasure when they believe that they've destroyed me or taken me down. It's almost entertainment for people to poke fun at Lady Gaga, but at the very same time they have no idea the album I've made... So it doesn't bother me, it's just an interesting observation of where we are as a society... It's literally not even been two weeks since my first single came out and it's all, 'She's over', or because I'm not Number One yet, 'She's finished'. People focus less on the music and focus more on how the music's doing; how it's faring from a numbers perspective, from a financial perspective. If you think I give a damn about money then you don't know me as an artist at all... I think that once you've had a few Number Ones in your career that you've kind of proven yourself and I don't feel the need to prove anything anymore."

The Star claims JLo was rude to Taylor Swift when she performed with her during her concert in L.A..

A source tells the tabloid, "Jennifer was extremely rude to some of Taylor's closest friends backstage. Jennifer made it clear they shouldn't look in her direction or speak to her. It allegedly angered Swift so much, claims Star, that the young singer "Swift has decided she will never work with J. Lo again or even invite her to a performance."A source tells Gossip Cop, "There is not one bit of truth to the magazine's claims. It was a fantastic experience, and Taylor was thrilled and loved working with Jennifer."
Jennifer Lopez, Taylor Swift, Lady Gaga, Robin Thicke, Kelly Osbourne, Kristen Stewart, Zac Efron, Jack Nicholson, Eddie Murphy, Snoop Dogg, Snoop Lion
---
JLo's kids growing closer to Casper? Who is the highest earning actors
Posted by Albie Dee on 7/18/2013 10:24:00 AM.
The National Enquirer claims Casper Smart is growing closer
to JLo's kids. A source tells the tabloid, "The kids start kindergarten
this fall, so when J.Lo and Casper toured the elite private school they'll
attend, it was Casper who took the lead in interrogating faculty and staff
about the kids' curriculum – and asking a million questions about what they
serve for lunch, what they do for recess, safety and security procedures, etc.
Every time Jennifer started to ask a question, Casper
blurted another. He's just loving his role as the twins' second daddy! And when
Jennifer's kids were accepted, Casper
immediately volunteered for a fundraising event. Casper
was so charming, he sold loads of raffle tickets and made Jennifer proud. She
couldn't be happier that he's taking on daddy duties – and her twins absolutely
adore him!''
Robert Downey Jr. tops Forbes' list of the Highest Earning
Actors. He has earned $75 million in the past year. Channing Tatum
finished second ($60 million) followed by Hugh Jackman ($55 million) and Mark
Wahlberg ($52 million). Dwayne 'The Rock' Johnson, Leonardo DiCaprio, Adam
Sandler, Tom Cruise, Denzel Washington and Liam Neeson rounded out the Top 10.
Kelly Osbourne is banned from driving because of her
seizures. She tells Hello magazine, "I don't know if I'm epileptic or
not - it's a waiting game right now. It's scary and confusing. I'm hoping it
was just a stress-induced seizure, but I have to be on anti-seizure medication
for a year and I can't drive in case I have another episode. Not knowing what
caused it is the worst thing. There's a chance it won't happen again and I hope
it doesn't, though I don't remember it."
Jennifer Lopez, Roberty Downey Jr, Channing Tatum, Mark Wahlbeg, Kelly Osbourne
---