On Air Now: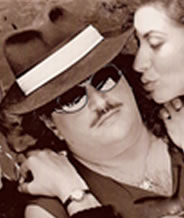 Albie Dee
Kelly Clarkson is pregnant! Lorde suffer from stage fright?
Posted by Albie Dee on 11/21/2013 11:11:00 AM.
Dwyane Wade has sold a half-hour comedy to Fox. "Three the Hard Way" follows an NBA star as he and his entourage co-parent his sons.

Kelly Clarkson is pregnant. She Tweeted: I'm pregnant!!! Brandon and I are so excited! Best early Christmas present ever :)


Lindsey Vonn crashed yesterday while skiing down Copper Mountain, Colorado. She was taken to a hospital where her surgically repaired knee was evaluated. Vonn tore her ACL and MCL last February.

Pink Tweet of the Day: ''I've just been informed by my two year old that she would like a small building, a lake, a hill and a car for Xmas. Oh, and turkey bacon. (sic)'' and ''I've waited my whole life to see Pearl Jam. But when your 2 yr old starts crying at dinner, nose running...' Please don't leave me mama'... 2 yr old wins. Hands down. Every time.

Eminem tells the BBC that music saved his life. "I certainly could have taken another path. I know that there are so many addicts in this world and people who have problems like that that don't make it. I think that one thing that keeps me pushing forward is the music, and the passion, so I am thankful for that. I think back then it was so big in my head. Let me take this and this, drink this and this and get through it, as opposed to see the people, connect with the crowd and have fun with it."

Lorde tells Spotify she suffers from stage fright."Before I go onstage I lock into this period of the most crippling fear. It's something I wouldn't wish on someone that I hated ... It's the worst half-hour of my life, every night! But then, y'know, it gets replaced by something magic."

Lady Gaga tells E! she loves Chicago pizza. "I love ordering Chicago pizza. My boyfriend caught me once eating it in the bathroom in the middle of the night. I woke up in the middle of the night, and I walked it into the bathroom and I was eating it. And I heard the door opening. I had the pizza in my mouth and he just shook his head at me and he was like, 'That is just shameful.'"

Top 10 Highest-Paid Singers according to Forbes

Madonna - $125 million
Lady Gaga - $80 million
Bon Jovi - $79 million
Toby Keith - $65 million
Coldplay - $64 million
Justin Bieber - $58 million
Taylor Swift - $55 million
Elton John - $54 million
(tie) Beyoncé, Kenny Chesney - $53 million
Dwayne Wade, Kelly Clarskon, Lindsey Vonn, Pink, Eminem, Lorde, Lady Gaga, Madonna, Bon Jovi, Justin Bieber, Taylor Swift, Beyonce, Forbes
---
'Professional Microwaver' melts PS4? Oprah refused to get naked?
Posted by Albie Dee on 11/19/2013 11:09:00 AM.
Man Microwaves PS4 ... 'Professional Microwaver' Kenny Irwin purchased the PS4 this past weekend before microwaving it. It took one minute and 44 seconds before the game console caught on fire. Kenny is selling the melted PS4 on ebay. Bidding reached $11,151.30

Oprah tells The Daily Mail she refused to get naked in The Butler. ''You know, he [director Lee Daniels] would have had me buck naked on that sofa if I had let him. He did more screaming than I did - I'm not a screamer.'


Lorde recently returned to her old high school to judge a talent contest.

The NY Daily News claims Rihanna and Drake recently dropped $17,000 at a Houston strip club.

Lady GaGa says she won't join the '27 Club' like Kurt Cobain, Jimi Hendrix, Brian Jones, Janis Joplin and Jim Morrison. "I do put that pressure on myself; I have to be high to be creative. I need that. That's an error in my life that happened for over 10 years," Gaga admitted. "Can I be brilliant without it? I know that I can be and I have to be because I want to live, and I want my fans to want to live. I don't want them to torture themselves in the way I have. I want to show people that I will last past 27 and I will last longer, and so will you."

Argentina impounded Justin Bieber's concert equipment because of a legal dispute. A paparazzo claims his guards destroyed his camera outside a club. A source tells AFP, "Customs impounded for 30 days all Bieber's goods at the Ezeiza International Airport: audio equipment, sound, lights and the clothes he used in his show. It is the first time Argentine customs has impounded belongings of a foreign artist.''

Imagine Dragons hopes to release a new CD next year. Lead singer Dan Reynolds tells MTV, "We're always writing on the road, [so] that second album will come, unless we die at the age of 27 next year. Hopefully we don't die and there will be a second album. I don't know when it will be, but it may come."
PS4, Oprah, Lorde, Rihanna, Drake, Lady Gaga, Justin Bieber, Imagine Dragons
---
Bieber's ex moving on? Taylor Swift has new sound?
Posted by Albie Dee on 11/8/2013 11:38:00 AM.
Justin Bieber's ex-boo has moved onto bigger and better things since the two broke up. During an interview with radio on Friday, 21-year-old Selena Gomez broke the news that Drizzy Drake is her secret crush. However, she doesn't think she has big enough buns to bag him.
A fan called up the show saying, "I just wanted to let you know that you're my boyfriend's guilty pleasure. Actually, he's not even guilty about it. He sometimes refers to you as his baby. I was wondering if that makes you uncomfortable or are you flattered by that?" Gomez told the caller she was "super flattered" and had a "baby" herself. The "Come & Get It" singer said, "I'm like, 'Awww [Drake] did that for me,' when it's like, he did it on Twitter. I'm like, 'My baby did that for me!'" When the hosts of the show asked Selena why she didn't try to date the Champagne Papi, she replied by saying, "And I mean this in the nicest way, I just don't have a big enough butt for Drake."


Hey boo, don't knock it 'til you try it!!! You never know.

The Star claims Will Smith and 23 year-old Margot Robbie, his co-star in "Focus", recently hopped in a photo booth together at a party. A source tells the tabloid, "He wasn't acting like a married man. He gave no signs that he was in a committed relationship… what kind of married man would go into a photo booth with a sexy 23-year-old and start to undress? Once they pulled the curtain back to take the pictures, they let their inhibitions run wild, laughing, hugging and nuzzling each other in the dark. Margot directed Will before each pose… she asked Will to take a sexy picture with her, as she pulled up her shirt and exposed her lingerie for Will and the camera. They were hanging all over each other, laughing like they were a new couple in love. After they left the party, they were gone all night.''


A source tells E!, "These pictures were commissioned by production. The entire cast and crew saw them taken. The photo booth was on set all day for a bit of fun. It wasn't even a party—they were taken during the day and everyone knew about them.It was the last day of shooting. Will and Margot are absolutely just friends, that is all."

The Daily Mail claims 27 year-old Lindsay Lohan dated 18 year-old Ralph Lauren model Morgan O'Connor. A source tells the paper Morgan had a girlfriend when he met Lindsay. ''Chiara flew home to be with him on her fall break from college. That's when she discovered text messages from Lindsay on his phone. It read, "I don't want to leave you. Don't kiss any other girls please."'
Morgan reportedly changed his mind and sent Lindsay a message that read: ''I can't see you anymore. I have a very serious girlfriend who I love very much. I'm very sorry and honestly quite angry that I ever had anything with you, you are the epitome of trash and the world knows it. I just wanted to let you know to never contact me again and I never ever want to see you again."'


US Weekly claims Robert Pattinson and Kristen Stewart are reconciling. A source tells the site. "He hasn't fully forgiven her, but he has processed what she did. He has been hanging out enough with other girls to get perspective. They are in constant contact. He misses his quiet times with her. They have to be secretive. They will drive far away if it means they can be alone. It's the only way they can rebuild."

Lorde tells The Sun she gets stressed by girls her own age. "When I meet a bunch of girls my age, I find that stressful as I'm just a high school student myself. I feel intimidated by them. But meeting people like Kanye West - people who are into what you do and understand about having a vision - I can relate to. He is so driven and has such a unique way of seeing things. I'd love to work with him or Prince. Meeting Prince would be such an honor."

Lady Gaga recently talked about what her new song 'Sex Dreams' is about. ''Haven't you ever been laying in bed with someone and fantasized about someone else? In the song I'm explaining my infidelity to the person I'm with, and then I'm having a conversation with myself to the person that I'm fantasizing about. 'In my mind when I picture sex dreams, it's so bizarre! It's me standing there with some massive couture creation, staring at a blow-up doll or something. That's what my sex dreams are like. My sex dreams are weird!''

Taylor Swift tells Capital FM she is working on a new sound. ''Now that I've written a lot of songs for the next album, I'm dying for people to hear it. It's so weird to be still promoting 'Red' and I'm so proud of 'Red' and I'm creating something that's so different from 'Red'. It's so cool because I'm so appreciative of the success of 'Red' but I know that if I want to have success with something else I can't make 'Red 2.0'. I have to make something completely new and something that if you were to hear a song from it you'd go 'Oh that's not from 'Red', that's from the new one'. So that's what I'm doing.''
Taylor Swift, Lady Gaga, Lorde, Robert Pattinson, Kristen Stewart, Lindsay Lohan, Will Smith, Justin Bieber, Selena Gomez
---
Glee spinoff coming? Clothes saved Gaga?
Posted by Albie Dee on 11/7/2013 11:02:00 AM.
Perez Hilton claims a Glee spinoff is in the works. A source tells the site, "This will be announced soon. They're making the deals now and it also presents a viable exit plan for the main Glee series itself — in that some of its core cast would also migrate to the Lea Michele project as Glee is showing signs of aging."

TMZ claims Tom Cruise has filed documents in his $50 million lawsuit against "Life & Style Weekly" and "In Touch Weekly". He is suing because the magazines claimed he "abandoned" Suri after divorcing Katie in June 2012. TMZ quotes Cruise as saying: "I have in no way cut Suri out of my life -- whether physically, emotionally, financially or otherwise. Even during the times when I was working overseas and was not able to see Suri in person, we were (and continue to be) extremely close. As my numerous emails with Suri's mother during this time period demonstrate, I was a constant presence in Suri's life. While I'm sure my daughter misses me when I am not with her (as I miss her), she is a very happy child, and we have a wonderful relationship and cheerful phone calls."


Hollywoodlife.com claims Miley Cyrus may hang with Benji Madden again. A source tells the site, "They will probably hang out again but nothing is planned or set in stone. She doesn't want to get into anything serious and he is on the same exact wave length. They met that night and had a great time, sparks flew but a relationship between the two is highly unlikely. Miley likes being single and being able to do whatever she wants. She is focused on her tour, her career and living life to the fullest and doesn't want a man to slow that down at the time being."

Lady Gaga tells the BBC that clothes saved her life. "It's how I deal with my insanity. From when I was young I had voices in my head, and for the longest time I was drinking and doing a lot of drugs and it was the clothing and the artistry that saved me."

Lorde tells The Sun she will never go off the rails. ''I'll never go off the rails like Britney, or do an Amy, because my upbringing was so normal. I can't touch alcohol at my age and I'm not sure I even want to when I'm older. Six months ago, no one knew who I was and now fans chase my car. But I'm never going to change or let fame get the better of me. I don't think I could ever live in Los Angeles. It does something to your soul. The place really infects people - if I stay there for too long I start being a freak. All this is just fantasy land as Lorde.''
Lorde, Lady Gaga, Miley Cyrus, Tom Cruise, Glee, Perez Hilton
---
Pauly D a dad? No selfies for Lorde?
Posted by Albie Dee on 10/24/2013 11:21:00 AM.
Fox 411 claims Amanda Bynes is being allowed to leave rehab. A source tells the network, "Amanda is being given two passes a week to go the beach, or out to eat and do things like that, accompanied by a professional handler. She is making great progress."

US Weekly claims Pauly D recently fathered a child with a 26 year-old woman he hooked up with in Vegas. A source tells E!, "They didn't have a previous relationship. But the new dad is hoping to develop a relationship with her. [He] wasn't exactly planning for it to happen this way. But God works in mysterious ways."Snooki Tweeted: "YAY so happy for Pauly!! Now Lorenzo has a girlfriend! Pauly will be an amazing father." InTouch Weekly claims the baby is named Amabella


Lorde tells Billboard she doesn't do selfies. "I feel like mystery is more interesting. People respond to something that intrigues them instead of something that gives them all the information-particularly in pop, which is like the genre for knowing way too much about everyone and everything."

Jay-Z tells Vanity Fair he is working on a new fragrance, a new line of cigars and watches. "I'm not motivated by money. I'm motivated by things I'm interested in. I like watches, so at some point [I'm] going to try and make a better watch. I was in the clothing business—I tried to make better clothes. Whether I succeed or not, that's for people to judge. But I create things."

Hollywoodlife.com claims Kelly Clarkson's family did not attend her wedding. The site quotes her mother as saying, "Kelly was so afraid we might be upset. But we were fine with it. I had known that she was under a lot of stress. And we just wanted her to be happy and not stressed out. I think the biggest thing for us to do was to allow her to do what she wanted to do. She said they were just so overwhelmed with the tour and they just decided to elope. But she didn't want to hurt our feelings. She has had a lot on her plate and I've seen her schedule for the next month and Christmas.''
Amanda Bynes, Pauly D, Lorde, Jay Z, Kelly Clarkson
---
Next Entry