On Air Now: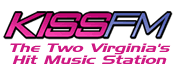 Kiss FM
New Friday movie? Taylor Swift-JLo collab?
Posted by Albie Dee on 9/12/2013 11:31:00 AM.
Ice Cube On The Arsenio Show
... Ice says that there's an NWA movie coming out and there could be a new Friday movie in the future as well
Pirates of the Caribbean 5 has been delayed. P
roducer Jerry Bruckheimer tells The Hollywood Reporter, "We have an outline everyone loves but the script is not done. We want a script that everyone's signed off on and a budget that everyone's signed off on."Another source tells THR the original script "was too expensive but it was also really complicated and hard to follow."
Taylor Swift and JLo have no plans to record together.
Swift tells E!, "That's the rumor. We collaborated at Staples Center. She came out and sang 'Jenny From the Block' with me which was so much fun. We haven't spoken further about collaborating but I did read that on the Internet, so that's nice to know that it's always accurate. I mean, for me, I love her, she's amazing. She has my number, we text, but we haven't texted about going into the studio."
Look magazine claims Taylor Swift and Harry Styles secretly dined together after the VMA's.
A source tells the mag, ''Taylor and Harry had a heart to heart. He's very funny, so can make her defenses come down easily. He told her she was the most stunning girl at the awards and that he was mad to let her go. They're planning another dinner when they're in the same city. Taylor's happy to be back in touch with him, as they have a lot of laughs together but she was hurt and she's cautious of going there again.''
Lorde wrote "Royals" in 30 minutes.
She tells Billboard, ''Yeah, I was just at my house, and I wrote it before I went to the studio. I wrote it in like half an hour -- the lyrics, anyway. I wrote all the lyrics and took them to the studio and my producer [Joel Little] was like, 'Yeah, this is cool.' We worked on that and on two other songs on the EP in a week, and just did a little bit every day.'
Showbiz Spy claims Selena Gomez laughed at Justin Bieber's mustache
. A source tells the site, "She's seen it and she thinks it's hilarious! That gave her a good laugh after being so homesick. It's been a couple weeks but she still wants to enjoy herself in Europe. She has some days off for travel but she is looking to experience some fun times while out there as well. It will combat the homesickness feeling if she is having fun."
Selena Gomez, Justin Bieber, Lorde, Taylor Swift, Harry Styles, Jennifer Lopez, Pirates of the Caribbean, Ice Cub, NWA, Friday
---