On Air Now: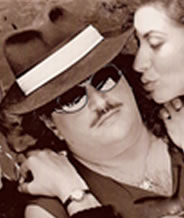 Albie Dee
'Professional Microwaver' melts PS4? Oprah refused to get naked?
Posted by Albie Dee on 11/19/2013 11:09:00 AM.
Man Microwaves PS4 ... 'Professional Microwaver' Kenny Irwin purchased the PS4 this past weekend before microwaving it. It took one minute and 44 seconds before the game console caught on fire. Kenny is selling the melted PS4 on ebay. Bidding reached $11,151.30

Oprah tells The Daily Mail she refused to get naked in The Butler. ''You know, he [director Lee Daniels] would have had me buck naked on that sofa if I had let him. He did more screaming than I did - I'm not a screamer.'


Lorde recently returned to her old high school to judge a talent contest.

The NY Daily News claims Rihanna and Drake recently dropped $17,000 at a Houston strip club.

Lady GaGa says she won't join the '27 Club' like Kurt Cobain, Jimi Hendrix, Brian Jones, Janis Joplin and Jim Morrison. "I do put that pressure on myself; I have to be high to be creative. I need that. That's an error in my life that happened for over 10 years," Gaga admitted. "Can I be brilliant without it? I know that I can be and I have to be because I want to live, and I want my fans to want to live. I don't want them to torture themselves in the way I have. I want to show people that I will last past 27 and I will last longer, and so will you."

Argentina impounded Justin Bieber's concert equipment because of a legal dispute. A paparazzo claims his guards destroyed his camera outside a club. A source tells AFP, "Customs impounded for 30 days all Bieber's goods at the Ezeiza International Airport: audio equipment, sound, lights and the clothes he used in his show. It is the first time Argentine customs has impounded belongings of a foreign artist.''

Imagine Dragons hopes to release a new CD next year. Lead singer Dan Reynolds tells MTV, "We're always writing on the road, [so] that second album will come, unless we die at the age of 27 next year. Hopefully we don't die and there will be a second album. I don't know when it will be, but it may come."
PS4, Oprah, Lorde, Rihanna, Drake, Lady Gaga, Justin Bieber, Imagine Dragons
---
Kanye to tour with family? Simon and his lady to talk with Oprah?
Posted by Albie Dee on 9/10/2013 11:29:00 AM.
Showbiz Spy claims Kanye West plans to tour with his family. A source tells the site, "He wants nothing more than to have his family with him. Kanye will be in his element, sending huge crowds into pandemonium, and the source says that he wants his two favorite girls to be witnesses to that. Seeing him on stage performing and being great, he wants that a lot. He's a new dad and he straight up hates leaving his daughter even if it's for a few hours. All this work — traveling back and forth — is for her and Kim. Kim's down. They're working on all that now and chances are Kim and the baby are going. Kim wants to anyways and whatever she wants, she gets."


Josh Brolin tells the Huff Post he was up for Batman before Ben Affleck landed the role. "I didn't have conversations about it, but Zack (director), that was part of his idea. It just didn't turn out," he said. "It's OK. It is OK. You know, another scenario might have worked better, but I'm happy for Ben. I've never seen such a global reaction in my life. I would not want to be him right now. The reaction becomes so personal. It's like, 'I wish he was dead.' And you're like, 'What? Dude, seriously? This guy is just working like you are. He's trying to make the best choices he can.' I want [Affleck] to kick ass and I want everyone to love it and eat their words."


The Daily Express claims Simon Cowell and Lauren Silverman may receive $2 million to do an interview with Oprah. A source tells the paper, "Simon wants Lauren to keep every penny they make from any interviews. It's his pretty neat way of making sure she gets the cash she felt she was entitled to from her marriage. He thinks it's all become extremely silly. Some of the stories about them have been farcical and he has become annoyed about the distraction."


Women's Health recently asked Pink what her greatest fear is. She said, "I'm afraid of the world running out of cheesecake, especially Cheesecake Factory. And then I would also have to be afraid of the world running out of key limes because key lime cheesecake is the best kind of cheesecake there is. I'd love to be 10 pounds thinner, but it's not in the cards for me. And I'm totally OK with that."


Paula Patton tells Access Hollywood she and Robin Thicke are allowed to cheat while working. "It's fun, I call it legal cheating. We're kind to each other. I don't come to the set when you're making out with naked ladies, you don't come to the set when I'm making out. It's good for both of us."
Robin Thicke, Pink, Simon Cowell, Oprah, Josh Brolin, Ben Affleck, Kanye West
---
6/27/13: Mark Hamill & Carrie Fisher getting ready for Star Wars?
Posted by Albie Dee on 6/27/2013 1:39:00 PM.
The Sun claims Mark Hamill and Carrie Fisher are getting in
shape for the next Stars Wars film. A source says, ''Mark and Carrie need
to be as close to their appearance in the earlier movies as possible. Producers
are keen to help out and have offered support. The budget is huge so there will
be no expense spared.'
Jennifer Aniston allegedly did not attend Courteney Cox's
birthday party. A source tells Showbiz Spy, "Jen's absence was the talk of
the party, Courteney invited her, but Jen hemmed and hawed and then finally
bailed on coming altogether. She used a lame excuse of being tired from too
much work. Her world revolves around Justin. After they hooked up, she dropped
the friends who had stuck by her through her difficult split from Brad Pitt.
Courteney is sick of forgiving and forgetting. She's been slighted by Jen one
too many times now."
Most Powerful Celebrities In New Forbes List
1. Oprah Winfrey – 77M (net worth from past year)
2. Lady Gaga – 80M
3. Steven Spielberg – 100M
4. Beyonce Knowles – 53M
5. Madonna – 125M
6. Taylor Swift – 55M
7. Bon Jovi – 79M
8. Roger Federer – 71M
9. Justin Bieber – 58M
10. Ellen DeGeneres – 56M

Mark Hamill, Carrie Fisher, Star Wars, Jennifer Aniston, Courteney Cox, Forbes, Oprah, Lady Gaga
---