On Air Now: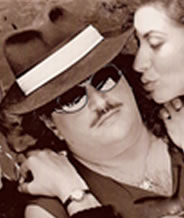 Albie Dee
Kelly Clarkson is pregnant! Lorde suffer from stage fright?
Posted by Albie Dee on 11/21/2013 11:11:00 AM.
Dwyane Wade has sold a half-hour comedy to Fox. "Three the Hard Way" follows an NBA star as he and his entourage co-parent his sons.

Kelly Clarkson is pregnant. She Tweeted: I'm pregnant!!! Brandon and I are so excited! Best early Christmas present ever :)


Lindsey Vonn crashed yesterday while skiing down Copper Mountain, Colorado. She was taken to a hospital where her surgically repaired knee was evaluated. Vonn tore her ACL and MCL last February.

Pink Tweet of the Day: ''I've just been informed by my two year old that she would like a small building, a lake, a hill and a car for Xmas. Oh, and turkey bacon. (sic)'' and ''I've waited my whole life to see Pearl Jam. But when your 2 yr old starts crying at dinner, nose running...' Please don't leave me mama'... 2 yr old wins. Hands down. Every time.

Eminem tells the BBC that music saved his life. "I certainly could have taken another path. I know that there are so many addicts in this world and people who have problems like that that don't make it. I think that one thing that keeps me pushing forward is the music, and the passion, so I am thankful for that. I think back then it was so big in my head. Let me take this and this, drink this and this and get through it, as opposed to see the people, connect with the crowd and have fun with it."

Lorde tells Spotify she suffers from stage fright."Before I go onstage I lock into this period of the most crippling fear. It's something I wouldn't wish on someone that I hated ... It's the worst half-hour of my life, every night! But then, y'know, it gets replaced by something magic."

Lady Gaga tells E! she loves Chicago pizza. "I love ordering Chicago pizza. My boyfriend caught me once eating it in the bathroom in the middle of the night. I woke up in the middle of the night, and I walked it into the bathroom and I was eating it. And I heard the door opening. I had the pizza in my mouth and he just shook his head at me and he was like, 'That is just shameful.'"

Top 10 Highest-Paid Singers according to Forbes

Madonna - $125 million
Lady Gaga - $80 million
Bon Jovi - $79 million
Toby Keith - $65 million
Coldplay - $64 million
Justin Bieber - $58 million
Taylor Swift - $55 million
Elton John - $54 million
(tie) Beyoncé, Kenny Chesney - $53 million
Dwayne Wade, Kelly Clarskon, Lindsey Vonn, Pink, Eminem, Lorde, Lady Gaga, Madonna, Bon Jovi, Justin Bieber, Taylor Swift, Beyonce, Forbes
---
Simon to see his ex? Miley hurt by Liam?
Posted by Albie Dee on 9/24/2013 11:33:00 AM.
Simon Cowell's ex, Sinitta, tells the Daily Star she thinks he will continue to spend time with his 'harem' despite being with Lauren Silverman.
"Simon and I have holidayed together for 30 years. It might change if it isn't what Lauren wants. Simon's a creature of habit, it's been his tradition, so he will probably think we'll continue. He has his own wife and child so in his mind I imagine he's thinking we're all just a bigger family. Simon does seem very happy, they get along incredibly well together. Lauren absolutely adores him. The harem, that's a bit insulting because isn't a harem a group of women who all sleep with the same man? That's not nice. We've been friends for 30 years.''A source tells Contact Music, ''Lauren's told him she wants to be in a normal relationship, without the other women hanging around. She also thinks that Mezhgan has been making more of an effort with her appearance lately and Lauren's told him he's got to get her off the scene. It's a big dilemma for Simon as he doesn't like being told what to do and loves Mezhgan's company, but he's serious about wanting to make a go of things with Lauren and the baby.''
Hollywoodlife.com claims Miley Cyrus is hurt that Liam Hemsworth is now dating singer/actress Eiza Gonzalez.
A source tells the site, "It's very hurtful that Liam's moved on and isn't even trying to hide it. Miley's putting up a good front and trying to play it off like she doesn't care but she's really f'ed up over this. It may be naive but but she really didn't think it would end this way — she never believed it would end. She's doing her best to focus on all the good stuff. Her career is on fire, she's number one on the charts, and no one sees her as this little Disney princess anymore, which has been a huge goal for her."
Floyd Mayweather wants Miley Cyrus to escort him to the ring.
He tells Billboard, "I was thinking about letting the twerk queen Miley Cyrus bring me out, why not?''
Pink, who makes her acting debut in Thanks for Sharing, doesn't know if she'll continue acting.
She tells stuff.co.nz, "I don't know what I'm going to do from here. I don't know if I'll do anything right away or maybe I'll just make another baby. I don't know. Maybe I did what I was supposed to do... I would have just continued to do (entertainment) forever, but now I could see myself scrubbing the floors in a preschool bathroom. I could totally see that."
E! claims the Bengals have removed Katy Perry from their stadium playlist.
A team rep says, "I think some fans proved that there's an expectation that when the team takes the field, there should be more of a hard-rock, classic-rock song and I know that's what we're going to do this game. Katy Perry is not going to be the last song you hear before the team takes the field."
Katy Perry, Pink, Miley Cyrus, Liam Hemsworth, Simon Cowell
---
Miley almost dies while bowling? Lohan doing best to stay sober?
Posted by Albie Dee on 9/19/2013 11:33:00 AM.
Miley Cyrus almost died while bowling. She tells the Daily Star, "I literally almost died the last time I played. I will never play again. The shoes are way too slippy and I went sliding down the lane and almost went through the pins. I did do a strike but it was with my own body... I was actually really frightened."

RADAR Online claims Kim Kardashian continues to contact the paparazzi.

A source tells the site, "Kim is letting Kanye revamp her entire lifestyle right now and she's loving the changes he's making, but she is still the same old schemer that she's always been! Kim isn't going to ever stop secretly texting the paparazzi or the people she knows that can help her stay famous. Kanye would be really mad if he knew that she's doing it, but Kim is still texting with paparazos and talking to people that she knows will get her side of any story out. Kim knows what made and kept her famous. She isn't going stop doing what she does, which is stay in the spotlight — and that's no matter what she tells Kanye."

Life & Style Weekly claims Lindsay Lohan is serious about staying sober.

A source tells the mag, "Before Lindsay went to rehab, she would pretty much turn up any where if someone paid the right price, but things are different now. She's been offered tens of thousands of dollars to attend events and make other appearances, but has turned them all down in order to maintain her sobriety. She runs everything past her therapists and sober coach. She's committed to staying sober this time around."

Will Smith tells Queen Latifah he was in bed with Jada when the tabloids reported they were splitting.

"Like a year ago, there were all these rumors that me and Jada were getting a divorce. So I get the Google Alert, I'm laying in bed - with Jada. It says, 'Jada Pinkett Smith files for divorce.' So I'm like, "This is crazy!' It's hard in relationships in general when people expect it to be easy. It's not easy. It's the individual most difficult thing that you're ever going to do in your life - to try to handle the challenges of life and family and love, side by side for somebody for the rest of your life? It's a battle."

Entertaintmentwise claims Rihanna and former fling, model Dudley O'Shaughnessy, have been in contact.

A source tells the site, "Rihanna and Dudley were really keen on one another when they were an item a couple of years ago. They had a really good time together and ended things amicably — traveling got in the way. It's been easy for them to rekindle their romance and take things from where they left off. She goes weak at the knees for him, is crazy for his accent and only has good things to say about him. Ri has been keeping her options open. He always looks back fondly on their time together and is excited to be speaking to her again — getting things back on track while she was in town."

Pink tells E! that Miley Cyrus' recent performances have been tacky.

"No, I think it's tacky. She's really freaking talented. She's beautiful. She can sing her ass off and to go up there and do that? She's cheating herself and she's cheating the rest of us…She can do what she wants. People can like it if they want. I'm not going to buy it. She can do better. I've seen her do better."
Miley Cyrus, Kim Kardashian, Lindsay Lohan, Will Smith, Queen Latifah, Rihanna, Pink
---
Kanye to tour with family? Simon and his lady to talk with Oprah?
Posted by Albie Dee on 9/10/2013 11:29:00 AM.
Showbiz Spy claims Kanye West plans to tour with his family. A source tells the site, "He wants nothing more than to have his family with him. Kanye will be in his element, sending huge crowds into pandemonium, and the source says that he wants his two favorite girls to be witnesses to that. Seeing him on stage performing and being great, he wants that a lot. He's a new dad and he straight up hates leaving his daughter even if it's for a few hours. All this work — traveling back and forth — is for her and Kim. Kim's down. They're working on all that now and chances are Kim and the baby are going. Kim wants to anyways and whatever she wants, she gets."


Josh Brolin tells the Huff Post he was up for Batman before Ben Affleck landed the role. "I didn't have conversations about it, but Zack (director), that was part of his idea. It just didn't turn out," he said. "It's OK. It is OK. You know, another scenario might have worked better, but I'm happy for Ben. I've never seen such a global reaction in my life. I would not want to be him right now. The reaction becomes so personal. It's like, 'I wish he was dead.' And you're like, 'What? Dude, seriously? This guy is just working like you are. He's trying to make the best choices he can.' I want [Affleck] to kick ass and I want everyone to love it and eat their words."


The Daily Express claims Simon Cowell and Lauren Silverman may receive $2 million to do an interview with Oprah. A source tells the paper, "Simon wants Lauren to keep every penny they make from any interviews. It's his pretty neat way of making sure she gets the cash she felt she was entitled to from her marriage. He thinks it's all become extremely silly. Some of the stories about them have been farcical and he has become annoyed about the distraction."


Women's Health recently asked Pink what her greatest fear is. She said, "I'm afraid of the world running out of cheesecake, especially Cheesecake Factory. And then I would also have to be afraid of the world running out of key limes because key lime cheesecake is the best kind of cheesecake there is. I'd love to be 10 pounds thinner, but it's not in the cards for me. And I'm totally OK with that."


Paula Patton tells Access Hollywood she and Robin Thicke are allowed to cheat while working. "It's fun, I call it legal cheating. We're kind to each other. I don't come to the set when you're making out with naked ladies, you don't come to the set when I'm making out. It's good for both of us."
Robin Thicke, Pink, Simon Cowell, Oprah, Josh Brolin, Ben Affleck, Kanye West
---
Amanda Bynes showing signs of schizophrenia? Kanye controls Kim?
Posted by Albie Dee on 8/12/2013 11:27:00 AM.
The New York Daily News claims Amanda Bynes is showing signs
of schizophrenia. A source tells the paper, "She's not improving yet. She's
still delusional. These meds take longer than a week to work, and she's only
been given them for about a week. She's not physically combative, but the
doctors weren't forcing her to take her meds in the beginning. Then the doctors
said she had to take them or they would force her, so she started.
The NY Daily News claims Lauren Silverman's estranged
husband, Andrew, is upset he can no longer hang with Simon Cowell. A
source tells the paper, "They met Simon on vacation and yes, he's an impressive
man. They were both taken by him. Andrew didn't give a s— they were having an
affair as long as he could hang out with Simon and play on his yacht. But now
that it came out like this, it's different. ... It is no secret that she
disdained Andrew."
InTouch Weekly and Showbiz Spy claim Kanye West controls Kim
Kardashian. A source tells the sites, "She has to do what he says — or
else. She knows the littlest thing can set him off. She knows not to push Kanye
too far … she's doing her best to keep him happy."
E! claims Sly Stallone ripped Bruce Willis on Twitter
earlier this week for demanding $4 million for four days of work on Expendables
3. A source tells the network and the Hollywood Reporter, ''He said he'd
drop out unless he got $4 million. A million dollars a day. Stallone and
everybody else involved said no. I think [Willis] was pretty surprised he was
replaced in 72 hours by Harrison Ford—a better actor, a much nicer person and a
more interesting direction for the film.''
RADAR Online claims Lindsay Lohan had a rehab romance. A
source tells the site, ''Prior to Lindsay's arrival I was roommates with the
guy who ended up dating her. When she came, the first or second day they ended
up kissing and it was on from there. Everybody in rehab knew they were dating.
It was pretty obvious. But the guy eventually got kicked out because of
Lindsay. The guy who owns Cliffside slacked on the rules for Lindsay, but they
got cocky with their relationship and people got uncomfortable with the
situation, saying they couldn't do that stuff when people are trying to get well.
They're still together now. They go to meetings outside and she meets him
there. She still talks to him every day.''
Contact Music claims Lady Gaga's stylist Nicola Formichetti
has quit. Women's Wear Daily quotes him as saying, ''She changes 12 times
a day; it's insane. She's going to be my BFF forever, but my ex-assistant
Brandon [Maxwell] is heading that project. I'm too busy. I've done two albums
with her, it's been five years ... I'm always going to be involved somehow, but
I cannot do it every day.''
Pink recently had an amazing concert moment in Australia. She
says, ''The coolest thing happened the other night: I go back into the bathroom
to do my vocal warm ups and I go on Twitter to get excited. It's our 85th show,
but everybody else's first time seeing it and it gets me motivated and ready.
Then I read about this kid, Calvin, who had just beaten cancer, had Down
syndrome, who was there; my album had got him through his treatment. And his
mom wrote this letter to me and I read it, so at the beginning of So What I
know that I'm going straight out to the back. I flew out [on a trapeze] and
said, 'I'm coming for you Calvin!' And I just happened to stop right over the
wheelchair section and the mom just started sobbing. I started crying, he was excited;
it will go down in history as one of the most amazing moments in my life.''
Robin Thicke is planning to make more CDs. He tells the
Associated Press, "I did want to push the boundaries and work with some
hitmakers (on the new album) to see if they could help me (score a big hit) and
luckily it all worked out. I want to get right in the studio. I want to make a
country album, a Christmas album, a gospel album. I'm like, 'Finally!' I'm
ready to make four albums right now."
Robin Thicke, Pink, Lady Gaga, Lindsay Lohan, Stallone, Bruce Willis, Kanye West, Kim Kardashian, Simon Cowell, Amanda Bynes
---
Next Entry