On Air Now: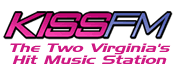 Maximum Music
Kim & Kanye to marry in Vegas? Snoop's son in a fight?
Posted by Albie Dee on 10/25/2013 11:02:00 AM.
The Daily Star claims Kim and Kanye want to marry in Vegas. A source tells the paper, "Kanye is a big Elvis fan and he thinks it would be fun to get married in a chapel. It was his suggestion and he was surprised when Kim said it was a great idea. Before he proposed, the couple checked out the Graceland Wedding Chapel, where Jon Bon Jovi got wed, as well as Miley Cyrus' parents. They know it's cheesy, but it's kind of sexy and cool at the same time. They want to have an Elvis impersonator singing Love Me Tender."

Showbiz Spy and the National Enquirer claim Brad Pitt and Shia LaBeouf recently scrapped on the set of their new WWII movie. A source tells the sites, ''Shia became a bit too intrigued by the machine guns in the tank's turrets and started firing the guns wildly between scenes. The guns were loaded with blanks, not real bullets, but Brad was NOT happy with Shia goofing around. He tapped him on the shoulder, meaning to caution him, but Shia whipped the gun turret around and hit Brad smack in the face with the hot barrel! Brad, livid, yelled, 'Quit f****** around!' Everyone froze, but Shia started laughing — and Brad just snapped! He lunged – and crew members literally had to pull him off the jerk. Shia yelled, 'Hey, man, what's your problem?' Bellowed Brad, 'I have 5-year-olds more mature than you!' Later, they both returned, and Shia – looking very sheepish – turned to Brad and asked: 'Are we good?' They shook hands and we're happy to report there've been no further altercations!"

Katy Perry has hair from Taylor Swift and Miley Cyrus. She says, ''One of the first times I went to the Grammys, I got to share a dressing room with Miley Cyrus and Taylor Swift and I asked them for a lock of their hair from each one of them, which is totally creepy, but awesome. 'I put little bows on them individually and put them in my purse. And that was my little secret - I'm a freak!''


The NY Post claims JaRule is writing a prison cookbook. A source tells the paper, ''He explained that while behind bars he learned to cook anything and everything in a microwave. Ja Rule has admitted prison food wasn't ''too good'' but he was able to eat well by making his own dishes, which included lasagna and cheesecake.''

Snoop Dogg's son, Cordell, has been suspended from his high school football team for throwing a punch at another player during a game. The brawl occurred after a shoving match. Notre Dame, Duke, LSU, Nebraska, UCLA and USC are all recruiting Cordell.
Snoop Dogg, JaRule, Taylor Swift, Miley Cyrus, Katy Perry, Brad Pitt, SHia LaBeouf, Kim Kardashian, Kanye West
---
GaGa in a dangerous place? The Walking Dead getting a spinoff?
Posted by Albie Dee on 9/18/2013 11:24:00 AM.
Elton John tells The Australian Lady GaGa is in a dangerous place.

"I'd like to be able to talk to her right now, but I can't get through to her. And there are times when you have to listen. When your persona begins to take over your music and becomes more important, you enter a dangerous place. Once you have people around you who don't question you, you're in a dangerous place. Look at Lindsay Lohan. There was someone with a successful career and her parents completely f***ed her up. The dad was in jail and the mum was doing coke with her. Great!"


AMC is planning to produce a companion series to The Walking Dead. Producer Robert Kirkman tells The Hollywood Reporter, "After 10 years of writing the comic book series and being so close to the debut of our fourth, and in my opinion, best season of the TV series, I couldn't be more thrilled about getting the chance to create a new corner of The Walking Dead universe. The opportunity to make a show that isn't tethered by the events of the comic book, and is truly a blank page, has set my creativity racing."The series will debut in 2015.




RADAR Online claims Miley Cyrus and Liam Hemsworth are taking a break. A source tells the site, ''They've split for now. Miley and Liam have a very tumultuous relationship and both are exhausted. It's a complicated relationship. The wedding is on hold, for now. It's not canceled but it doesn't look promising.''Another source tells RADAR, ''Liam really does care about Miley, but her racy new look and sort of ghetto attitude isn't exactly what he signed up for. Her VMAs performance absolutely mortified him and he couldn't be more embarrassed. He doesn't really see anything sexy about what she did on stage.''



Mark Wahlberg recently went back to school and got his high school diploma. He tells People, "I didn't want the kids saying, 'You didn't do it, so why do I need it?' They are all wanting to do things in their future that require an education. It's also a huge sense of relief. I wondered, 'Why didn't I do it when I was there?' It's so much harder at 41 going back and trying to do all these difficult tasks. I would love to go to USC (University of Southern California) and study film. I don't want to become a veterinarian or anything, (I want to study) things that further my career and broaden my horizon."



Katy Perry admires Rihanna. She tells Elle, "I think that Rihanna always looks so fresh and I'm like, 'How do you do that? We all know how much pot you smoke! And you don't sleep because you're on Instagram at four o'clock in the morning!'"


Lady GaGa is going to star in the new movie The Secret Service. A source tells the Sun, "Gaga only had to commit one day to film her scenes early next year... She didn't take much persuading."



TMZ claims Britney Spears is getting $29 million to perform 48 shows over two years at Planet Hollywood Las Vegas.


Kelly Clarkson tells ABC she plans to elope and that her wedding song will be Eva Cassidy's cover of Fleetwood Mac's "Songbird".


Snoop Dogg won a pound of weed from the Mayweather - Canelo fight. He Tweeted: "Thanks to the champ money may for winning me a pound from my mexican buddy Lui !! U r the pound for pound best! N I'm gonna smoke 2 dat !!! Hahahahahahahah."



The Sun claims Jay-Z and Beyonce are hiring a nanny. A source tells the paper, ''Beyoncé and Jay have started advertising for a nanny who is happy to travel the world with them. The other main stipulation is that she is bilingual. They want a French speaker for a number of reasons. The family have a real connection with France and Beyoncé's nephew Julez is a French speaker, because his dad is French. They've already started seeing candidates and have been getting advice from friends including Gwyneth Paltrow.''
Jay Z, Beyonce, Snoop Dogg, Kelly Clarkson, Britney Spears, Lady GaGa, Katy PErry, Rihanna, Mark Wahlberg, Britney Spears, Liam Hemsworth, The Walking Dead, Elton John
---
Eddie Murphy back in the studio? Kristen Stewart & Zac Efron?
Posted by Albie Dee on 9/6/2013 11:33:00 AM.
Eddie Murphy Has Recorded A New Reggae Song Called Red Light ... Listen at: http://music-mix.ew.com/2013/09/04/eddie-murphy-reggae/


RADAR Online claims Jack Nicholson has retired from acting. A source tells the site, "Jack has — without fanfare — retired. There is a simple reason behind his decision — it's memory loss. Quite frankly, at 76, Jack has memory issues and can no longer remember the lines being asked of him. His memory isn't what it used to be. Jack has no intention of retiring from the limelight. He's not retiring from public life, at all. He just doesn't want a tribute. He's happy to tacitly join the retirees club like Sean Connery.



The Star claims Kristen Stewart wants to date Zac Efron. A source tells the tabloid, "Kristen's relationship with Rob was so tense. She's ready to have a good time, and ants to date a completely different type of guy. He's (Zac) a bit of a playboy. So he wants to keep his partying lifestyle intact. He's not looking for anything emotional, and Kristen doesn't want anything serious. This could work out great for both of them."



Kelly Osbourne is launching her own plus-size clothing line. Contact Music quotes her as saying, ''I had one of the most exciting meetings of my life this week - it pretty much green-lit my clothing. When I sat down in this meeting and they said, 'Yes, you have creative control and of course you can do plus size,' I was like, 'It's happening!'''



Lana Scolaro is speaking out after a picture of her and Robin Thicke became a hot topic because his hand was on her butt. Lana now tells the NY Post and Life & Style Weekly she and Robin went to a hotel room. "His hands were everywhere. He turned off the lights so no one could see us, and he started making out with me. He was grabbing me. He was like, 'I want to get you into bed!' "Paula Patton's rep says, ''Scolaro is just a girl looking for attention. Paula and Robin aren't concerned and are happily vacationing in Florida."



Lady GaGa believes people are out to get her

. She tells The Guardian, "I certainly feel that at this time it's almost as if people are surprised they haven't already destroyed me. It gives them a sense of pleasure when they believe that they've destroyed me or taken me down. It's almost entertainment for people to poke fun at Lady Gaga, but at the very same time they have no idea the album I've made... So it doesn't bother me, it's just an interesting observation of where we are as a society... It's literally not even been two weeks since my first single came out and it's all, 'She's over', or because I'm not Number One yet, 'She's finished'. People focus less on the music and focus more on how the music's doing; how it's faring from a numbers perspective, from a financial perspective. If you think I give a damn about money then you don't know me as an artist at all... I think that once you've had a few Number Ones in your career that you've kind of proven yourself and I don't feel the need to prove anything anymore."

The Star claims JLo was rude to Taylor Swift when she performed with her during her concert in L.A..

A source tells the tabloid, "Jennifer was extremely rude to some of Taylor's closest friends backstage. Jennifer made it clear they shouldn't look in her direction or speak to her. It allegedly angered Swift so much, claims Star, that the young singer "Swift has decided she will never work with J. Lo again or even invite her to a performance."A source tells Gossip Cop, "There is not one bit of truth to the magazine's claims. It was a fantastic experience, and Taylor was thrilled and loved working with Jennifer."
Jennifer Lopez, Taylor Swift, Lady Gaga, Robin Thicke, Kelly Osbourne, Kristen Stewart, Zac Efron, Jack Nicholson, Eddie Murphy, Snoop Dogg, Snoop Lion
---