On Air Now: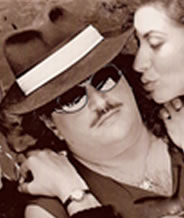 Albie Dee
JLo and Casper splitting? Psy working with Steven Tyler?
Posted by Albie Dee on 10/16/2013 11:20:00 AM.
Showbiz Spy claims JLo and Casper Smart are on the rocks. A source tells the site, "Jennifer is pretty private about the relationship, but she's been hinting that the spark is gone. She's having a hard time ignoring the fact that her head has been telling her for a while that this thing with Casper isn't forever. And now her heart's saying the same thing. They're obviously in very different places in their lives, and Jennifer wants to take responsibility for her life and not repeat the same mistakes she has made in the past. She enjoyed the relationship for what it is, but now that giddiness has turned to sadness."

Sinead O'Connor has written another letter to Miley Cyrus. It reads: "What you did is extraordinarily dangerous as it contributes to the silences which allow suicide to flourish and also contributes to the bullying of people perceived mistakenly or otherwise to be mentally ill. That bullying causes suicides. Thats why you're supposed to apologize. Its really very simple. People die every day because of the type of thing you did," she added. "Its not that hard to say sorry. Doing so will save lives."

Usher tells Men's Health his training to play Sugar Ray Leonard in a new movie is leaving him exhausted. "My second day I decided to ride to the gym. So I rode there. Boxed. Rode the bike back home. Mentally, I'm the type of person who can ignore the pain. Put it somewhere else and allow my body to just go there, but I always suffer. You can't box, ride a bike for 20 miles in the heat - Georgia heat - and then go to the studio and rehearse. That's not happening. My commitment to this character demands that I not only physically get ready but also become him. The hair, the personality, the manner he conducts himself in - all that. He's an incredible man."


Starpulse claims Lady Gaga is looking to purchase pictures of Michael Jackson's 1984 head injury. The shots show Michael after his hair caught on fire during a Pepsi commercial. The pix could sell for $2 million.

Psy, the artist behind the dance craze and song 'Gangnam Style', is working with Steven Tyler. He tells L'Uomo Vogue, "When I was in middle school, I literally cried when they were singing 'Crazy' or 'Amazing' or whatever. They were my lifetime role models, and now I am collaborating with Steven Tyler from Aerosmith. I love my life."
Psy, Steven Tyler, Lady GaGa, Michael Jackson, Usher, Sinead O'Connor, Miley Cyrus, Jennifer Lopez
---
Matt Damon worked hard? Usher's son recovering from accident?!
Posted by Albie Dee on 8/9/2013 11:25:00 AM.
Matt Damon worked hard to get in shape for Elysium. He
tells People he exercised for four hours a day and that his wife likes his
body. "It was really hard because I love to eat and drink! It's very hard
to motivate me to get in shape. When I did The Informant, I put on 40 lbs. and
I was like, 'You kind of like this guy too?' I'm trying to talk her into
[liking] that guy because that's the guy I'm most comfortable being. I'm at the
point in my life where somebody was silly enough to marry me," Damon says,
"and won't leave me if I put on a few pounds!"

Usher's 5-year-old son, Usher Raymond V, is recovering from
a pool accident. A source tells E!, "My sources have confirmed that Lil
Cinco [nickname for Usher Raymond V] is doing fine. He's currently in stable
condition at Children's Healthcare of Atlanta Scottish Rite and is being held
for observation."
Tameka Tweeted: ''Cabin fever.. But I'm so happy to say that
my son is doing much better. Talking & asking for food. Thank you for ur
well wishes & prayers.''
She wants custody of the kids.
Usher said: "I would like to thank my Aunt Rena as well as
the doctors and nurses who are working with us around the clock. I would
especially like to thank the two men who saved my son's life, Eugene Stachurski
and Ben Crews. They are true heroes and I am deeply grateful to them." "I am
blessed and fortunate to say that my son Usher V is doing well and is
recovering. I am overwhelmed by the outpouring of prayers, love and support for
my family's well-being,"

Kanye West may do a clothing line with Kylie Jenner. She
tells OK! magazine, "I was in the kitchen and so was he and I was just talking
about my clothing line and how excited I was and he was like, 'Your clothing
line–I can help you and design. We can do this!'"
Robin Thicke has fought hard to be accepted. He tells
The Times magazine, 'I seemed like an anomaly. It makes people go, "That
guy can't be for real." Black women got it because they could feel it was
authentic. But white people? They'd go, "Nah, nah, nah, that's a white guy
trying to be black. Trying to make soul music."'
Drake doesn't know why Amanda Bynes Tweeted him. He
tells XXL magazine, "I don't even know who that is doing that or what that's about.
If that is her, I guess it's a little weird and disturbing. It's obviously a
behavioral pattern that is way bigger than me. Whoever is behind it, whether
it's her or somebody else, they know people are paying attention so they keep
it going.''

InTouch Weekly claims Taylor Swift is messaging Criminal
Minds star Matthew Gray Gubler. A source tells the magazine, "She messaged
him out of the blue in June to tell him she thinks he's cute. At first, Matthew
didn't believe it was her. Then Taylor
invited him to her house in LA for dinner, and he realized it actually was her!"
Jon Bon Jovi says his long shows are beginning to take a
toll. ''It's pretty taxing physically, so I have to work really hard to
keep Humpty-Dumpty's pieces together. But that's just my physical being. I was
talking to a friend of mine and he said, "Why are you doing three-hour shows?"
And I said, "I couldn't imagine doing a 75-minute or a 90-minute show. I
wouldn't know how to do that. Unfortunately, we grew up in the shadow of Southside
[Johnny] and Bruce [Springsteen], and those guys that did these marathons. So I
learned to want to do that. And now, that's what my audience is accustomed to,
that's what I like to do and I have a catalogue that can hold up to that. So
you have to push yourself every night and be the athlete who's ready for that."
Jon Bon Jovi, Taylor Swift, Drake, Amanda Bynes, Robin Thicke, Kanye West, Usher, Matt Damon
---
Chris Brown to quit music? Usher's son in accident?
Posted by Albie Dee on 8/8/2013 11:29:00 AM.
Chris Brown took to Twitter on Tuesday to tell the world
that he plans to quit music after the release of "X," his upcoming
LP.The R&B singer said he's "tired of being famous for a mistake"
he made when he was 18, referencing when he assaulted Rihanna.Both Brown, who
has had a string of other post-assault altercations and incidents on his rap
sheet, and the music industry, which has promoted and booked Brown since
shortly after the assault, have faced near constant criticism since the
horrific event that took place before the 2009 Grammys.
http://www.huffingtonpost.com/2013/08/06/chris-brown-quit-music-x-mistake_n_3713262.html?utm_hp_ref=mostpopular
Usher's 5-year-old son, Usher Raymond V, is recovering from
a pool accident. On Monday, he tried to retrieve a toy from a pool drain
when his arm got stuck. Two of Usher's employees freed his son and performed
CPR. Usher is at his son's hospital bedside.TMZ claims Usher's ex, Tameka, is
seeking custody of their kids because he's creating a dangerous environment
Harrison Ford has joined the cast of Expendables 3. He will
work solo.Sly Stallone Tweeted: "WILLIS OUT… HARRISON
FORD IN !!!! GREAT NEWS !!!!! Been waiting
years for this!!!! GREEDY AND LAZY …… A SURE
FORMULA FOR CAREER FAILURE"
Perez Hilton claims Simon Cowell's ex-fiance, Mezhgan
Hussainy, is angry with him. A source tells the site, "She's furious,
humiliated and angry, but she can't do anything because she put her career on
back burner and he supports her financially and emotionally. She can't talk
about her true feelings in public because she doesn't want to betray him just
because he betrayed her. She feels betrayed that he didn't have the sense to
use protection with a woman their circle of friends thought was a gold-digger."
Mark Wahlberg tells The Sun that Justin Bieber needs to
clean up his act. "Justin, are you listening? Don't be so naughty ...
Be a nice boy, pull your trousers up, make your mom proud and stop smoking weed
you little b**tard. He's a teenager living in a different day and age. I was in
prison before I got a record out and I don't think he's been to prison. He's a
nice enough kid and you're going to be a teenager. But if you're being a teen
in the spotlight you're going to be criticized for it. This career can be
short-lived - you might as well be the best you can while you're doing it."
Jon Bon Jovi's son, Jesse, has earned a roster spot on the
Notre Dame football team. Coach Brian Kelly tells USA Today, "Jesse has
earned his spot on the 105, He's a tough kid. The kids really like him. They
respect him. They don't look at him as a rockstar's son. They look at him as a
kid that loves Notre Dame and wants to play football and help this team. He's
had a good summer. I'm a huge fan of Bon Jovi. Didn't have to have his son to
make that apparent. He had a reputation here. I think Charlie Weis, being from New
Jersey, brought him into the Notre Dame family long
before I came. He's a great guy. He's a grounded guy."
Jon Bon Jovi, Notre Dame, Mark Wahlberg, Justin Bieber, Simon Cowell, Harrison Ford, Bruce Willis, Usher, Chris Brown
---
Jennifer Aniston to marry?? Beiber talks to Clinton?
Posted by Albie Dee on 7/15/2013 11:33:00 AM.



The paparazzi swarmed Suri Cruise and Katie Holmes as they
left their Manhattan home yesterday. Suri screamed at the paps to move
before one said, "Bye Suri, you little brat. I don't care man. I don't care
bro… She's a b**ch, dog. A little brat kid. A little brat




Jennifer Aniston and Justin Theroux are planning to marry in
December according to the Daily Express. A source tells the site,
"Jen and Justin have gone back and forth on where to marry and whether to
have a destination wedding so many times. Jen has always made it clear LA was
her first choice and Justin has compromised and agreed to marry in California.
Justin's reservations with LA are well known and he wanted to marry on the East
Coast where his friends and much of his family is based, where he proposed to
Jen and where he feels most comfortable."




TMZ claims Justin Bieber was booted earlier this week from
Chicago's Bodi nightclub for underage drinking. A rep for the Chicago
Department of Business Affairs and Consumer Protection tells TMZ, "The
ticket was issued by the police to Bodi Nightclub for admitting and knowingly
having underage persons in the establishment. Typically the fine for a ticket
like this would be $1,000.00, but the fine is not determined until the case is
heard by a hearing officer and if the establishment is found liable for the
violation."




Justin Bieber reached out to Bill Clinton after TMZ posted a
video of him urinating in a bucket at a restaurant and then yelling, "F***
Bill Clinton!" He Tweeted: @billclinton thanks for taking the time to talk
Mr. President. Your words meant alot. #greatguy





Justin later Tweeted: "In life u (you) will make
mistakes and people will try and tear u down... but u gotta stay positive. Stay
strong.. and learn to be better.. and.. always live to serve others and The
Lord. Growing every day."




Celeb Dirty Laundry claims the bucket is being auctioned off
with a starting bid of $10,000




Blake Shelton thinks Adam Levine should drink more. He
tells Mens Journal, ''I get frustrated with Adam because, to me, rock stars are
supposed to be drunk all the time. But he's very healthy. He takes care of
himself. And it drives me crazy, because I want him to be more like me. Drunk
all the time.''




Usher thinks Blake Shelton does a great job coaching on The
Voice. He tells NBC, "That lucky devil. He's kind of living on a high
cloud right now. Somebody's got to tear him down. If not Adam, Shakira. He's a
great coach, and he's really taught me a lot. I knew nothing about the show in
detail. Of course, I'd seen it as a viewer, but the time and investment in
building these artists and helping them interpret themselves, and also kind of
giving lessons to America about what it takes to be an artist is why I really
wanted to do it."


The Star claims Taylor Swift and Ed Sheeran have made a pact. A source
tells the tabloid, ''Ed and Taylor are very close and that's why they've
jokingly discussed the possibility of getting together if they're both on the
market in seven years' time. Neither of them wants to settle down at the
moment- or jeopardize their friendship with a potentially damaging fling. They
make for a great couple, but right now it's a case of right partner, wrong
time."


Will.i.am
wants to record with Taylor Swift. He tells E!, "Taylor Swift is
dope. I'd like to work with Taylor Swift. I like the girl. We could do
something really fantasy-like. That would be cool."



Suri Cruise, Katie Holmes, Jennifer Aniston, Justin Bieber, Blake Shelton, Adam Levine, The Voice, Usher, Taylor Swift, Ed Sheeran, Will.i.am
---