On Air Now: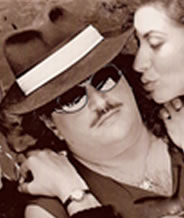 Albie Dee
Bieber's grandma feels sorry for him! Kim & Jessica friends?
Posted by Albie Dee on 7/29/2013 11:31:00 PM.
Showbiz Spy claims Kim Kardashian and Jessica Simpson have
been bonding over their babies. A source tells the site, "Kim reached out
to Jessica toward the end of her first trimester, just as her weight was
exploding. Kim sympathized with Jess over all the nasty comments about how huge
she got when she was pregnant with Maxie, and Kim thought Jess could help her
avoid the same pitfalls. Before long, they were talking on the phone several
times a day, sharing their tales of woe about their bodily aches and pains,
hormonal surges and about how their men were adapting. Jessica knows what it's
like to get slammed over weight gains. She's been counseling Kim to ignore the
negativity and just focus on her precious baby."
Kris and Bruce Jenner recently joined the Mile High Club. Kris
says, ''We decided intentionally to join the Mile High Club. We thought we were
so sneaky ... so we come back to our seats and we were like two Cheshire Cats -
we thought we got away with something. The guy picks up the PA and says, 'Thank
you for flying with American, ladies and gentleman, and we would just like to
give a big congratulations to Kris and Bruce Jenner ... for joining the Mile
High Club!''
Hugh Jackman ate tons of chicken to get in shape for The
Wolverine. He says, "I used to love chicken but not so much any more. I
ate so much chicken for this movie. At one point I was eating like 4,000
calories a day. It might sound like fun but I can assure you it isn't!. At one
point I was eating like 4,000 calories a day We're not talking fun calories
here. It's loads of chicken, fish, some steak, steamed vegetables and protein
shakes. So I'm off chicken for a while."
Lady Gaga will perform at the MTV Video Music Awards in
August.
Acne sent Adam Levine into a depression. He tells
Access Hollywood, ''When I was in high school and I had acne, I spent a lot of
time sulking in my room. I was depressed. I was not happy. High school is hard
enough, but having this problem and knowing that everyone is looking at you in
the hallways ... and I went to a small school and clearly nobody has acne like
I did.''
Justin Bieber's grandmother feels sorry for him. She
tells CTV: ''It's totally crazy. I feel
sorry for Justin all the time, because paparazzi pick on him all the time.
Anybody else's kids have done the same thing but nobody says anything. He's a
19-year-old boy. And before you criticize him, say, 'What is my 19-year-old boy
doing?'
Rihanna just learned a hard lesson ... acting like an
irresponsible Lindsay Lohan can cost you a LOT of money -- in this
case $47,050.TMZ broke the story ... Rihanna's ex-accountants have been trying
to get the singer to sit for a deposition in a lawsuit she filed against them.
Rihanna claims they mismanaged her money and owed her millions, but the
accountants claim Rihanna's the one who's at fault. According to the
accountants -- Berdon LLP -- Rihanna's been blowing off deposition after
deposition (Lindsay-style) costing them boatloads in attorneys' fees,
so Berdon asked the judge to punish the singer. And this month, the judge
agreed, fining Rihanna $47,050 for Berdon's legal bills. On top of the fine,
the judge also ordered Rihanna to sit for a deposition once and for all on
August 28 ... and if she doesn't show up, he might dismiss her case entirely.
Kim Kardashian, Jessica Simpson, Kris Jenner, Bruce Jenner, Hugh Jackman, Lady Gaga, Adam Levine, Justin Bieber, Rihanna
---
Adam Levine engaged?? Lindsay Lohan wants kids?
Posted by Albie Dee on 7/19/2013 11:45:00 AM.
Selena Gomez is planning to buy her own home. She tells E!, "I think it's time. I didn't ever want to be forceful, just saying okay, 'I've made enough to just get my own house and let's go and blow it off and do whatever'…I love being with my family and I love knowing that they're there. But I think it's time for me to get my own house."
Adam Levine is engaged to Victoria's Secret Angel Behati Prinsloo. They have been dating for a year.Life & Style Weekly says the couple celebrated their engagement with burgers. A source tells the magazine, "They ate cheeseburgers and, I think, drank champagne. They just looked to be having a nice time."
The National Enquirer claims Lindsay Lohan wants kids. A source tells the tabloid, "Lindsay's approached several male friends and asked them to be sperm donors. She thinks having a baby will keep her on the straight and narrow! She has it in her head that she's totally clean, and wants a baby because she feels it's the one thing that would keep her grounded. She's talked about having a baby before, which we all thought was ridiculous, and we still can't believe she's thinking about it now – but she's actively trying to recruit sperm-daddies!
One guy Lindsay contacted told her, 'You're joking, right?' When she told him she wasn't, he turned her down flat, saying, 'You're still in rehab! Why don't you wait and see if you can take care of yourself before you think about bringing a kid into the world.'''
Brad and Angelina may marry on a boat. A source tells the Sun, ''It was Maddox who came up with the idea of the ship. He came across it after looking back at photos of the Carnell Estate in Ayrshire, where they stayed and all loved. 'So now they've made inquiries into booking the whole vessel. 'It's just what they're after. It can hold up to 50 of their friends and family and serve as a traditional, romantic setting -- all totally private. Or they could always sail to a secluded bay off the Orkney or Shetland islands and have the ceremony there.''

Honey Boo Boo is done with pageants. Mama June tells InTouch Weekly, "We're done. We haven't done a pageant for a while, because we're so busy with our show [TLC's Here Comes Honey Boo Boo] and school and life in general. We still have all our pageant friends. We go along and cheer on our other pageant friends."
Selena Gomez, Adam Levine, Lindsay Lohan, Brad Pitt, Angelina, Honey Boo Boo
---
Jennifer Aniston to marry?? Beiber talks to Clinton?
Posted by Albie Dee on 7/15/2013 11:33:00 AM.



The paparazzi swarmed Suri Cruise and Katie Holmes as they
left their Manhattan home yesterday. Suri screamed at the paps to move
before one said, "Bye Suri, you little brat. I don't care man. I don't care
bro… She's a b**ch, dog. A little brat kid. A little brat




Jennifer Aniston and Justin Theroux are planning to marry in
December according to the Daily Express. A source tells the site,
"Jen and Justin have gone back and forth on where to marry and whether to
have a destination wedding so many times. Jen has always made it clear LA was
her first choice and Justin has compromised and agreed to marry in California.
Justin's reservations with LA are well known and he wanted to marry on the East
Coast where his friends and much of his family is based, where he proposed to
Jen and where he feels most comfortable."




TMZ claims Justin Bieber was booted earlier this week from
Chicago's Bodi nightclub for underage drinking. A rep for the Chicago
Department of Business Affairs and Consumer Protection tells TMZ, "The
ticket was issued by the police to Bodi Nightclub for admitting and knowingly
having underage persons in the establishment. Typically the fine for a ticket
like this would be $1,000.00, but the fine is not determined until the case is
heard by a hearing officer and if the establishment is found liable for the
violation."




Justin Bieber reached out to Bill Clinton after TMZ posted a
video of him urinating in a bucket at a restaurant and then yelling, "F***
Bill Clinton!" He Tweeted: @billclinton thanks for taking the time to talk
Mr. President. Your words meant alot. #greatguy





Justin later Tweeted: "In life u (you) will make
mistakes and people will try and tear u down... but u gotta stay positive. Stay
strong.. and learn to be better.. and.. always live to serve others and The
Lord. Growing every day."




Celeb Dirty Laundry claims the bucket is being auctioned off
with a starting bid of $10,000




Blake Shelton thinks Adam Levine should drink more. He
tells Mens Journal, ''I get frustrated with Adam because, to me, rock stars are
supposed to be drunk all the time. But he's very healthy. He takes care of
himself. And it drives me crazy, because I want him to be more like me. Drunk
all the time.''




Usher thinks Blake Shelton does a great job coaching on The
Voice. He tells NBC, "That lucky devil. He's kind of living on a high
cloud right now. Somebody's got to tear him down. If not Adam, Shakira. He's a
great coach, and he's really taught me a lot. I knew nothing about the show in
detail. Of course, I'd seen it as a viewer, but the time and investment in
building these artists and helping them interpret themselves, and also kind of
giving lessons to America about what it takes to be an artist is why I really
wanted to do it."


The Star claims Taylor Swift and Ed Sheeran have made a pact. A source
tells the tabloid, ''Ed and Taylor are very close and that's why they've
jokingly discussed the possibility of getting together if they're both on the
market in seven years' time. Neither of them wants to settle down at the
moment- or jeopardize their friendship with a potentially damaging fling. They
make for a great couple, but right now it's a case of right partner, wrong
time."


Will.i.am
wants to record with Taylor Swift. He tells E!, "Taylor Swift is
dope. I'd like to work with Taylor Swift. I like the girl. We could do
something really fantasy-like. That would be cool."



Suri Cruise, Katie Holmes, Jennifer Aniston, Justin Bieber, Blake Shelton, Adam Levine, The Voice, Usher, Taylor Swift, Ed Sheeran, Will.i.am
---
7/1/13 Which celeb do married people want to sleep with?
Posted by Albie Dee on 7/1/2013 11:44:00 AM.
WeTV Survey Reveals The Celebrities Married People Most Want To Sleep With. WeTV recently asked 1,000 married people, ''If your spouse gave you a celebrity "hall pass," or permission to sleep with someone else, who would you choose?''
Women Said:
1 Channing Tatum (29%)
2. Ryan Gosling (20%)
3 Adam Levine (17%)
4 Leonardo DiCaprio (17%)

Men Said:
1 Jessica Alba (34%)
2 Mila Kunis (32%)
3 Megan Fox (28%)
4 Kate Upton (28%)

Other Findings:
- 31% of married people have imagined themselves with someone else while making love with their spouse
- 48% of spouses get jealous when their partner talks to someone of the opposite sex
Michael Jackson's daughter, Paris, is beginning to think for herself. A source tells the Sun Times, "Paris is a very strong young woman, with her own ideas about a lot of things that differ greatly from her grandmother's philosophy. She is definitely going to march to her own drummer as she goes forward. … A good example is Paris' strong desire to build a good, close relationship with her biological mother.''

The Sun Times claims Brad and Angelina may be close to marrying. A source says, "Forget all that nonsense of them being concerned about the timing of a Jennifer Aniston wedding. This defeat of California's Proposition 8 and the Defense of Marriage Act would have much more impact on Brad and Angie's decision to get married."
celbrities, channing tatum, ryan gosling, adam levine, jessica alba, mila kunis, megan fox, Michael Jackson, The Sun Times, Brad, Angelina
---