On Air Now: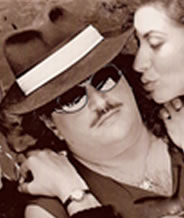 Albie Dee
Arnold back as Conan The Barbarian? Sharon Osbourne rips Kanye?
Posted by Albie Dee on 7/31/2013 11:24:00 AM.
Arnold Schwarzenegger may reprise his role as Conan The
Barbarian. Fredrik Malmberg, of Paradox Entertainment, tells TheArnoldFans.com, ''The
idea is that this takes place after Conan has been king. But this is the legend
of Conan where he has been gone and people say, 'Do you remember the good ol'
days when Conan was around?' And now it's time for him to come back. In the
stories and you can also see it when he's sitting on the thrown and the
narration on that last scene of the movie...'with a troubled brow' ...you can
tell he's not really happy being king. So, it's time for him to go out and do
battle.''
Sharon Osbourne allegedly ripped Kanye West. The Mail
Online quotes her as saying: "He bores me. He's an average- looking man
with an average talent, but he's a great salesman. He should sell cars because
they would fly out the door. He's his No. 1 fan."
Angelina Jolie tops Forbes' list of the highest-paid
actresses. She earned $33 million in the last year. Jennifer Lawrence
finished second ($26 million) followed by Kristen Stewart ($22 million),
Jennifer Aniston ($20 million) and Emma Stone ($16 million).
Katy Perry voiced Smurfette for Smurfs 2 in her pajamas. She
tells the Daily Express, ''I showed up in my pajamas. The red carpet is when
I'm in peacock mode. Once you're in the business you realize there's no point
in primping most days. That energy goes into my work.' Katy Perry cried after
meeting Britney Spears at the Smurfs 2 premiere. She sung backup on the
film's theme song, "Ooh La La!" Katy Perry's new CD may be called Prism.
The disc is out October 22nd.
Hollywoodlife.com
claims Selena Gomez cried when Justin Bieber arrived at her birthday party with
a rose. A source tells the site, "Selena started to cry. Justin and Selena
went into the house to talk and were inside for a long time before sneaking out
together."
The Hollywood Reporter claims the new American Idol judges may be Keith
Urban, JLo, Jennifer Hudson and will.I.am.
American Idol, Keith Urban, Jennifer Lopez, Jennifer Hudson, will.i.am, Katy Perry, Forbes, Angelina Jolie, Sharon Osbourne, Kanye West, Arnold Schwarzenegger
---
Diaz going after Pattinson? Snooki no longer parties?
Posted by Albie Dee on 7/30/2013 10:20:00 AM.
The Sun claims Cameron Diaz may go after Robert Pattinson. A
source says, "Cameron thinks Rob is really hot and is up for making a play for
him. The fact that he's 27 doesn't bother her. She has known him for a while
but decided to keep a respectful distance while he was in that relationship
with Kristen Stewart. But now he's single so as soon as she knew Reese was
hosting a four-day wine-tasting weekend at her home in Ojai, she was quick to
get in on the act."
Snooki no longer parties. She tells People, "I work out
in the gym seven days a week. I go with my trainer five days a week. I have a
treadmill downstairs or I do crunches. I try to do something at least once a
day It's a part of my life- being fit is a priority. First was partying, now
it's my son and working out. It's made me a better person, it's made me realize
what life is really about and screw the bulls**t. I love my baby. He's my best
friend. I love just laying in our playroom and he just crawls on me and we
cuddle and giggle. That's like the best thing ever."
will.i.am
wants to open his own factory. He tells the Daily Star, "I want a
Willy Wonka factory one day, just a creative campus of creative individuals
coming up with things. One day I'm going to have 10,000 people working in this
business. I am rethinking the Segway. We will have a prototype working by
August."
The Daily Star claims Adele took her family on a cruise. A
source tells the paper, "Adele loves spending on her nearest and dearest. She's
hired a superyacht, which is out of this world, for her extended family.
Adele's nana Doreen is aboard, as well as her aunties and cousins. She's spent
nearly $300,000 hiring the luxury vessel, which is elegant but very bling.
Adele loves spending on her nearest and dearest. She's hired a superyacht,
which is out of this world, for her extended family. The huge yacht comes with
a collection of jet skis, a marble cocktail bar, a hot tub, plasma TV with full
surround sound and four bathrooms."
The Sun claims Lady Gaga is an exhibitionist. They
quote a friend of hers as saying, ''She is obsessed with men. She will do
anything to get a guy. She is a complete exhibitionist and has had sex in
places where she knows strangers can see her. Her lovemaking is a big
performance. She loves doing weird stuff in the bedroom. She is as extravagant
in bed as she is on stage. Nobody calls her Stefani. Even her mum calls her
Gaga. She can no longer tell the difference between reality and performance. It
is like she is living her entire life in this alternate universe that she has
created.''
Lady Gaga, Adele, will.i.am, snooki, jersey shore, cameron diaz, robert pattinson
---
Jennifer Aniston to marry?? Beiber talks to Clinton?
Posted by Albie Dee on 7/15/2013 11:33:00 AM.



The paparazzi swarmed Suri Cruise and Katie Holmes as they
left their Manhattan home yesterday. Suri screamed at the paps to move
before one said, "Bye Suri, you little brat. I don't care man. I don't care
bro… She's a b**ch, dog. A little brat kid. A little brat




Jennifer Aniston and Justin Theroux are planning to marry in
December according to the Daily Express. A source tells the site,
"Jen and Justin have gone back and forth on where to marry and whether to
have a destination wedding so many times. Jen has always made it clear LA was
her first choice and Justin has compromised and agreed to marry in California.
Justin's reservations with LA are well known and he wanted to marry on the East
Coast where his friends and much of his family is based, where he proposed to
Jen and where he feels most comfortable."




TMZ claims Justin Bieber was booted earlier this week from
Chicago's Bodi nightclub for underage drinking. A rep for the Chicago
Department of Business Affairs and Consumer Protection tells TMZ, "The
ticket was issued by the police to Bodi Nightclub for admitting and knowingly
having underage persons in the establishment. Typically the fine for a ticket
like this would be $1,000.00, but the fine is not determined until the case is
heard by a hearing officer and if the establishment is found liable for the
violation."




Justin Bieber reached out to Bill Clinton after TMZ posted a
video of him urinating in a bucket at a restaurant and then yelling, "F***
Bill Clinton!" He Tweeted: @billclinton thanks for taking the time to talk
Mr. President. Your words meant alot. #greatguy





Justin later Tweeted: "In life u (you) will make
mistakes and people will try and tear u down... but u gotta stay positive. Stay
strong.. and learn to be better.. and.. always live to serve others and The
Lord. Growing every day."




Celeb Dirty Laundry claims the bucket is being auctioned off
with a starting bid of $10,000




Blake Shelton thinks Adam Levine should drink more. He
tells Mens Journal, ''I get frustrated with Adam because, to me, rock stars are
supposed to be drunk all the time. But he's very healthy. He takes care of
himself. And it drives me crazy, because I want him to be more like me. Drunk
all the time.''




Usher thinks Blake Shelton does a great job coaching on The
Voice. He tells NBC, "That lucky devil. He's kind of living on a high
cloud right now. Somebody's got to tear him down. If not Adam, Shakira. He's a
great coach, and he's really taught me a lot. I knew nothing about the show in
detail. Of course, I'd seen it as a viewer, but the time and investment in
building these artists and helping them interpret themselves, and also kind of
giving lessons to America about what it takes to be an artist is why I really
wanted to do it."


The Star claims Taylor Swift and Ed Sheeran have made a pact. A source
tells the tabloid, ''Ed and Taylor are very close and that's why they've
jokingly discussed the possibility of getting together if they're both on the
market in seven years' time. Neither of them wants to settle down at the
moment- or jeopardize their friendship with a potentially damaging fling. They
make for a great couple, but right now it's a case of right partner, wrong
time."


Will.i.am
wants to record with Taylor Swift. He tells E!, "Taylor Swift is
dope. I'd like to work with Taylor Swift. I like the girl. We could do
something really fantasy-like. That would be cool."



Suri Cruise, Katie Holmes, Jennifer Aniston, Justin Bieber, Blake Shelton, Adam Levine, The Voice, Usher, Taylor Swift, Ed Sheeran, Will.i.am
---